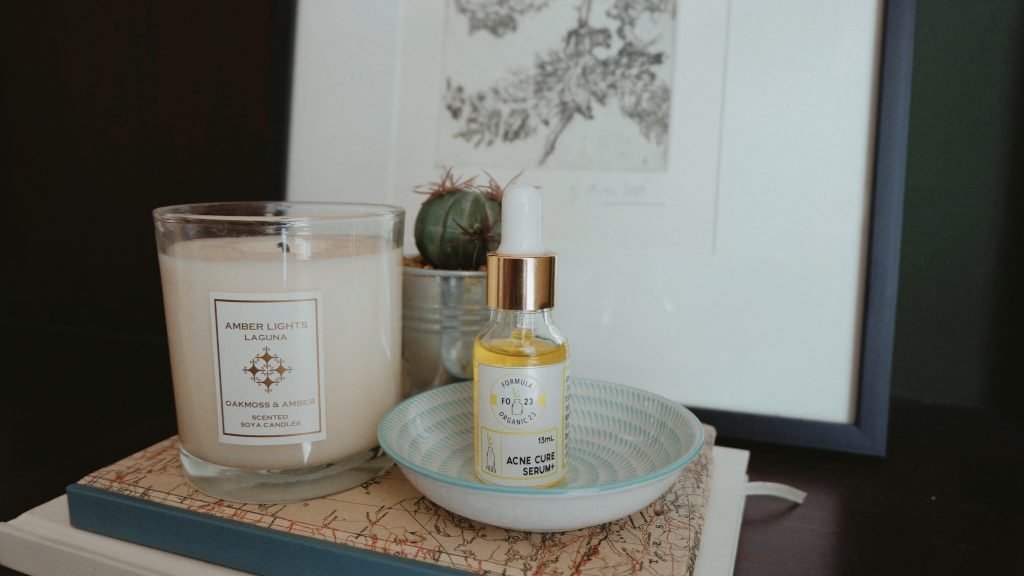 Here's my new skin-hack discovery: Formula Organic 23's Acne Cure Serum. This is not a drill, and neither is this post sponsored. 
Just recently, I've been having bad breakouts–worse than usual. I'm not really immune to pimples and maybe Instagram Stories has been kind on masking that, but as I've mentioned in my past post (My Skin Must-Haves), like most girls, I usually deal with blind pimples or pimples with roots so deep that they stay on for weeks and take forever to ripen. This time around, they're pretty much all over my chin and upper mouth area.
With that in mind, I was looking for a serum that would help prevent more from popping up since my toners weren't helping. So while I dropped by the Retail Pop Lab in Glorietta, I chanced upon a newly opened booth inside by the name of Formula Organic 23. I was curious and on the look-out for a new serum particularly for that purpose–I was going to buy one from The Ordinary but the price tag of P250 (or less) and the promise of Formula 23's 15 ML Acne Serum being organic, I opted to take that one home instead.
I used it on the first night and was initially worried about its formulation. The only oil-based serum I have is Kiehl's Midnight Recovery and though it does wonders for my dry skin, I wasn't entirely sure how it would prevent pimples. Wouldn't it clog my pores? I tried it out anyway because I figured, what's the worst that could happen? (On hindsight, this was a pretty dumb risk but I was desperate).
I woke up the next day with lesser tiny bumps on my chin. It didn't do much for the bigger bumps but I think those were beyond repair anyway. It also reduced my blotchy appearance–which can be attributed to the Tea Tree Oil in the formula. For the price of P250, this serum goes the mile!
Take note though that since it's oil-based, it is quite greasy even up til you wake up. It took me a while to figure out how to make do with how much I needed to put on my face during my regimen. Now, I've figured 2-3 tiny drops are more than enough, after which I follow with a very light moisturizer.
I can't guarantee if this serum is for everyone though but it's worth a try. The bright side of it is that it is organic so you're not putting anything harmful on your skin. Do you have other anti-acne products you swear by? Drop me a line below!