Knitted Poncho Top: H&M | Leggings: Cotton On | Bag: Fendi | Sunnies: Dior | Necklace: Bvlgari | Grey South Sea Pearl Earrings | Sneakers: Adidas | Bangle: Hermes | Watch: Rolex
For Holy Week 2016, my family and I opted to Travel to Barcelona, Spain. If there's anything you need to know about my family, it's that we don't ever travel for long periods–my parents are very hands on with their business and leaving it behind for more than a week will have them both in jitters. My parents are the very type of people who would take 5-day trans-atlantic trips (and only for the sole reason of attending weddings or funerals); in fact, during their most recent trip together, they spent 5-days to tour Dubai, Abu Dhabi, and Saudi Arabia. So don't be surprised when I tell you that we only spent 5 days in Europe.
To maximise our itinerary, we opted to forego going to Madrid or Seville–2 places my dad wanted to visit. Instead, we opted to just stay within Barcelona and keep within our own pace. What really helped was the fact that we had an almost-local touring us in the guise of my boyfriend, who was still based there at the time (yes, he's finally back for good). But let me tell you this… 5 days in Barcelona? It's do-able. It will leave you wanting more, but it's enough to make you appreciate the city (and compel you to come back again).
I'll take you through my day-to-day itinerary for better appreciation. These place I'm sharing are ones highly recommended by locals (and not necessarily tourist spots).
Upon arrival, we took the airport taxi. Just a note, cabs within the city are very expensive–allot 10 euros for short distances and 30 euros for far distances (with maximum of 4 passengers). We checked in, dropped our bags, and caught a bus to Plaza Catalunya, which is the centre of everything (in my opinion). If you can figure out the commuting system especially for buses or subways (which I've never tried), that would be a better option than taking cabs. Better yet, walk! A lot of the main attractions are within walking distance.
We arrived in Plaza Catalunya, which is also near the shopping district of Passeig d' Gracia (think Champs d' Elysees of Barcelona), and explored the place for a bit. There are banks in front, an Urban Outfitters, a fountain, a huge Zara store, a fountain, a park, and an El Corte Ingles department store (the original version of Rustan's) department store, and streets leading to various other touristy areas.
After exploring the Plaza for a bit, we went around for a quick walk to the famous La Boqueria. It was pretty early at 9 AM so most of the shops, save for quaint little cafes, were closed. The Catalans are famous for "taking their time" and by this, I mean, there are certain dead hours with a lot of them resting or taking a siesta–in this case, it was too early for them to go out despite it being a weekend (it was also a holiday so a lot of the locals were also out for trips).
On our way, we chanced upon the best donut shop (this is debatable because a lot of locals would prefer a multi-branch donut shop called Boldu) called Chok. We bought a few donuts, and headed towards La Boqueria, which is essentially their market. If you have relatives who've visited Barcelona, I'm sure they've talked about this; outside, there are various meat shops selling the famous black pig meat and Jamons from the "pata negra."  Upon entering La Bouqeria, you will see stalls (manned by Filipinos a that) selling an array of chocolates and candies. If you move further down, you will see fresh produce, seafood, strawberries dipped in chocolate, spices, and a few tapas stalls.
My tip: head to the chocolate stalls and buy the chocolate covered candied macadamias. They will be giving you a few samples to try and they're super good (my parents bought 2 kilos worth). Don't buy Jamon Iberico from the stalls outside (unless you're pressed for time), I suggest just head to a supermarket (El Corte Ingles) and look for Cinco Y Jotas (the Rolls Royce of Jamons) or Andreu (the brand that the Catalans prefer). If you like cooking, make sure to check out their collection of spices in the stalls; for some odd reason, they have Saffron in abundance and they come out cheaper than the ones you see in specialty stores in the Philippines. Also, sample their big and juicy strawberries since it's cheap and really tasty. Finally, head to the end and look for the Tapas stall called Bar Pinotxo (and pray that it's not full of customers) for a taste of real Catalan food.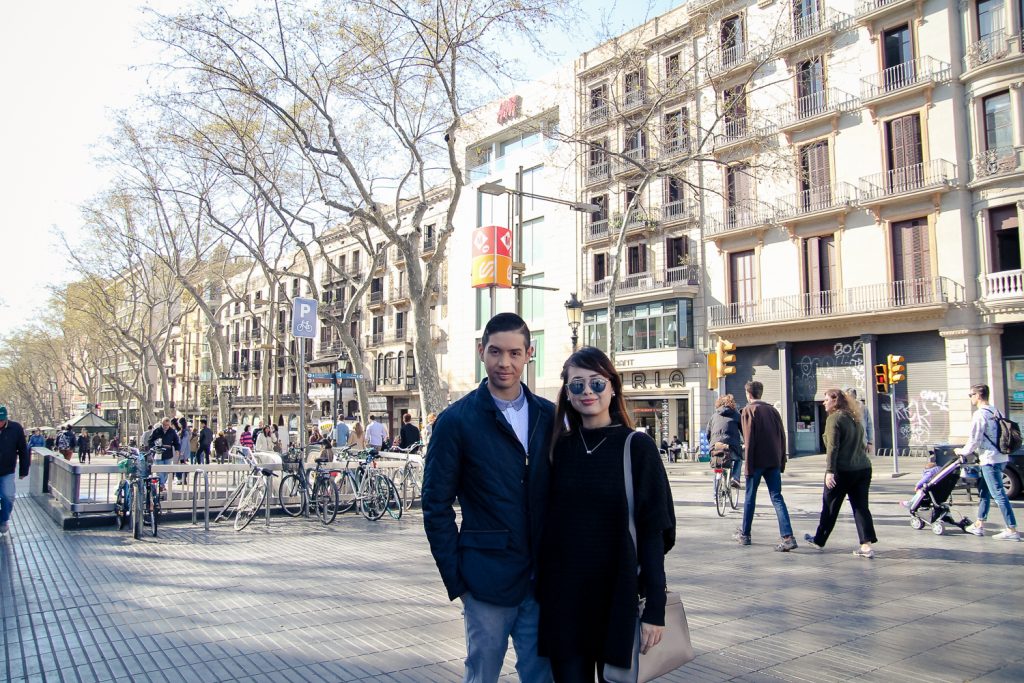 We ended up taking home a few souvenirs from La Boqueria. Because we were already sleepy and needed a pump of caffeine, we went straight to Bilbao Berria for some piping-hot "Cafe con Leche" (coffee in any of those little quaint cafes you see? they're outstanding so try any). We stayed for a bit, ate our donuts, and waited for the restaurant to serve their a basque delicacy called "Pintxos." They're basically just flat bread with a variety of different toppings–they can have plain jamon, or chorizos on top, cream cheese with blueberry, crabsticks–all put together with a toothpick (they also use this as a reference to know how many you've eaten). Each bread is roughly around 2-3 euros but can be very filling.
After we've had our fill, we went straight to the Barcelona Cathedral right across. When you think of churches and Spain in general, you automatically think of Sagrada Familia but Barcelona has a lot of hidden gems within the city and this is one of them. The Barcelona cathedral holds the crypt of Saint Eulalia, co-patron Saint of Barcelona. It's a bit busy on the outside but is very serene and "gothic" on the inside. Which is apt because right outside, when you decide to take a walk, you end up in the Gothic quarters and Plaza Reial.
There were so many things to see in that walk–we were roughly around the area for over 6 hours and there were so many things to do. We did a bit of shopping as well, of course, and ended up too beat to actually take more photos. We headed back to the hotel to rest, had dinner, and then sleep (at approximately 10 PM).
Last tip: You'll always be pumped on your first day, but in case you get tired–fight it. Jetlag is a bitch but try to make the most out of the first day where the environment is fresh and you're game to explore. Have some freshly fried churros also, you'll thank me for it.