Vest, Skirt: Zara | Top: River Island | Bag, Bangles: Hermes | Heels: Manolo Blahnik |  Necklaces: H&M | Belt: Chanel | Watch: Audemars Piguet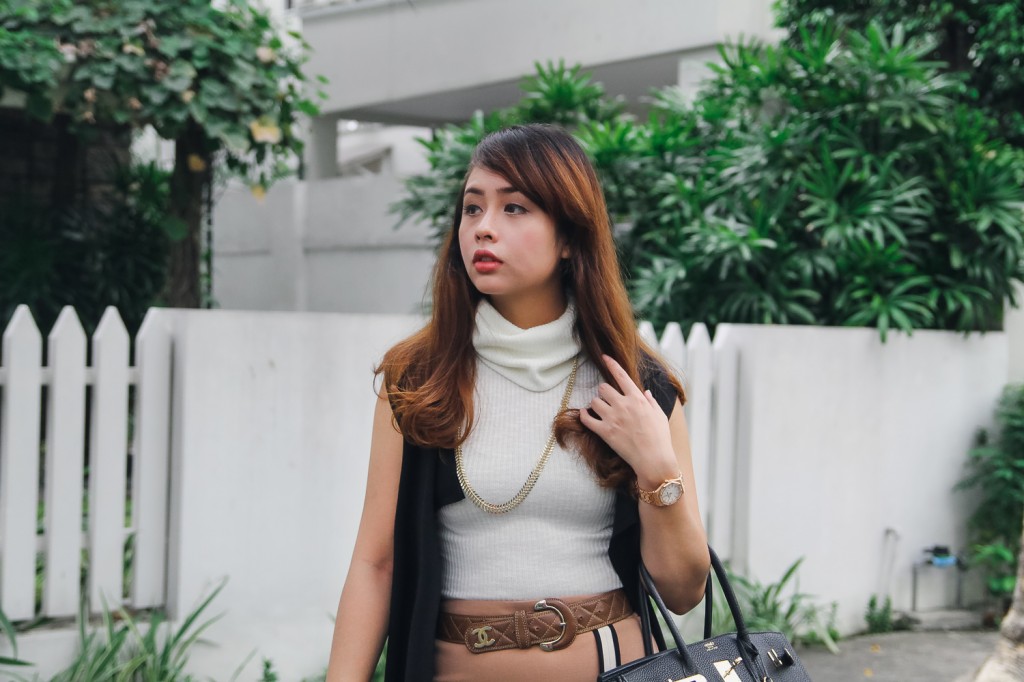 I'd like to believe that I'm a multi-tasker (don't ask my mom or my boyfriend though, they'll most likely disagree). It's not that I want to be, it's that I have to be. I'm not the best multi-tasker out there but one's got to do, what she has to do. It's really just an occupational hazard seeing as I have so many passions and just 24 hours to work with on a daily basis. I do try to deliver quality output for every work I set my sight on and I'd like to think I'm getting pretty good at it. Thankfully, I'm a Millenial, I'm used to the fast-paced lifestyle, and I'm no stranger to doing numerous things all at the same time (watch TV and surf the net? piece of cake). 
Here are some things I find pretty helpful:
Craft a To-Do list

 – I have bad memory for short-term things–it's like my brain selects interesting parts to retain (I can list down the various parts of soil from my Environmental Class 10 years ago) and automatically trashes those that it deems unimportant (now where did I leave my car keys?). This is why, I invest in expensive planners (moleskine, warrup) and pen down a to-do list every single day. I'm an Account Director (yes, I just got promoted recently) and in my line of work, my job requires me to be very organised; I need to make necessary follow-ups for a lot of things for a bunch of clients so I always, always (I can't stress this enough) list down important deliverables. In fact, I own several post-its of different sizes for urgent  but time-bound things, and notebooks for random thoughts, facts, and ideas. It's made my life so much easier, really.

Invest in dual-purpose anything

– I love dual-purpose items–the invention of a skort is ingenious to me, really. The lesser things you carry/own (except for clothes), the better because it minimises clutter and distraction. This is why I love innovations–a smartphone that can work as your camera/ebook reader/music player? Saves me space in my purse. I'm also quite in love with my new Asus Transformer Book simply because it allows me to own a laptop with powerful specs (check the Asus product page for all the techy mumbo jumbo) that can "transform" into an ultra-portable tablet. Basically, I can do work stuff with my Microsoft office software in the office, play Sims 3 on my room desk, and then remove the screen to watch movies on my bed–all in one. Plus, it's pretty cheap for less than P33,000.

Eat f

or e

nergy

 – You know what's worse than being busy? Being busy on an empty stomach! I'm guilty of forgetting to eat when I'm loaded with tasks, and the worst part is that, the moment the hustle dies down, I always end up scarfing more than I intend to (and regretting it 5 minutes after because I feel sluggish). Always have a satisfying meal in-between–it's your little gratification for all the hard work. Plus, it's going to get really troublesome if you get rushed to the hospital for a hole in your stomach–what's going to happen to all the things you're supposed to do when you're admitted and rendered immobile? Remember, an ounce of prevention is better than a pound of cure.
Set aside some ME time – More than relaxing or sleeping or attending to your basic needs, you just need to find your "centre" in the midst of all the bustle. I know it sounds like utter BS because who, on their right mind, would pull aside and go "Ohm" in the middle of a busy day? Well, you don't really have to meditate or make a big production out of it. It's really just more productive to pause, unwind, and then go back to a certain task when it gets overwhelming. The thing is, we get overwhelmed and that stunts our thinking processes–giving yourself air to breathe will allow you to get back on the right track sooner. Personally, I go through Buzzfeed just to allow my mind to settle or I go to Yoga and offer my intentions for personal causes. It's really up to you!
Gratify yourself  – When hard work is completed and the very best output is delivered, always reward yourself. If a day goes awry but you gave it your all, reward yourself too. It's great to have a "go-getter" competitive mentality and it's okay to push yourself hard, but I've come to realise that what makes me work harder is when I surpass a challenge and reward myself. As a Fashionista, I reward myself by buying myself things or by posting a photo on Instagram. I know it sounds weird but hey, do what makes YOU happy. If it's traveling or dining, then go for it.
Here's my outfit for a recent workday. No matter how busy I become, I always make sure to dress right as well. When I start my day looking good, I always end up feeling good the rest of the day.