Top, Necklace: Forever 21 | Skirt: Zara | Sneakers: Topshop | Bag: Alexander Wang | Bangles: Hermes, Marc Jacobs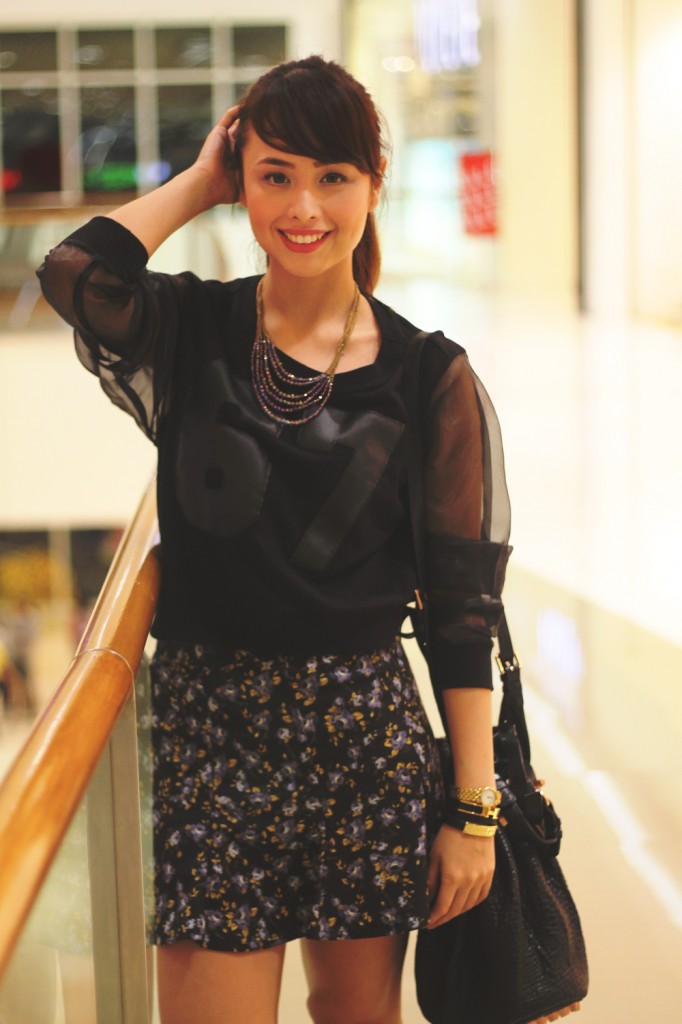 It's been roughly a few weeks since I started using Shopee to make quick purchases for items and it's changed my virtual shopping experience (read about that here). Now, I've decided to sell a few of my pre-loved apparel from the Blogger's United and Aracama Yard Sale loot (check my shop out here). To be honest, I have an attachment to material items I buy in general—they serve as an extension of me: a product of my hard work and a testament to my aesthetics. But of course, for a multitude of reasons, I have to learn to let go of some of them… my items need a new home, quite frankly, and most of them are rarely used (or if not, unused).
What motivated me to sell my item on Shopee (apart from the fact that it's free and does not require a subscription) is that it's so easy to use. I can honestly set up a shop in 30 seconds—no holds barred! It's easy to upload products and manage your inventory—I have the choice to take a quick snap on my phone and upload on my account or I can choose a photo from my gallery and post away. On top of that, Shopee's customer base is continuously expanding (I've actually had other sellers telling me they're enjoying the app VS selling on other Social Networking Sites). Because there is a ready audience, I'm actually getting inquiries and sales and it's reliable and fast to get in touch with them via the Live Chat function.
Shopee is also user-friendly not only to buyers but also to sellers. Apart from the security guarantee they give you, where sellers can actually opt to accept or reject an offer, and that payment is confirmed through Shopee before you get to ship out, you actually also get your very own virtual assistant that helps you track your sales, your customers, and your income. It also allows you to be strategic by allowing you to cross-promote in other Social Media platforms.
So if you're an aspiring start-up entrepreneur selling goods, make sure to include Shopee in your list of online real estate. It's not just an added channel to make more money but it's actually a very effective one.
Check out my items for sale on my Shopee account: shopee.ph/dominiquetiu. Plus, get P250 OFF with my code: DOMINIQUE250. Valid sitewide!
Follow them on instagram (instagram.com/Shopee_PH), facebook (facebook.com/ShopeePH), and twitter (twitter.com/ShopeePH) for more information.
Speaking of selling items I no longer feel crazy for, see an outfit set from God-knows-when, I've probably sold every single piece of my outfit from the previous yard sales.