I always love me some low maintenance, less overt Makeup. I like the idea of "natural" beauty, with a little help here and there–a bit of an oxymoron, I know, but I'm sure you girls get what I mean. What most people don't know is that despite the look being so subtle, it actually entails more or less the same amount of time and preparation versus your regular/party looks.
I remember this Archie comic short from back in High School where Veronica Lodge declares to Betty Cooper after reading a fashion magazine, "The natural look is so trendy!" And happily, the next day, Betty meets her at the mall sans Makeup and Veronica ends up buying a truck-load of Makeup, which boggles the blonde. That's the reality of the technique.
At least, that is, if you don't practice a good skincare regimen and don't use the appropriate tools of trade. It took me a while to figure that out but bear with me, I'm no makeup expert after all. It wasn't until friends recommended I try Benefit Cosmetics. Upon seeing their packaging, I was sold. I've been an avid user of this brand for the past 5 years and for anything "natural", I always rely on Benefit products.
Though Benefit is pretty much accessible physically, I don't really have that much time on my hands to go and visit a store. Plus, I'm always reminded of my makeup needs early in the morning–when the malls are still closed, so I'm quite happy to announce that Benefit Cosmetics is now available online through Luxola.com. Plus, all the latest lines! I personally got the "Feeling Dandy" box set, which I'll be reviewing.
The "Feeling Dandy" box set is composed of the Posie Tint for cheek, High Beam liquid highlighter, Dandelion blush, and Dandelion gloss. I personally love the box (which serves dual purpose as a storage if you remove the tray for the actual makeup) and I appreciated the fact that they included a "Tips & Tricks" pamphlet.
To show how each makeup component works, I opted to start testing it with a clean face. Also, because we're a selfie generation and what's important is to see if our makeup translates well for #selfies, I opted to use my smart phone: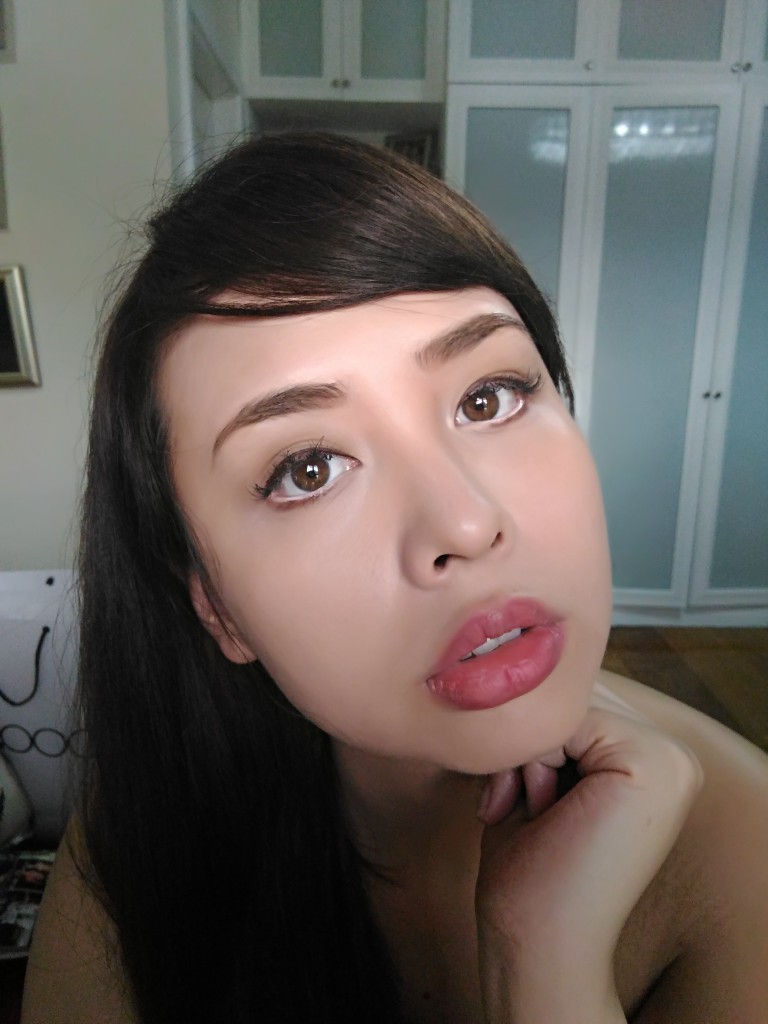 I started with my foundation and eye makeup on. Since the "Feeling Dandy" set is mostly comprised of cheeks and lips paraphernalia, I couldn't start with just a bare face.
The Posie cheek tint is a sure winner. I have never seen a cheek tint so strong and yet so subtle. It blends in easily and adapts to your skin tone. In fact, for safety measures, I applied it on my wrist first and it came on as a warm salmon hue. Plus, the tint on my wrist alone stayed on until the evening–I noticed it while lifting weights at the gym!
On the left is the Posie cheek tint and on the right is the dandelion cheek powder.
The Dandelion cheek powder however was a bit lighter. It took me for swipes to get some colour on my cheeks and it didn't translate so much in photos. A tip I learned however, is to put on the Posie cheek tine first and then to top it off with the Dandelion cheek powder to give dimension to the look and to give you that subtle golden glow.
The High Beam highlighter is a cult classic. I've been using this notoriously during my brief party days and I especially love how it highlights my features to the nth level. Ever since I've been using High Beam, I've never thought of changing my highlighter. Yes, I have quite a few subtle cream ones that I use for every day, but I still honestly prefer using the High Beam over anything. Plus, the best thing about it is that a little goes a long way–which is why I only put certain dots in key areas. 
Plus, since "strobing" is the next big thing, this should be on top of your priority list for highlighters. 
Finally, the Dandelion lip gloss. Ever since the advent of matte lipsticks, I haven't really used gloss in general. This gives your lips subtle gold flecks perfect for a sunny day. Though the gloss colours on really light (but glossy), it's best to use it on top of a lipstick or lip tint (also the Posie tint doubles as a lip tint).
Voila, the final look! Of course, your interpretation of the "no makeup" or "barely there" look might vary–I know some of you would want to tone down the eye play. I personally have to work on my eyes since they don't really pop naturally.
Go forth and go nuts! Get yours now on Luxola.com!