Cropped Striped Top, Booties: Zara | Pink Skirt: River Island | Bag: Alexander Wang | Belt: Moschino | Necklace: F21 | Watch: Michael Kors
I'm usually very tame with my fashion choices (I'm pretty sure most of you have noticed) but… there are very rare instances where I actually make an attempt to experiment with an extremely radical look. When I do, however, I don't really make a habit of documenting it because most of the time, I'm not really confident with how I look. This photo set is an unusual case however–I guess I just allowed the inner "Rock Star" in me to take over.
As a kid, I've always had a ball singing. I pretty much thought I'd end up in a rock band (I grew up listening to Queen and Hall & Oats). Unfortunately, I got my reality check when my friends told me I couldn't sing if my life depended on it and so that was pretty much the end of my rock and roll dreams. I mean, there was a time where I learned to play the drums but that was short lived. I love music and my auditory intelligence is high according to various psych tests, I just don't have any musical skill or talent.
 Thankfully, fashion has opened doors for me to live my childhood dreams for even just a few hours in a day. Fashion has allowed me to dress like a magazine editor, a seventies hippie, a Lieutenant, Taylor Swift, to name a few. Now, I can add "Rock Star" on my list. Here's a few photos from the set: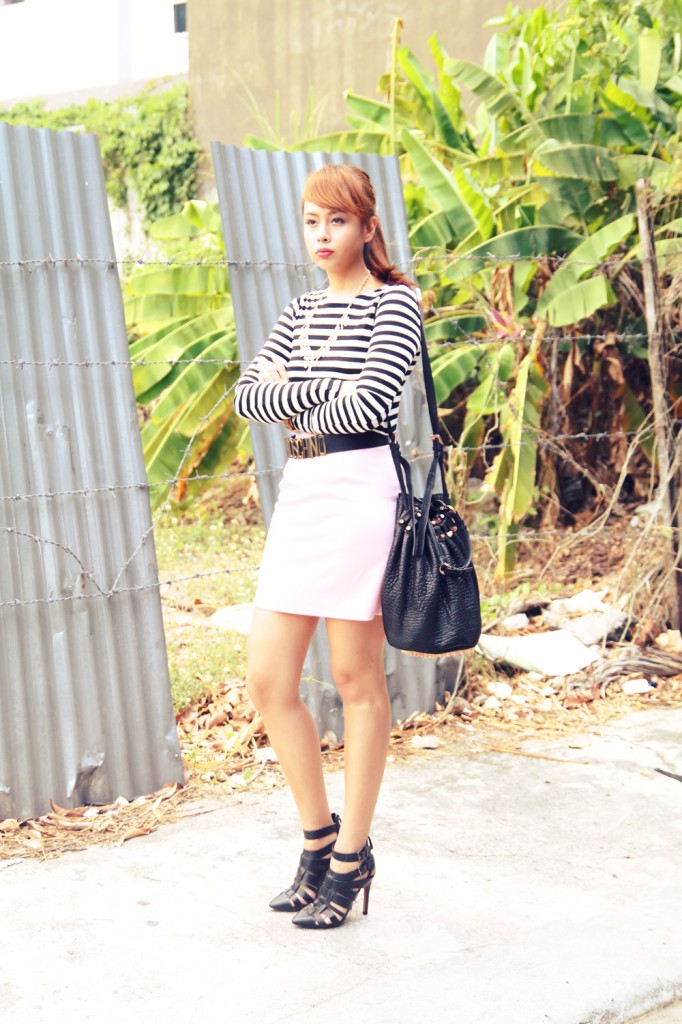 Speaking of "wanting to be a Rock Star", for those who have the actual skill and talent, this might be of interest to you guys (and sadly, not for me):

Taiwan Excellence brings you the newest online contest

Show off your singing ability, broadcast your musical talent, and wow audiences all over the world in the Made to Enjoy Singing Contest, a new and innovative contest brought to you by Taiwan Excellence, with so many exciting prizes to be awarded. Made to Enjoy Singing will surely captivate the Philippines by discovering your hidden musical talents.

The Taiwan Excellence – Made to Enjoy Singing Contest aims to showcase the musical genius of Filipinos. Adding to the fun, it allows the public to vote for the best musical video submissions, which will then be judged by a panel of experts. The winners will take home superb Taiwan Excellence products, as well as cash prizes.

Taiwan Excellence lined up some of these innovative products, which are among the 78 brands it aims to bring to the Philippines, as prizes for the winners.

The August winners brought home a Transcend Drive Pro 200 and a Tatung Rice Cooker 100 plus 10,000.00 pesos cash prize, they will also sing with Sam Concepcion on September 05, 2015 at the 2nd Taiwan Excellence Experiencing Zone in SM City North EDSA The Block Atrium.

The September winners can take home an Acer Liquid Jade Z or a Kingcom Sigma Evo smartphone; while the October winners will be the proud owners of Asus Zenfone 2 or an Acer Iconia Tab. In addition, each finalist will get P10,000.

The grand winners will be gifted with a KYMCO Agility 125" motorcycle and a cash prize of P50,000.00. The grand winner will receive the prize from Taiwan Excellence endorser Maja Salvador.

"We have always been amazed at the musicality of Filipinos, and we hope to give them a fun platform to showcase their talents, while at the same time giving the best ones an opportunity to win Taiwan Excellence products,"' said Yu-Wei Hsiao, Deputy Executive Director of TAITRA. "The high quality of our products is reflected in the high quality of Filipino singers.''

Whether you're just starting out as a singer or you've been performing for your friends for a long time, the Made to Enjoy Singing contest is a perfect opportunity for you and all aspiring singers to show their excellence in their field, just like the brands under Taiwan Excellence, which are noted all over the world for their great and innovative designs and workmanship. Aspiring singers will discover that this is a good opportunity to let the world know about their talents, and to connect with other music lovers. This may even be a way for your talents to be discovered! Most of all, the contest is guaranteed to be a fun and memorable experience for you and your loved ones, with great prizes that you will definitely enjoy.

To join, register at the Taiwan Excellence Made to Enjoy Singing official website at http://www.madetoenjoysinging.ph.

The qualifying legs will be held on August, September and October while the finals leg will be held on November 2015. For more information on the contest, visit the Taiwan Excellence website.