So as mentioned, I've finally segregated my blog entries to either fashion, beauty, and/or lifestyle. I think it makes it easier to navigate, though unfortunately, it's not "as pretty" for now. Don't fret! We're doing necessary changes… slowly but surely. That said, I will be channeling a lot of my efforts on creating beauty segments, if only because I do get so many queries about beauty-related topics. In fact, I'm starting with this post!
The photo above is literally something I took this morning. I woke up and decided that I wanted to go makeup-free for the day. For those who know me personally, they know this is a big deal because I am almost always never without concealer (yes, I put on sometimes even when I'm just running errands or going to the gym)! But I was feeling a bit confident with my skin today, plus I just had my eyelash extensions retouched and my eyebrows threaded and dyed as well. So I felt like I can rely on my fresh face.
I have my recent skincare regiment to thank, actually. Now a lot of people have asked me how I go about my skincare regimen and I've answered quite a few times over at Ask.fm but I think it's high time I go in-depth with the products I've been using as of late.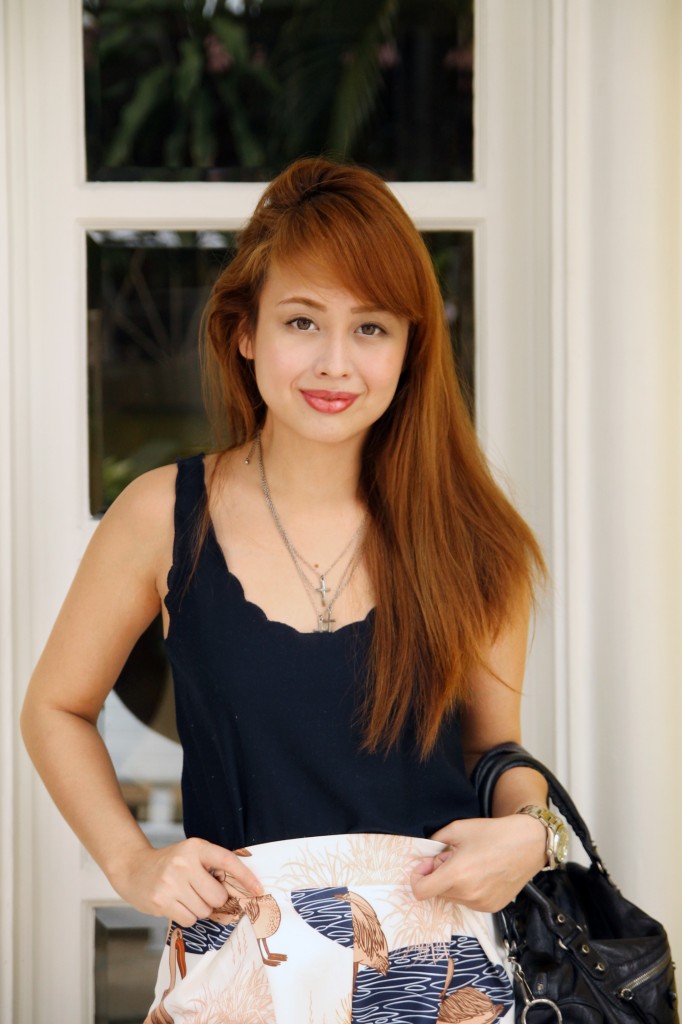 These are the current cleansers I use:
The

Laura Mercier face polish

is a cleanser scrub that I use once a week. The main purpose of it is to exfoliate my skin.
The

Canmake Facial Wash

is what I use in tandem with the

Safeguard Dermasense

; I don't use one consecutively if only because I don't want my skin to gain tolerance over the products I use. Granted, that is a baseless theory of which I formulated in my head–so it's not really mandatory.
These are the toners that I use (and again, I use them on rotation). The point of toners is basically to prep your skin for the moisturisers you're about to use so it absorbs it better and likewise, cleans excess residue that aren't thoroughly removed by cleansers:
I like how light and fuss-free both Canmake toners that I use: the

Canmake cleansing water

and

Canmake smooth clear lotion

; they smell very nice as well.  I also like how refreshing my skin feels after.
I've been using

Bioderma

for quite a while already and it's basically pharmaceutical grade. The only way I can acquire it is through my best friend, who lives in Canada, or through specialty instagram shops. You can get them in major department stores. I just like how this toner keeps the PH balance of my skin.
These are the moisturizers/emulsions that I use:
I use a

Belo facial sunscreen

because it's light on the face and doesn't feel greasy. I put this on before I apply a primer or a makeup. I was recently told by a dermatologist friend of mine that one of the most important parts of one's skincare habit is applying sunscreen–so many skin problems can be avoided when you're religious with this effort.
I use the

Rice Ceramide moisturiser

in the evening more frequently simply because its lightweight. Since most of the time, my combination skin feels oily and I have this long-standing rule that I never skip moisturisers ever so I opt for this one instead.
I use the

Canmake Marshmallow Cream

and

Kiehl's Midnight Recovery Concentrate

in rotation; they are heavy weight emulsions but they make skin feel like heaven. It's just difficult to sleep at night knowing you might, one way or another, grease up your bed pillows (but it's super worth it). Another trick you can do is mix it with a light-weight emulsion just so it won't feel too heavy.
I use the 

Revitalift Power Water

before I put on my makeup but only on days when I feel like my skin is parched–this can be attributed to long evenings prior. Since my skin type is combination, the tendency is for dead skin deposits to accumulate at the side of my nose so I have to utilise this to make sure my makeup comes on smoothly.
The 

Odbo peeling gel

is a discovery from Korea–I use this only once a week (strictly) and it is quite amazing. It removes all dead skin but remains very gentle on the skin. Once it peels off, my skin feels smooth and wonderful!
These are things I use on a case-to-case basis, when my skin is acting up and I'm breaking out!
I love facial masks and I use them prior to a big event. I've been using a variety from 

Purederm

.
When I get pimples, I always make sure to put on a dot of

Benzoyl Peroxide from Galderma

and then cover it up with a medicated

pimple patch from Miacare

. On days when my pimple is glaring, I use them during the day also and it's not really as obvious as one would think.
And that basically concludes my skincare regimen. The basics of skincare is something we all learn through-out via magazines, word-of-mouth, and well… dermatologists. Ultimately, what's important is to get a professional opinion because not all "over the counter" remedies or cosmetic products are good for all skin types.
In fact, if you want a skincare 101, there's this event on Saturday that you can go to for only P300 (with freebies from Lancome and other sponsors). It's basically hosted by the JRRMMC department of dermatology, one of the leading dermatological authorities in the country and they are legit doctors. You can register online or drop by on the day itself. One of the speakers, my old High School friend Dr. Hester Lim, will be giving a talk and I just met up with her for coffee recently and that one hour talk gave me so much insight on my skincare regimen (also, her skin is amazing). I'll be part of the panel for her talk this Saturday so if you have basic skincare questions, drop me a line so I can ask for you.