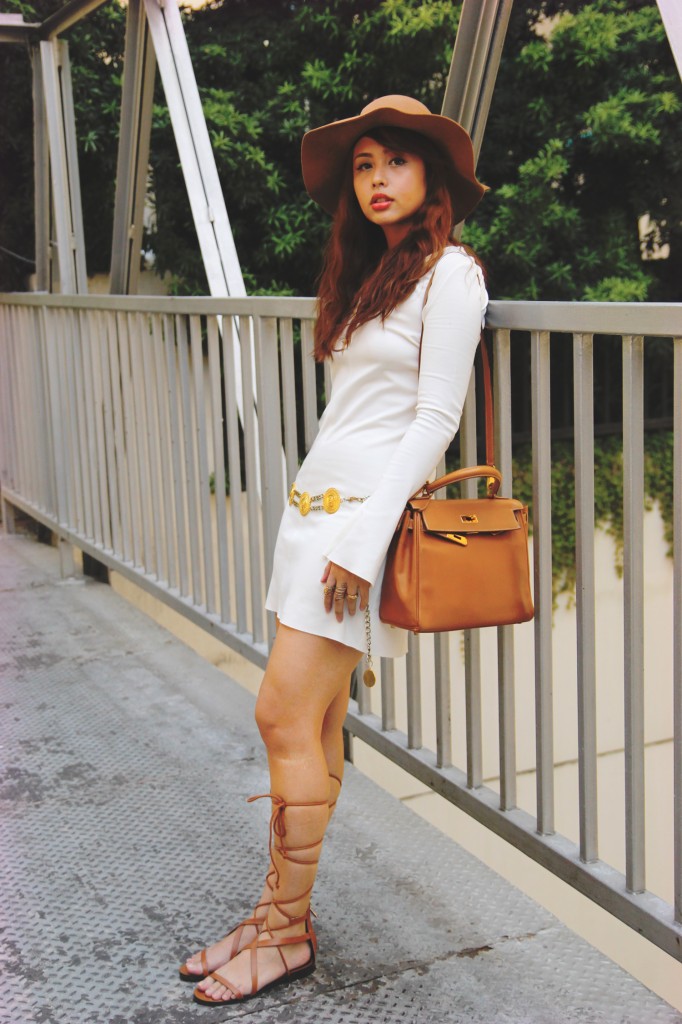 Hat: Korea (same as here) | Dress: Zara | Lace-up Sandals: Mango | Bag: Hermes | Belt: Versace | Diamond Crucifix Necklace: Gift from mom | Rings: Charriol, Gift from Mom
So Konichiwear is still undergoing renovations, nothing that'll botch up blog operations but nevertheless, I'm still busy to the point that it might take a while for me to blog as consistently. Consequently, I might not be able to implement my vision for this blog fast enough. Regardless, the world hasn't stopped revolving anyway, so that's that. What's new? But you know, humans are all susceptible to day-to-day challenges but despite that, the one insight I've derived in situations where "the going gets tough" is that you wade it through… while still being entitled to feel bad. Emotions are volatile and I've learned that controlling and bottling it can be somewhat hazardous.
I also understand that when you age, the more people around you expect you to be "mature" enough to control yourself, and I've fallen trap to that ideology to the point of it being detrimental to myself. I guess, regardless whether your current situation has a solution or not, it doesn't mean you're not allowed to feel bad about something. Give yourself a break once in a while and give in to your saturation point, the faster you get it out of your system, the better you feel–how you do this is ultimately up to you (no one's there to judge unless you go berserk and harm people within the vicinity).
To get you through tough moments, it's really important to have a strong grasp of yourself and your worth… and also, to learn how to share your pain with someone. It might not immediately solve problems but it will make you feel like the weight on your shoulders has eased up slightly. It doesn't have to be your best friend all the time, but someone who can most likely relate or someone who can give you sound advice, or hell, even someone who can give you another perspective. Just someone, basically. 
That said, this is to all working girls… and generally, every single human being on this planet, who often have to sacrifice a few certain comforts to make the world, the people who live within it, and the people around you, better. I don't usually speak my mother tongue but allow me to do this just once, Mabuhay kayo.
Here's an outfit I wore to the Supersale Bazaar a few weeks back. Saturdays are very important to me (or basically, time I spend outside of work) because I get to just focus on myself and unwind. So when I do, I go all out and do things I can't normally partake in on a regular day. Here are some more photos: