Crochet Robe: Forever 21 | Swimsuit as Top: Wear Sundae | Jeans: Topshop | Heels: Zanottis | Bag: Celine | Necklace: Pretty Little Blings | Bangles: Hermes, Bvlgari, Cartier | Watch: Gucci | Citrine & Tourmaline Earrings | Belt: Chanel (same as here)
I'd like to welcome you all back from the Labor Day weekend! A lot of you may have spent it in Boracay or in some beautiful beach paradise getting a gorgeous tan, or you could have partied it all up 'til dawn at the Palace Pool Club or some hip new Superclub–or maybe you masticated in bed like I did and spent your weekend in the city (though to be fair, I had a ball taking long baths Sofitel's suite tub). Wherever you spent last weekend, may the 4th be with you. I hope you took a lot of photos for keepsakes!
Anyway, speaking of photos, like every basic B this side of the Philippines, I love taking selfies of myself (yes, we've already established that I'm tres self-absorbed). Just check my twitter and you'll see my "everyday #selfie project."  On top of that, I email myself high-resolution photos from my blog just like the ones you see in this post in order for me to have "instagram-worthy" pictures (call me shallow but this is extremely important). Unfortunately, this means that my phone storage gets full in a span of 3 weeks tops. Whenever I plug in my phone on my laptop, I see that my photos take up a high percentage of its memory—followed by music, messages, and then apps. No matter how hard I try to streamline my phone, it's just always full.
For someone with multiple video-intensive social media apps like Snapchat and Ask.fm, it gets really frustrating when I record a video and consequently get prompted by my phone that my "storage memory is full." On top of that, when my Besties i-message me horrible hilarious photos of frenemies or stupid videos of themselves that are just too blackmail-worthy to pass up, it gets frustrating when I can't save it for "future purposes."
What's a girl to do?
Thankfully, there's a modern-day solution for vain and appropriately mean girls like (you and) me! Simply download the Globe cloud app solution on your phone and be able to save your cute photos, your gym playlist, and even your contacts to ensure that your phone won't be hard up on your gadget's memory!
In fact, to encourage everyone to try and download the app themselves, Globe is running an exciting contest for a chance to win an all-expense paid trip to Miniloc Island, El Nido resorts, Palawan and a chance for your selfie to be featured in the Globe Cloud ad! Here's how: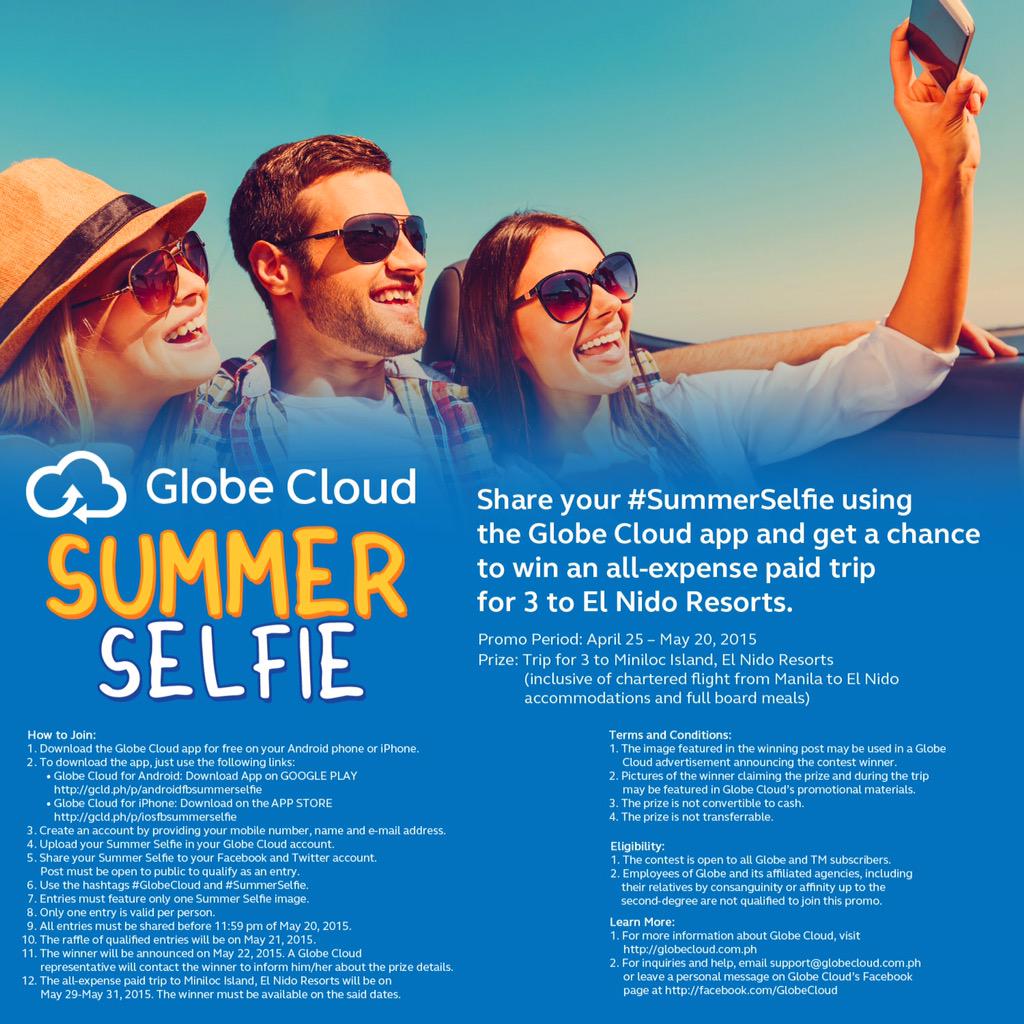 Sounds like quite a ball–for every #selfie addict, it is a dream to get your face in promotional materials. That and of course, El Nido. Good luck, everyone! Here's a few Summer #Selfie looks I've prepared in hopes that I can get my face splashed across the Globe Cloud campaign (or not, haha, but these can serve as examples):
ETA as of June 10, 2015: 

The winner for the Globe Cloud #SummerSelfie is out!!! Congratulations, Anne Baladad!