Coat: Stradivarius | Dress: Supersale Bazaar | Heels: Mango | Bag, Bangle: Hermes | Earrings, Ring: Mikimoto | Bangle: Bvlgari | Watch: Gucci
This post is long overdue as I've worn this outfit several months ago during the "Priscilla, Queen of the Dessert" matinee night (that was what, last December?) and I somehow overlooked posting it. I'm determined not to put this outfit to waste though so here it is… better late than never, is what I always say. I don't know if you've noticed but I actually have a penchant for A-line dresses (check my post entitled: B is for Bundled-Up)–the cut is flattering for my body type (being bottom-heavy and all), and it somehow always looks so timeless and elegant. If I'm in a rut and can't figure out what to wear to a semi-formal event, I always go back to my trusty A-line dresses (since shift dresses aren't very nice on me).
A little trivia for everyone: did you know that the A-Line has been around since the 1950s (or even earlier)? It was Dior who first introduced the term to every Fashion Bible(funny how I just wore a midi A-line from the brand), but Yves Saint Laurent who eventually nailed the look, closest to the very A-Line we are accustomed to now. 
One of the first Dior A-Lines 
Whenever I see a nice A-line dress, I think of Old Movies, Stepford Wives, and First Ladies (not necessarily in that order). There's just something so chic with the everyday A-line dress that it seems to and I quote Taylor Swift's song: "never go out of style"–unquote. Before I show you the rest of my photos from this set, allow me to regale you with a variety of photos from Classic girls through-out the era–from First Lady Jackie O, to Princess Grace Kelly of Monacco, to my ultimate favorite movie star Audrey Hepburn, to modern-day songstress Taylor Swift.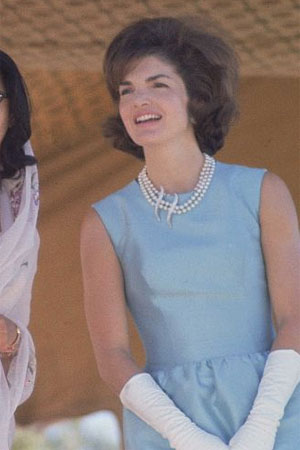 So I highly suggest you invest in one–make it your trusty, "when-in-doubt" dress and take cue from all the beautiful ladies above! Here are some more photos of my take on the A-Line: