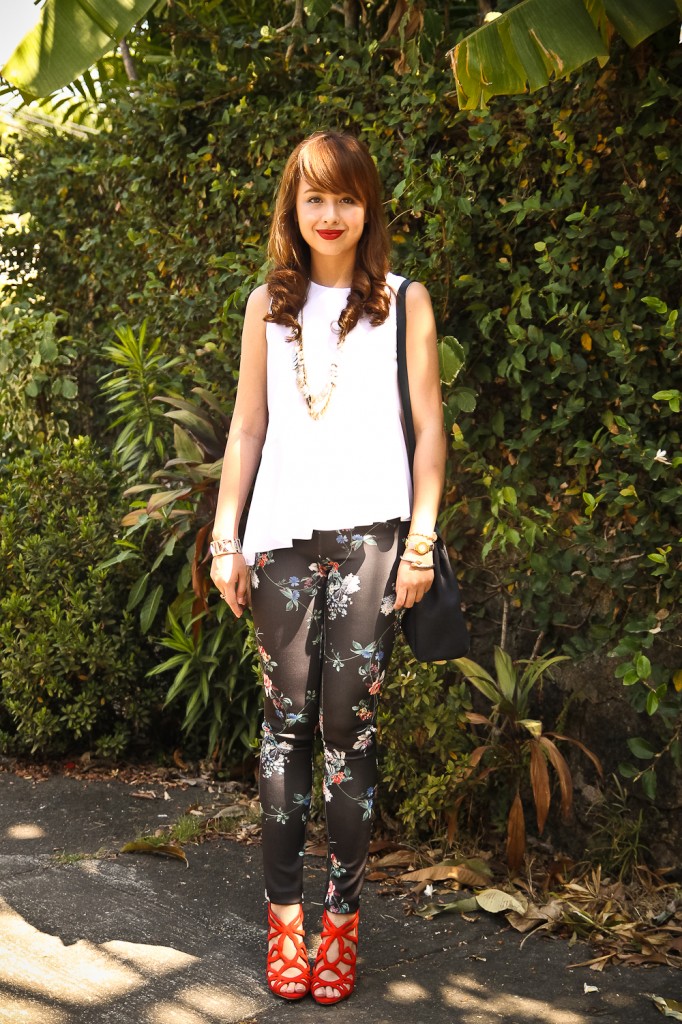 White Peplum Cotton Top, Cut-out Heels: Zara | Floral Tights: Mango | Bangle: Tiffany | Necklace: Aldo's | Watch, Bangle, Ring: Charriol | Bag: Hermes
I'm blogging to say that I'm very much alive despite the lack of updates–fresh from Boracay with a tan and well… the flu. Yes, I spent my first 2 days bed-ridden, with nothing but medicine to keep me company. Thankfully, I was well enough on some hours to see the sunset and participate on certain activities so I didn't really miss out that much (or at least, I hope I didn't). I'm still sick though so go easy on me and allow me to conclude with a very easy how-to.
So this is my "usual" office outfit combo–one of the many that I post in this blog. It usually follows a very generic formula–top, trousers, heels, and well-coordinated bags & accessories. A "no-brainer" outfit, as I'd like to call it. More than the outfit however, there are a lot of ways to play off your overall look… via makeup (see my makeup must-haves post) or even nails. Personally, I think a show-stopper would be "bold lips" and in my arsenal, I much prefer a good and solid RED.
A lot of people find bold lips, especially Red Lips, hard to pull-off in general. Some people say it can make you age prematurely, and some find it too dressy for everyday casual wear. I, on the other hand, think that if you do it right, you can get away with perfect pin-up Red. If someone as sweet as Taylor Swift can go out during high noon in red lips and flats then you should be able to do so too! Here are 5 possible ways on which you can use and abuse the color on your puckers:
Pair it with accents of red on your ensemble – What better way to channel Red than to take advantage of the excuse that it "goes well' with your outfit? Being color-coordinated can give you a well-curated look and if the goal is to look put-together regardless of the hour then you can most definitely go this route.
Choose a red-orange shade – Nevermind that magazines and online bibles tell you that red-orange looks good on certain skin tones. It's the 20th century and confidence is the game. Besides, red-orange looks great on warm tones and so as long as your lips is a little bit on the "pick-me-upper" side of the spectrum VS the "sultry-debbie-downer" hue, then go for it.
Go neutral – The best way for your lips to stand-out and not add to the busy-ness of an outfit is for you to pair it with a monochromatic outfit in neutral shades (not all-red, of course). Let it be the centerpiece and let it do the talking instead.

Pair it with Classic Pieces 

– Just because your outfit is casual doesn't mean it can't be classic–a denim jeans will look good with a Breton top, topped off with red kissers. The only way the red lips combo will look over-the-top is when you start pairing it off with bandage dresses that are reminiscent of 2012 clubwear.

Trendy Sunnies

– The best complement to red lips are trendy, oversized sunnies–really. Its Hollywood Glam, "Devil May Care" vibe oozes confidence regardless of outfit.
Of course, it's not to say that these are fool-proof. I think ultimately, the key to rocking just about anything is confidence. Here's my take on it:
I recently got a slew of Beauty Army products over the mail. They were wrapped precociously, in all its handmade glory. Now, ever since I've started visiting the Legazpi Market on Sundays with a few friends, I've always been so fascinated by small mom & pop shops selling organic goods. I personally feel that these are better alternatives to your usual mass-produced beauty products (if you really advocate organic), if only because the ingredients are handpicked and mild sans the processing. Though admittedly, I haven't tried all products yet, the few that I did are promising. A favorite of mine is the room linen spray… the smell is light but apparent. It's perfect for when I spritz it on my comforter before going to sleep (and I really do this, mind you).

 Beauty Army PH has a variety of products depending on your Skin's needs. I'm quite excited to try their organic clay mask–this is very reminiscent of Korean beauty practices where they do put homemade clay masks on their face. Anyway, for all the organic junkies out there or those looking for tiny knick-knacks you can give to friends, check out Beauty Army PH on Facebook & instagram!