Coat: Suiteblanco | Top: Massimo Dutti | Skirt: Zara | Booties: Christian Siriano for Payless (same as here) | Bag: Chanel | Diamond Cross Necklace | Watch: Gucci | Bangle: Cartier, Charm gold bracelet
Happy Chinese New Year, readers! I'm quite fond of this holiday if only because it's a nod to my heritage, not to mention, I get to enjoy an array of Chinese food–my favorite cuisine ever. Plus, it also serves as an "extension" for the resolutions I've made (and failed to implement, ho hum) during the start of the year. But wow, it's event after event, after event, huh? Just 4 days ago, we were celebrating Valentine's. No rest for the wicked, indeed! On the bright side, restaurants and hotels can simply recycle some of their red decors and be cost-efficient.
Based on the Chinese Zodiac, we are welcoming the Year of the Goat (or sheep/ram). Earlier this week, I read up on what 2015 has in store for those with the "Dragon" horoscope sign–being born year of the Dragon by the way–and I was quite surprised to find out that it's supposed to be a very good year for my career. Refrain from rolling your eyes at me, a little Feng Shui has never harmed anyone and what do we have to lose? I've had a good background on Taoist Philosophy back in college and let me just tell you that though these little quirks don't seem much, there are multitude of reasons for things being the way they are.
I digress. If there's anything I'm excited for, it's to a fruitful working year. It's been quite a rollercoaster ride thus far since I switched industries and though I've received a surprisingly good evaluation (wherein I was dubbed as the "go lang ng go" girl), I can't wait to carve my path further. I'm still in the process of getting professional fulfillment and maybe this year, everything will fall into place. What I do have to practice for 2015 is prudence… since apparently, I won't have special earning opportunities according to the forecast. I guess I'll have to delay my major shopping ventures for 2016, and hopefully by then, my luck will be better.
Of course, it's not to say I'm allowing a little fortune to dictate how I live my life but I do see no harm in trying to use the Dos & Donts as guidelines. In the end, only you have the capacity to change how your life should turn out and I think anyone with a functioning cranium can pretty much assess which advices are sound and which ones are a bit Cuckoo.
So the Question is, how will you make 2015 uniquely yours? That is always the challenge I pose myself every single year and if there's one thing I want to focus on, it's really my career and I'm hoping to make that as my focal point to owning 2015.
So anyway, for afternoon tea recently, I wore this ensemble. I figured it would be a good set to use for my short Chinese New Year's post since "Brown" (amongst a few) is a lucky color for 2015. I found this coat last December at Suiteblanco and I fell in love with it–quite pricey, if you ask me (as it was bought at regular price for almost 100 USD) but the cut is beyond flattering–and I needed to find an outfit that will go well with the skirt I bought from Zara on impulse. Here are some more photos: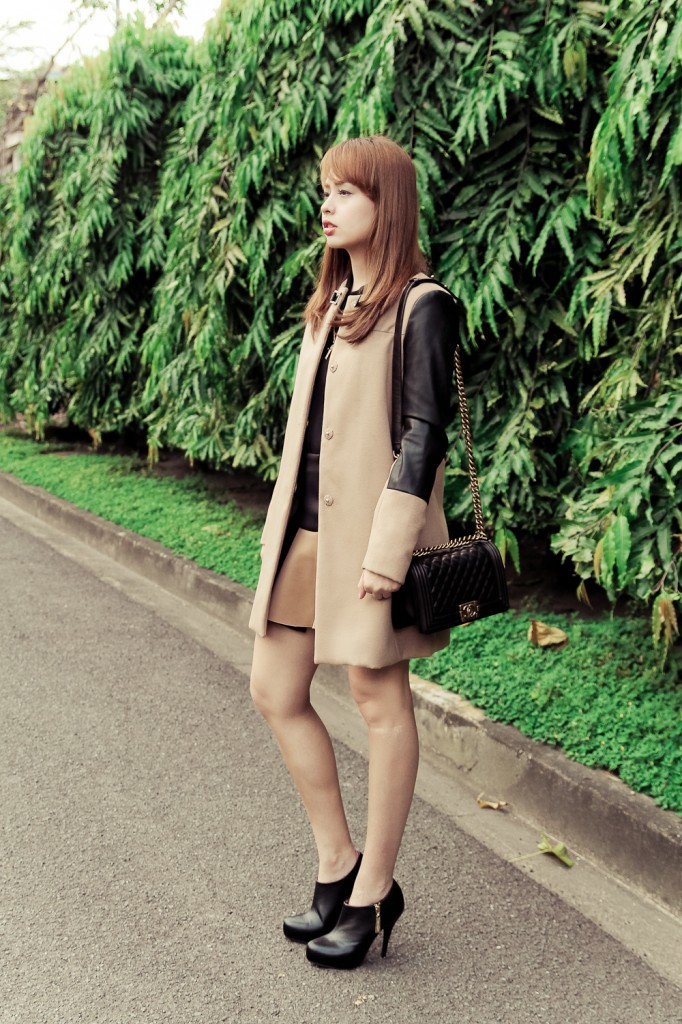 With all of the concerts, events and music festivals emerging, one stands out as it promises an exciting night of hyped-up music, a crazy party, and so much more. De La Salle University's most outstanding organization, Economics Organization proudly presents its first ever festival: the 11:11 Music Festival! It is the first college music festival that has Original Pilipino Music (OPM) merged with Electro Dance Music (EDM) which creates an avenue for indie artists to take the spotlight. Music, games and of course, wish making. What will it be? Definitely a special kind that you wouldn't want to miss. Imagine hundreds of LED Balloons flying off into the sky the moment 11:11 strikes and people looking up into the sky making wishes, taking pictures of an incredibly amazing moment, enjoying the spectacular starry view, and the music blazing in the background.

The festival starts at 3 with the Battle of the Bands finalists opening the performances. Enjoy a picnic party where you can enjoy the music from Banna Harbera, Stories Told, WeeFee to Chasing Victoria. Enjoy games and prizes from our sponsors throughout the event and a great variety of food to statisfy your cravings. Bringing you the classics, catch Urbandub, Franco and Paraluman sing their hits and discover new music from that of Between Archery and Olympic, Autotelic, Identikit, Flying Ipis. End the night by raving to the beats of DJs Rammy Bitong, Benedict Pacia, Edleen Lim, Curse&Bless, and Ace Ramos! So head down to the Greenfield District on the 20th of February, 2015 and enjoy a night filled with fun, music, fashion and wishes.

For more of 11:11 Music festival's details please visit their Facebook page,  follow their Twitter page, follow their Instagram account, to witness one of the biggest college music festivals in the making.