Hat: China Bazaar | Fringe Dress: Zara | Booties: Target x Altuzarra | Necklace: Forever 21 | Bag: Chanel | Bangles: Hermes, Bvlgari (same as here) | Rosary Necklace: Love Diva
Although I'm more of a Little-White-Dress advocate versus the Little-Black-Dress, I can't help but agree with every single fashion-frenzied female (and maybe a handful of males) that owning your very own Black anything (a dress, usually) is a must. I own a lot of black articles of clothing–tops, dresses, bags, shoes, and anything in between–and I always take them out for a spin during the last quarter, where it's most appropriate.
Don't get me wrong, there are no correct or incorrect colors per season but I tend to associate fall/winter with darker hues hence the seasonal preference.
When they say you can never go wrong with black, I can't help but concur. The color is sophisticated and timeless; it gives just about anyone a lean silhouette and it goes well with just about any color (navy, white, pink, red, and most importantly: gold). It's a failsafe reverse canvas, and if I can't find anything to wear, I always go back to the default black (not even white).
So for the upcoming New Year 2015, if you haven't thought it over yet, I highly suggest you beef up your closet with black items. They'll come in handy one way or another, and it's definitely a better investment.
For this outfit in particular, I was channeling one of my favorite American Horror Story narrative–Coven. I know, it's a year late, not to mention, AHS is already showing the latest narrative: Freakshow, but when I saw this dress and decided to pair it up with this pointy, witch-like booties, my sensibility just linked the two together. I topped it off with my a wide-brim hat (a pointed one might have been overkill) and voila, the outfit I debuted for the first showing of Chicago. Here are some more photos: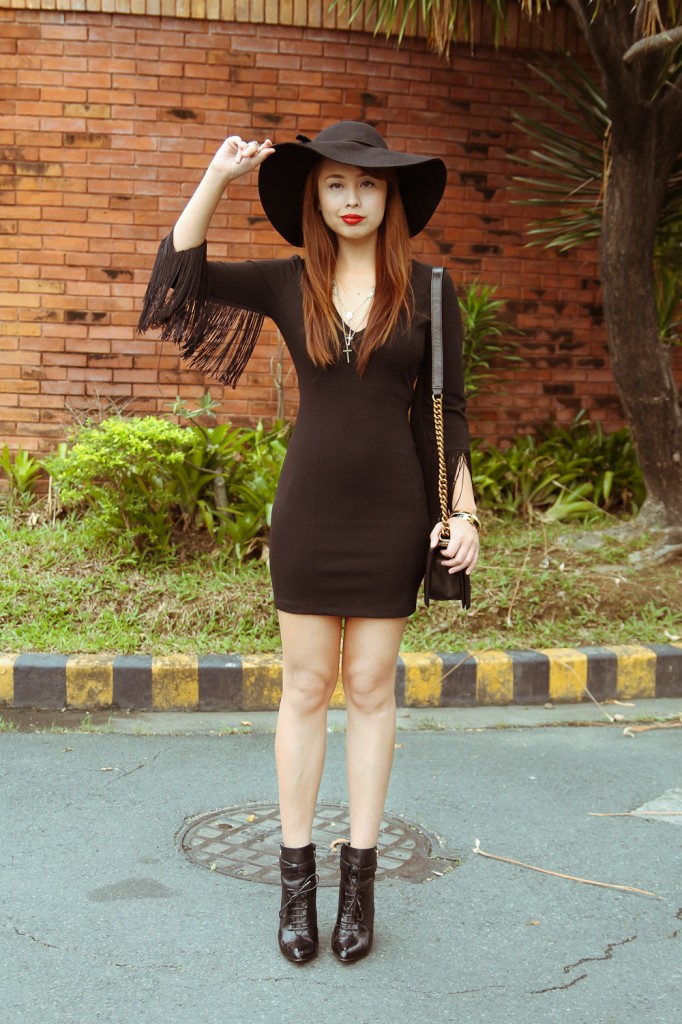 Speaking of Black and drab hues, as attractive as they are on clothes at times, it takes the opposite effect when it comes to your skin. A few weeks back, I shared with everyone my Olay #BestBeautiful experience using the Olay Natural White bar with Vitamin C. Now that I've finished the aforementioned variant, I've moved on to the Olay Natural White bar with Papaya Extract.

I think it goes without saying that Olay is a heritage brand–at least, to my family that is. I grew up with my grandmother, mom, and aunts recommending various Olay products to me and the brand has never failed to deliver the desired results (from moisturizers to cleansers and whatnot). If I have to so much as experiment and try out new offerings in the market, at least it's a priority for me to opt for a brand that I 100% trust–Olay, being one of the few.

I'm pretty sure that you've seen a pattern of me talking about how stress causes my skin to dull. In fact, I do tend to favor products that promise me "fairer" skin as a means to counter the effects of stress. See, I'm not getting any younger hence I have to take really good care of my skin to maintain a youthful appearance.

Personally, I've always been so intrigued by the Papaya-formulation… in fact, if you visit the Supermarkets, you'll see an abundance of Papaya-infused orange soaps. Most of them come in non-descript clear packaging and no matter how many times I hear someone telling me it's very effective, I just couldn't allow myself to buy something that didn't have a safety guarantee. I've seen the reviews online and though they're deemed to work, they tend to give you dry patches of skin or rashes. Plus, my skin is ultra-sensitive and if those effects are even possible in the pipelines, then I'm not going to risk it (I'm highly allergic to strong formulations–detergents, emulsions, soaps–suffering from chronic clinical Dermtatis).

So when Olay sent me the Papaya extract variant, I was more than enthusiastic to give it a try–along with the Vitamin C one as well (I tried the latter one first due to a heads or tails toss). Anything for good, healthy, and fair skin–and it didn't disappoint!

Here are some tips I can give you to maximize its full effects.

Locate areas that you want to whiten and soften–ones with rougher and darker textures.
Use Olay Natural White soap in the shower twice a day – in the morning and in the evening.
While in shower, lather liberally especially on the affected areas.
Treat your skin with care.  Pat your skin dry with a clean towel after shower.  Make sure you don't scrub your skin to avoid friction which causes skin irritation.

Of course, to make the experience complete, you have to make certain life changes to allow your skin to be at its optimum level.

Make sure to take 8-10 glasses of water to hydrate.  If you are more active, make sure to take extra liquids.
Stay indoors and protected from the sun from 10am-3pm.  The sun is one of the major causes of skin ageing and melanin production which causes skin complexion to get dark.
Eat lots of citrus fruits and green and leafy vegetables.  These have anti-oxidants that keep your skin healthy.  You may also drink tea or fruit-infused water to further cleanse your body and to keep your skin healthy!

For its long-term skin benefits, see how one's skin becomes smoother and more moisturized in days 4, 7, 10 and 14 – without that itchy, tight feeling! Getting smooth, even toned, naturally fair skin has never been easier – thanks to Olay!

What are you waiting for? Start now and reveal your #BestBeautiful with the new Olay Natural White Body Bar with Papaya Extract!

For the latest news on the Olay products, check out their official website:www.olay.com.ph.  You may also like Olay on Facebook or follow @OlayPhilippines and @OlayNatWhite on Twitter!