Black Cropped Sweater: Zara | Swirly-hemmed Skirt: Ezra by Zalora | Black Heels: Forever 21 | Grey Vest: Taiwan | Grey Bag: Celine (same as here) | Necklace: Bvlgari | Watch: Rolex | Belt: Gucci
When I posted this outfit on instagram a few hours back, someone commented and said she had to do a double-take because she thought I was Taylor Swift minus the blonde hair. Before hurling tomatoes at me, hold your horses and poodles because as flattering (or confusing) as it may sound, I'll echo everyone's sentiments by agreeing and stating beforehand: "I don't think so." Happy? I don't think I can ever be that presumptuous to agree to looking like a popstar or a celebrity–I look like me and I'd rather have that than look like anyone else. It's not to say I'm offended as I've come to like Taylor Swift after her release of "Shake it Off" (her self-deprecation reminds me so much of my own hence the title)… I just think it's a miscalculation brought about by wearing her signature bold red lips, all black clothing, and curled hair. 
I do like Taylor Swift's classy style so I'm all for the reference. 
That said, I wore this outfit to work once again so shoot me for redundancy. I know I've been blogging about corporate outfits a whole lot, but so you know, my life revolves around work this past few days as we're launching a full-blown integrated marketing campaign for a key, market-leader account so it's been tough trying to compartmentalize personal matters and fashion choices, mind you. I think I might do better 2 weeks from now so I'm crossing my fingers that my load eases up.
Anyway, I think I've evolved so much with the way I address the office dress code–I've learned to be playful without being inappropriate and I've learned to embrace beauty in simplicity when it comes to accessorizing. Whereas I was such a huge fan of statement accessories for work (I still am) the last 5 years, I am now finally comfortable leaving the house with nothing more than a thin one-string necklace and a timepiece. There are a lot of instances where I think my mindset about corporate fashion has changed… but all for the better, of course.
So here's to constant evolution–in style, in principles, in values, in knowledge, so on and forth. Like Taylor Swift, I think most of us will turn out fine over time, it's definitely the wisdom that comes with age. Here are some more photos of the outfit: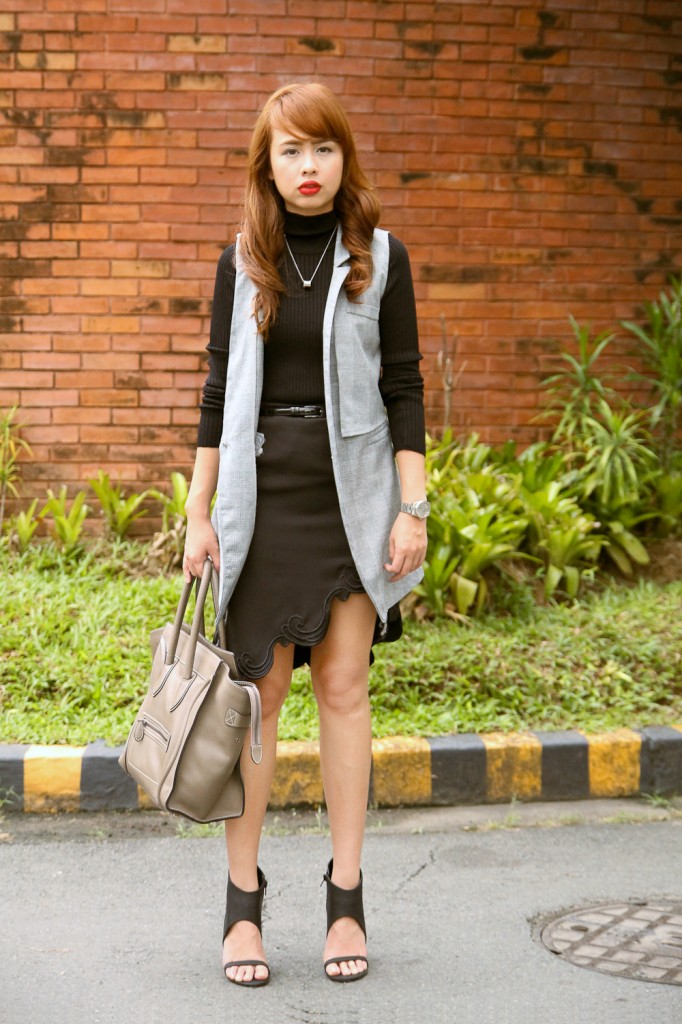 I just want to greet everyone a Happy Halloween!

True fact:

I was never really one to celebrate Halloween as a child (though All Soul's Day is pretty much a mandatory event in my family). I only ever joined the Halloween festivities once when I was eleven by trick or treating in some mall or village in Cebu. It wasn't that much of a big deal in the provinces. Plus, I was a grouchy little kid who took herself too seriously. Times have changed though and I've been consistently dressing up in a pG13 way for the last 5 years! Though I don't make it a point to dress up to outdo my previous outfits or others, I like the idea of putting a little bit of effort. 2 years ago, I was Pocahontas, then last year, I came as Poison Ivy (I hand-glued every single leaf of my dress).

This year is a slight bit difference, but can anyone fancy a guess as to who I'm coming as?