Bag: Chanel (same as here) | Bomber Jacket with Gold Embroidery: Promod | Black Cropped Top: Zara | Black Origami Skirt: Astogroup | Watch: Charriol | Gold Cameo Necklace: Gift from Mom | Anklet, Midi Rings: Forever 21 | Flats: Cocorose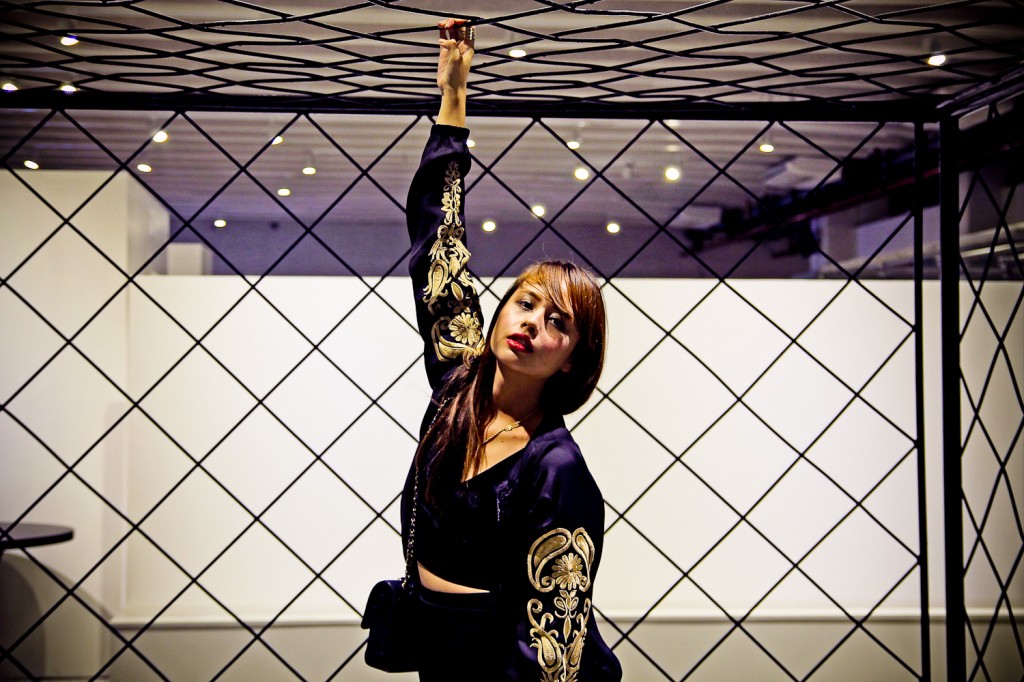 If I tell everyone I had a busy week, that would be short-selling the ordeal I went through over the past few days. To top the proverbial cherry off the cake, I'm officially getting pitiful looks and the "you look stressed" comments from my peers. Like that's even possible… though to be fair, I did come to work without a stitch of makeup, with my wet hair tied in a ponytail, donning the blandest, most non-descript outfit in the form of an uncreative sweater and pants set at one point so yes, perhaps we can chalk this up to an all-time low.
Also, I haven't had a decent, out-of-desk lunch in so long. Seriously.
But to call it "hectic" would be an understatement–I don't think there was an articulation for the hell I went through the last few days (I haven't had a decent wax for the past 30 days and it's very much overdue). Instead of whining however, I'm choosing to put it all behind me. I think what's ultimately important is learning to cope, get over, and move past certain things… it's also very mature. Call it corny but the moment I turned 26, I had a change of mindset–mostly voluntary of course, but I've realized that I no longer want to deal with anything petty (court cases, online banter, real-life gossip). Yes, I'm on a purge. 
Stress, like most things ( I've come to realize), is a sort of self-imposition. Things are only stressful if you don't learn to handle yourself when you can no longer handle situations. If your schedules or deadlines are out of control, the least you can do is compose yourself and get a grip! The more you run around like a headless chicken, the less inclined you are to accomplish anything. 
So when I have a full day ahead for work, I try not to be too anal about my outfit. Yes, I'll still try to dress up really cute if I can manage to wake up early, but when I have deadlines left and right and I'm lacking sleep? I'll always head straight to my default wash-and-wear clothes. On some days, I'll do monochrome black on black on plethoras of blacks.On some days, I just really put on something reliable, durable, soft, and comfortable. I mean, I need to focus on accomplishing tasks, and not have to deal with too-tight bustiers, circulation cutting rings, and bunion-inducing sky-high heels and this is precisely why my default comfy clothes should be chic in itself already.
A non-negotiable for me on a busy day would be wearing flats. If my plate is full for the day and If I have to be constantly on my toes (pun-intended), then I need to wear flats. In fact, most of my friends know that I really invest on designer flats: Ferragamo, Lanvin, Tory Burch, Chanel, Gucci, Tods, Repetto, and Louis Vuitton to name a few on my arsenal. Why? Because I needed the most comfortable and the most durable to last me all-through-out the day. That was until I got a hold of my own pair of Cocorose Flats. Firstly, I love their slew of designs, there's so much elegant options to choose from that can transition any casual outfits to a corporate or night out option. Next, some styles are compact and foldable for easy storage–so when you need to switch from high heels to an everyday pair then you can actually carry one with you around (and no, don't trust the people who tell you that you need to wear high heels all-through-out the day, it's unrealistic and you shouldn't be made to feel there are no compromises for any discomfort you're experiencing). Lastly, it's super comfortable–much so that it is the official shoes for the London Royal Ballet. There's no beating that! So when they presented me as their muse along with lovely ladies Xandra Rocha, Nicole Ortega, Amina Aranaz, Macky Fah, and ballerina Denise Parungao, I was very much honored.
This set of photos were from the event itself, here's a little sneekpeak along with my outfit set:
Again, we're nearing the end of the post and since it is still October, I'm giving away something special. Before I do so, I want to introduce "Your Shopping Bag" website.

Essentially, Your Shopping Bag website is an e-commerce store that sells US-based products. The great thing about it however is that, it is a Philippine e-commerce store. It's like going to an international outlet store without the hassle of actually traveling! You have items from ASOS, Forever 21, Baby Phat, Aeropostale, and so many more! Your Shopping Bag prices for goods are also competitive and it's just like buying American Sale items… and we all know just how low American prices on sale can go. On top of that, you can also have them shop for you, any item from the US that your heart desires and they'll give you a reasonable quote.

Since it's allin the Philippines, shipping is quite fast for on-hand items. IT IS ALSO FREE NATIONWIDE. I enjoyed browsing through the items and ordering, and I'm sure you will too. To commemorate this wonderful website, I'm giving away an item from the store:

A Yellow Baby Phat jumpsuit that fits sizes SMALL to MEDIUM!

So it's pretty simple, for you to be eligible, here are some easy-peasy steps:

Like the Konichiwear Facebook page and Your Shopping Bag FB page
Follow me on instagram
Follow me on twitter
Include your name, your email address, and comment done