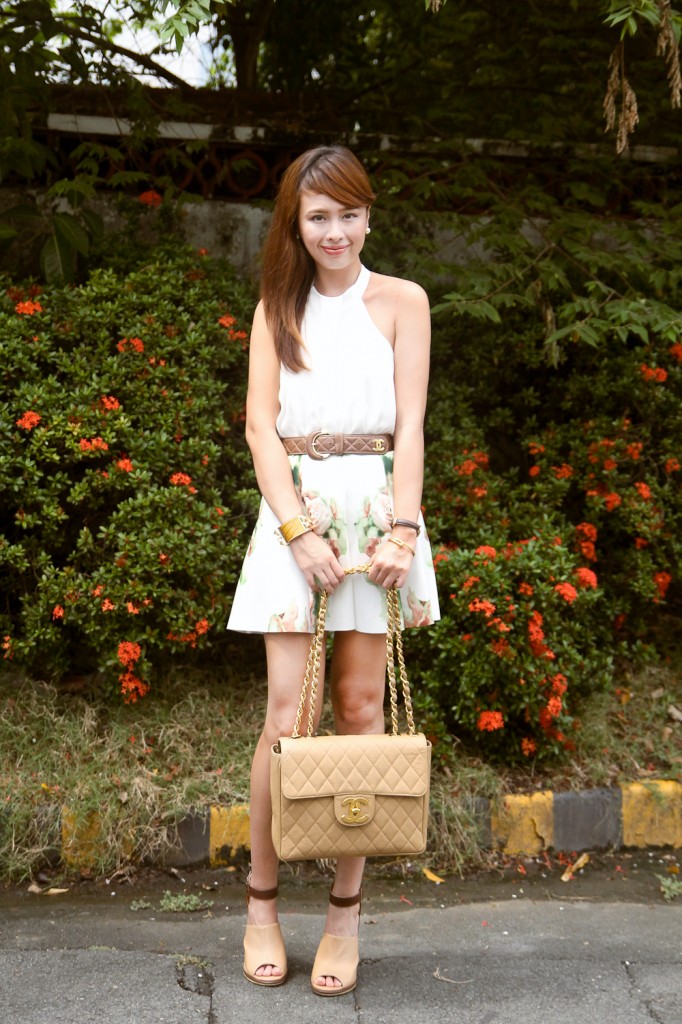 Top: Forever 21 | Heels: GoJane | Skirt: Vero Moda | Belt, Bag: Chanel (same as here) | Bangle: Hermes, Cartier | Watch: Daniel Wellington | Earrings: Mikimoto (Gift from Mom)
I like the word "sophisticated" as a descriptive, as opposed to "classy", to be quite honest. "Sophisticated" means "developed to a high degree of complexity" whereas "class" merely means "stylish excellence"–there's a nuance there communicating that sophistication is something you cultivate, something that entails an intelligent process whereas class lacks any subtle forethought, thus making it more straightforward–you either have it or you don't, and even then, that is subject to arbitrary jurisdiction.
Don't get me wrong, if you would call me "classy", I'd be elated… but it's, of course, on a rather shallow level. It's quite akin to calling me "beautiful"–flattering, yes, but not something worth being proud over if only because it's something I can't help. Beauty or class is not something you obtain–it's much simpler than that… beauty and class are things you either have or things you can imitate given the resources (aka money) so where's the thrill in that?
"Sophistication" and "intelligence", on the other hand, are two things that may be innate but can always be further enhanced by nurture, will, and discipline.
I've always led a comfortable life growing up–nothing too extravagant but comfortable nonetheless. In a big world brimming with limitless possibilities, I've yearned to carve a niche for myself… and I had to work hard to find it. Yes, I wasn't accustomed to doing legwork or asserting myself, likewise my achievements weren't handed to me on fine bone China (unlike the food I ate, being Chinese and all) but dedicating time, effort, and all possible assets to get to where I am has given be a better appreciation and world view of "working hard" in general. 
Words are words but if I had it my way, I want words that pertain to me to be a bit more pragmatic and of depth.
Sophistication is something you aspire and work for, something you imbibe and continuously develop–it isn't something you are or something you put on as a facade. Moreover, it is not something you do carelessly or on a whim or even half-baked. So before you even consider yourself "sophisticated", always create a mental checklist: in everything that you do (be it fashion or whatever endeavor), have you dedicated enough time, effort, and thought into it? In the end, only you would truly know.
Anyway, this was an outfit I wore to work. I usually have days where I want to look girly or days where I want to go the casual route. This is a good sample of the former. Anyway, here are some more photos (slightly over-exposed but tried to fix by lessening exposure):
I'm always on the lookout for inexpensive clothes. This is why, I always make it a point to scour various e-commerce websites  for super trendy pieces. Personally, I really like online stores that showcase a variety of pieces–from dresses, to tops, bottoms, and even outerwear! Likewise, the thing that I like the most out of online shops is that, you get a sort of exclusivity… or at least, in this country where online shopping isn't the norm yet. In line with that, I want to introduce people to Rosegal.com. Whether you're a shopper or a re-seller, I think you'd absolutely love this site for its cheap but chic pieces! Since it's nearing Fall season already, I'm searching for jackets (which can serve a dual purpose for my upcoming trip to Barcelona). Here are a few of my favorite picks:
This Casual Style Long Coat is only 9.69 USD!
Long Sleeve PU Leather Jacket for only 22.04 USD!
Drawing String Long Sleeve Women's Coat at only 26.24 USD.
For those who want to go and shop at Rosegal, I have another surprise for you! You can get an 8% discount if you type the

Coupon Code: May123ma

–so what are you waiting for? Go!