Fuchsia Dress: The Clothing Hub | Heels: Mango (same as here) | Bag: Celine (same as here) | Watch: Bvlgari | Earrings: Chanel
I'm not trying to be snooty when I say this but I really am genuinely baffled by people who tell me that it is their life goal to be popular. I mean, I do see the merit of popularity when it comes to inanimate objects like FMCG (Fast Moving Consumer Goods) or services; I think it is also necessary for certain industries like: Politics and Showbiz. On a logical level, I totally understand the rat race to gaining public favor to reap certain benefits or mold certain ideologies but I just don't wholeheartedly agree with a common byproduct of it, which is self-entitlement.
Likewise, when anything or anyone is popular, it doesn't necessarily translate to quality. The less perceptive often mistake one for the other, thinking they are the same, but the worldly individuals know better. Of course, popularity and good quality are complementary and they should come in hand, but more often than not, popularity nowadays is achieved by having the right resources at one's disposal–money, connections, time, and drive… quality no longer comes to fore.
The reality is: people are often duped into thinking that popular brands or people are of good quality simply because they have name recall or they are very visible in 360 degree platforms. But good quality products or people are not always visible, but there are certain metrics available to gauge superiority. 
For inanimate objects, it's far simpler to gauge its effectivity. There's a science behind that, and it all funnels down to the most benefits derived, right? For people on the other hand, it's a bit trickier–but not totally impossible. For example, in Showbiz, we gauge a person's star quality based on their talents: acting, singing, dancing, hosting, charm, charisma, so on and forth. In Politics, it's even more glaringly obvious, you're supposed to be (that is the operative term) deemed a good Politician based on your contribution to society or the readily actionable solutions you provide in your manifestos. Or if you want something more relatable, in blogging, quality should be based on the relevance of the content you churn and the number of people who actually are able to gather information from your site versus the very shallow absolute value of eyeballs that graze through your page. 
So in a nutshell, popularity does not necessarily promise quality, and quality does not lead to popularity. It's just the way things are and some people should learn to level with that. Given this, let me give you a metaphor: people often flock towards an item on discount/bargain price vis-a-vis expensive products. 
Anyway, this was something I wore to work! I've been wearing a lot of dresses lately, if you've noticed. I usually like to sleep in for 8 hours and so I have to sacrifice wearing separates. I opt for dresses or one-piece articles of clothing if only because they don't require that much thought process. However, just because an outfit is simple, doesn't mean it is not chic! There is, after all, beauty in simplicity. Here are some more photos (since I got an email from someone asking how my armpits would look under HDR, here you go):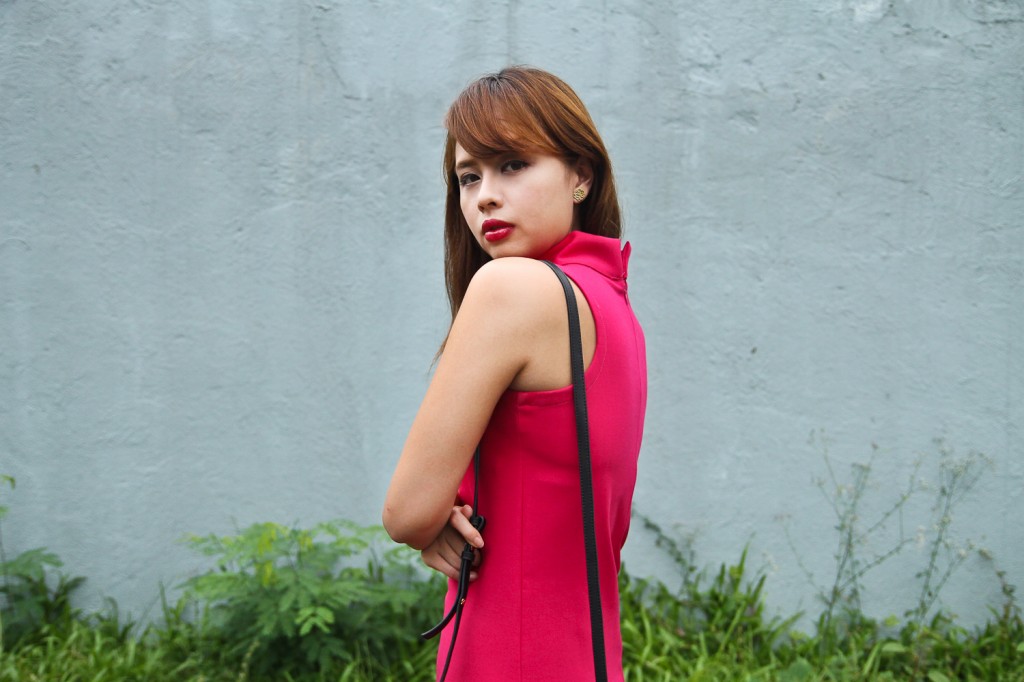 I like to dress up my iPhone and gadgets with the cutest cases! Recently, I just got a variety of cases from Boxful of Accessories that are so ingenious, seriously! I'm usually sent cases by a lot of online shops but in terms of quality and designs, nothing can compare to Boxful of Accessories' selections.

Though they are known for their cases, they have other products for your every gadget need! There are phone bumpers, earphone socket plugs, and even magic screen protectors–I had a ball with that one (seriously, it's only 250 per vial and it makes your screen scratch-proof, we even tested my phone with a steel cutter)! So do check out their products and see what they have to offer… personally, I'm loving the Chanel and Cartier perfume bottle cases along with their Chanel perfume bottle powerbank.