Dangling Earrings: Aldo | Fuchsia Coordinates (cropped top and culottes): Glitterati | Shoes: Zara (same as here) | Clutch, Bangle: YSL | Watch: Rolex
Last week (up until today), I got involuntarily submerged in a whirlwind of hectic projects–both for work and my blog. I barely got a wink of sleep (and yes, I went to work on a Sunday at 9 PM). It's a steep learning curve but the secret masochist in me is starting to seriously enjoy it! Strange enough, I like being preoccupied–I like knowing that my hard work and my input are taken into consideration and highly valued, plus, I love that feeling you get once you are able to attain your goals and meet your KPIs! The outfit you see above was a product of one of those busy days, worn real-time (which is usually the case when it comes to my blog) for the Vitress Catwalk Event last August 8 but I'll get on to that in a bit.
Anyway, I met up with my good friend Meg, for a coffee date a couple of days ago. After setting aside the usual pleasantries and discussing multiple shallow topics, she looked at me and said pensively, "You know Domz, I've noticed something about the company you keep. You're very nitpick-y with the people you let in your circle, but the ones you do are the ones you really get along with. The common denominator is that they're all go-getters and self-established women who know their worth." 
It was a very astute insight–something I should've expected from Meg, who is very self-aware as a person. I tried to sift through each and every single person in my circle, the very friends who've had my back from the very moment that I've met them (tried and tested multiple times at that)–and she was right. All of my friends, in one way or another, were achievers and passionate people… they were upstanding citizens who are smart and self-sustaining. Yes, my good friends are pulled out from different social circles–they function singularly and they rarely interact with my other friends, and there are times when we don't get to see each other often much less chat on the phone, but whenever I need them for push-button mission critical situations, they are always ready to help.
I am immensely proud of each and every single one of my friends. I guess you can count me lucky in that respect (yes, this bitch has loyal friends, suck on that). My FOSSIL Joanna has always found it mind-boggling that I am still somehow able attract wonderful people–I mean, sure, they're not a lot in number, but they are usually the ones who stay and go the extra mile without my asking. Given JL's track record for shitty ex-friends who resort to backstabbing and betraying her, it's only natural for her to question if genuine people out there exist. I told her that the key is to be more discerning with the people you entrust with your life and your personal story; I've set a very high criteria for the company that I keep and I always make sure that on top of being intelligent and creative, the people I want to be surrounded with are individuals who are secure in themselves and their craft.
JL's long conceded to my advice, stating that she does indeed need friends who sparkle just as much as she does and this way, she would have to avoid envy and resentment to fester within the friendship. And it is true… if you have friends who are independent and confident, they'll never compare themselves to you or your accomplishments… quite the contrary, they'll celebrate with you.
So yes, I am extremely proud of the friends I have. I have high respects for each one of them and I am forever grateful that they always find time to help me whenever I need them (and vice versa, of course). I am, after all, not the easiest person to get along with.
I mean, there is Meg, who at 27, runs her own business in what she deems as an "unglamorous" but progressive industry (despite my telling her that it isn't as unglamorous as she makes it out to be if she's still wearing designer shoes and bags on site), who never fails to ask me once in a while how I am and if I'm available to catch up, providing me with such sound advice when I need them (be it in person or via whatsapp).
Then there is my talented gown designer/college best friend Jules, who is setting up her own atelier, and who, despite being the constant recipient of my wrath due to her notoriety for tardiness, will simply shrug my mood off with the sweetest smile known to mankind whilst telling me: "would you rather I come early and look like shit?" There is also JL, who needs no further introduction, who has valiantly trudged on with her life despite her life-threatening illnesses. And along that spectrum, there is my friend Jam, who is quite down-to-earth, having the funniest comebacks known to mankind, with a special unique talent to see through anyone's bullshit. There's my childhood best friend in Canada, who is one of the smartest individuals I've had the pleasure of being with (who has consequently shaped my love for books and literature), and my High School clique composed of soon-to-be Doctors and Lawyers. Special mention to Weesa, who serves as my dose of realness, who is beautiful, smart, and well-off, yet insists on working for her keep, and then finally, my favorite friend Lorraine, who took up nursing as a course in college as a vocation (not to escape the country), who at one point a few years back, drove all the way from her house in the afternoon just to drive my car for me when I found out I was not allowed to drive hours after being administered a general anesthetic post-operation for an infection on my leg.
I may not say it all the time but I truly am so blessed. Thank you, friends, for keeping up with me.
So to cap off the conversation, I looked at Meg and stated with much gusto: "They're all gorgeous too, don't you dare forget that bit!"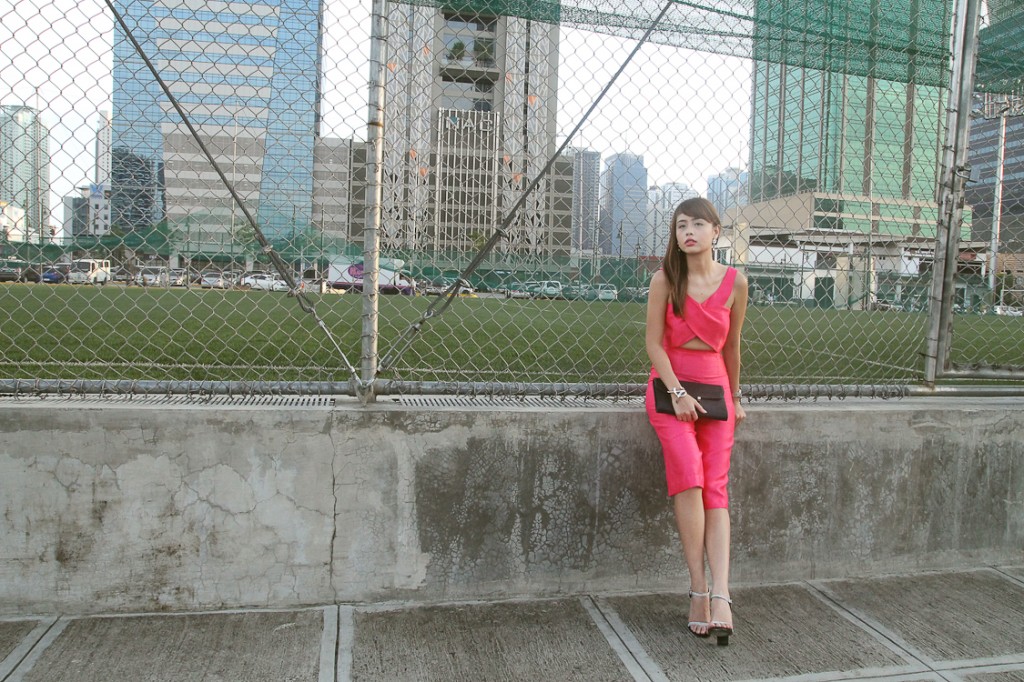 As mentioned, last week, I attended the Vitress Catwalk Event. Wearing their brand colors in a customized Glitterati ensemble, I couldn't help but stop by a Football Field to have an impromptu shoot but with the wind in high spirits, my hair was all messed up! Thankfully, upon arrival, they requested guests to try their hairfix catwalk where in the middle of it was a pit-stop for guests to try on a variety of their hair polish or the hair cuticle coat, and afterwards, take paparazzi photos of guests with their now-tamed tresses. They also even encourage you to take hundreds of #selfies! Now that's my kind of event!

Personally, I was very fond of the Vitress Sun Protect Hair Polish–which is perfect for me since I take early morning runs under the heat of the sun! I've also come to appreciate the powdery scent that's mild and fresh and not too overpowering. The main highlight of the event though came a little later when their brand endorser, the beautiful Ms. Solenn Heusaff entered on stage to introduce the two newest brand endorsers to join the Vitress family: fashionista Kim Cam Jones and Volleyball Superstar Gretchen Ho!

Here are some tips from the endorsers themselves, who swear by the product! And by the look of their manes, I wouldn't doubt them for one second.

Solenn's Hair Tips: "I use the Vitress Solenn Cuticle Coat, which I co-designed every day. After I shower and while my hair is damp, I put a small amount to make it easier to comb. Once my hair is dry, I add a few more drops to boost shine. I also apply it when my hair's in a ponytail to hide the baby hair that sticks out."

Kim's Hair Tips: "Honestly, I prefer a low-key regime when it comes to my hair. After I wash my hair, I just warm a few drops of Vitress Hair Repair Cuticle Coat in between my hands. It's easy enough for me to do and it's effective. It's my secret weapon to keeping my hair sleek and in place. The bottles are the perfect size to throw in your handbag, too."

Gretchen's Hair Tips: "With my active and on-the-go lifestyle, it's very important to have a quick solution. On normal days, I apply the Vitress Sun Protect Hair Polish to protect my hair. When I have a game, I use the Vitress Heat Protect Cuticle Coat to keep my baby hair in place with my ponytail. For shoots, the Vitress Heat Protect Cuticle Coat keeps my hair shiny and healthy, too."

It was a pretty fun and laid-back event. The day ended with them announcing that I won the best "hairfie" for the night, which is absurd considering the state my hair was in a couple of hours back before I entered the catwalk. So am I sold on the product? Absolutely! Most of you know that I don't really talk about products I don't believe in and I have never personally tested, and likewise, you all know how meticulous I am with my hair… so this product and I? A polished, sexy, and beautiful match.