Blazer: Ever New | Tank Top: Cotton On | Boyfriend Jeans: Mango | Belt: Dorothy Perkins | Studded Bag: Jimmy Choo | Heels: Zara | Necklace: Bend Accessories | Watch: Rolex | Bangle: Hermes
I am seriously toying with the idea of making my blog titles into #hashtags, but I'll chalk that up to my obsession with the Rich Kids of Beverly Hills reality series. Even if it does sound like a splendid and unique idea, the digital strategist in me refuses to do so, fearing the potential nightmare of having my blog not being "optimized" enough for organic search.
I digress, I'm trying out new things without being too adventurous so I'm considering a few areas in my life and work to improve on. When my boyfriend left for Barcelona, I told him (and myself) that I was going to try out new things that would contribute to my growth as a person–off-hand, I was thinking of revamping my old (award-winning, would you believe) hobbies like painting and writing, I was also going to try out new things like visiting the firing range, photography, and yoga, while maintaining a healthy balance of cultivating my current skills in cooking, athletics, household management, work, and leisure.
It's exciting somewhat, but still very solitary. 
Today marks my 26th month-sary with my boyfriend and it's very different. More bad than good, but mostly just different. You know how a new glove would feel strange on your hand the first time you wear it because it doesn't fit the grooves of your fingers as perfectly as the old ones had? That's kind of how I'm feeling. It's been two years since I've had a thorough introspection–I used to be the type to fly away on some foreign land for a quick sabbatical, just to keep my life in check, but ever since Enzo came into the picture, he and I were like two peas in a pod. He told me that whatever we endure, whatever we experience, we do together, and so I was hardly ever left to my own devices (except maybe to sleep). He is my constant source of entertainment… his stories, his advices, his jokes, his love, and even just his presence made out the metaphorical threads of my figurative security blanket. He completed me in ways that no one can. So now I'm back to having time for myself to think, think, think, and I never really remembered just how taxing it was to amuse myself with whatever distraction that came my way.
Maybe it will get better but I doubt I'll ever get used to it and I prefer it that way. I would never want to forget how my life was with him–I refuse to. Like the stubborn bitch that I am. So my life is on a standstill right now–not in a bad way but I'm just not moving forward to forever until he comes back, I'm simply staying planted in place to prepare myself for that movement to eternity. And while I stand in this crossroad, I'm going to make myself a better person. 
So today, I will go to the gym instead of our customary dinner dates, and then I'm going to head home, watch television, and tune in skype… and everything will be as it should be.  
Anyway, this was an outfit I wore to work last week… I'd like to think it encapsulates that whole "casual chic" dress code that everyone brings up but no one ever understands (I know I don't). It also happens to be the most literal interpretation–I mean pair boyfriend jeans up with a cotton tank with heels and blazer, then voila! Here are some more photos: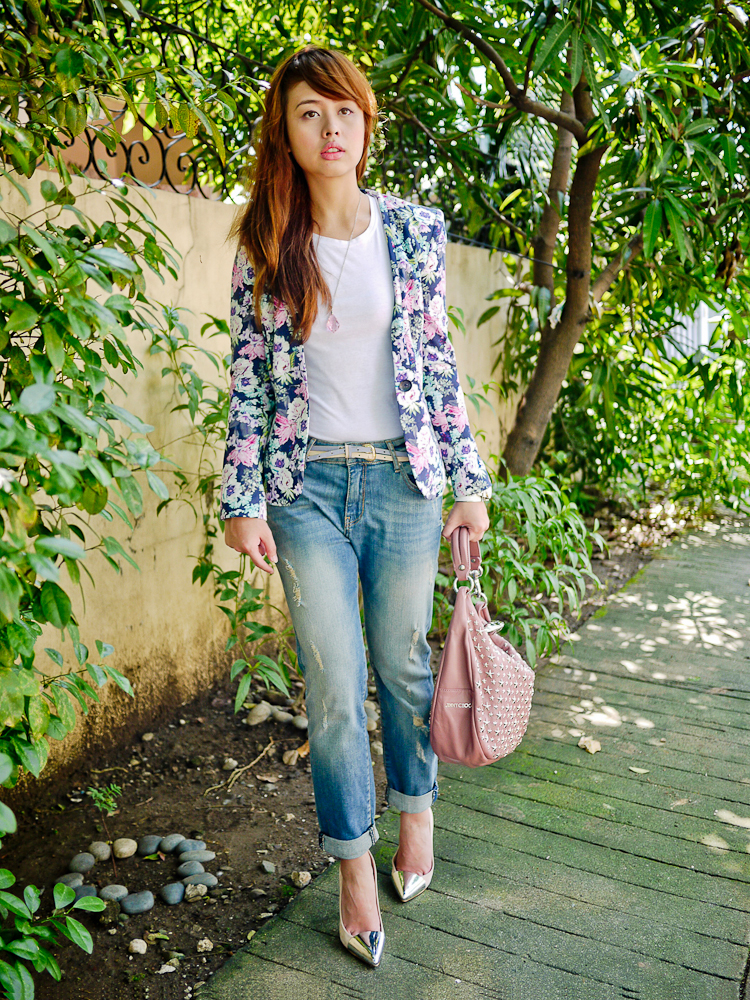 After work last Thursday, I dropped by the Tomato Swap event at their flagship store in Glorietta to see the Swap watches they were showcasing to the public. I figured, I was in dire need of a replacement gym watch–my old one was a cheap 500 bucks rubber Cotton On piece that somehow, would no longer tick despite the replacement batteries. You seriously get what you pay for.

When I arrived, I was greeted by the cutest tea party set-up with cupcakes, my utlimate favorite: Aunt Anne's pretzels, doughnuts, candies, and more were laid out on the counter for everyone to get and enjoy.

 Two of my favorite blogger girlfriends: Danah and Stacey of the Plump Pinays! And finally, to the main event: The Tomato Swap Watches. Tomato is now offering fashionable and affordable watches to both men and women but what sets them apart from all the other brands is their ability to "swap" looks! By this I don't just mean interchangeable straps… it's the whole watch that's interchangeable! From the watch face, to the whole band, and you can even customize the watch face with your photo or any design! It's perfect for someone like me who wants to match her watch to every outfit–even if it's a gym outfit. On top of that, it's sturdy: it comes with a steel case back, hypoallergenic silicone strap, and a 3 atm water resistance. Every month they'll be adding up more watch face designs, so you should check it out!