Sweater, Kitten Heels (same as here) : Zara | White Skirt: Redhead by SM GTW | Satchel: Goyard | Necklace: Bend Accessories | Watch: Rolex | Bangle: Hermes | Ring: Charriol
Limecrime Lipstick in Wicked: Lannel Boutique
Since the weather's relatively cooler now than it was a few weeks ago, I've made it a point to utilize my long-forgotten sweaters (much like my recent post about: airport dressing). My pick of the day was this wine-colored cropped sweater, which looked so fresh despite it's gothic, dark feel, and then built my entire outfit around it. Thankfully, my closet didn't have a shortage of wine-colored embellishments so I didn't take long to put this together. Likewise, I was able to finally wear my Goyard satchel–which has been sitting in my closet for quite sometime (since the bag was a part of my Summer purchases, I just couldn't take it out as it didn't seem appropriate for the bright, sunny weather). 
The thing is: wine, as a color, is very tricky to style! Since it's a darker hue, it has a tendency to come out as too strong and aggressive. Normally, I would wear out wine during the Fall/Winter season and pair it up with a plethora of blacks–or if I want to go the casual, sporty route, I would wear it with grey cotton. Seeing as it is a transitionary season, I opted to pair it with white so that it wouldn't seem too out of place.
My inspiration for this outfit was the young pop-singer: Lorde and her love for wine-colored lips.
If you're familiar with her album, you've probably heard the song "Glory and Gore", which I've found very empowering as it tackles themes of "battle" and talks about how glory has certain consequences. As it is in life, everyone has their own battles–people encounter their own causes to overcome, whether it is internal, imagined, or inevitable. A lot of people say drama is fashioned by a petty and bored mind, but I've learned not to question people's feelings–yes, it is only as real as you make things out to be but I'm sure that a person's hardship, no matter the variance in gravity, is legitimate one way or another.
Much like everyone, I'm no "stranger" to battles. These past few days alone, I've gone to a concrete battle in the form of the Regional Trial Court to accompany my FOSSIL. Likewise, I am also dealing with a somewhat internal and imagined battle in regards to my upcoming Long Distance Relationship with the boyfriend (read all about it here). There is also, of course, keeping my life a balancing act between work, play, love, spiritual health, and personal growth. 
For every impulsive person out there experiencing their very own internal battles (myself included), before you act upon something, be it for the betterment of the problem or to sate your emotions, it is imperative that you be guided by the "Law of Unintended Consequences" (yes, it exists), and by this I mean:
I'm not the nicest person on earth–quite the opposite, actually: I'm an "obligate" bitch… meaning, it's not that I am bitchy for no reason, it's just that someone in society has to take the role of calling out people's bullshit to induce change. But even then, I try my best not to get into something I know would reap negative consequences that I can't deal with. Yes, there are necessary evils, I already categorize those under "spoils of war" but it's all about playing it smart too. So for a problem-free life ahead, make sure to be aware of all consequences and assess possible unexpected ones–that way, you're fully covered.
On a side note, I am very much in love with this necklace from Bend Accessories. I am a sucker for flashy gems with thin chains and this particular piece was perfect for round necklines! I especially like that it's simple and yet attention-grabbing. They can also customize the pieces to whatever chain length you want, I got 2 of varying lengths so if you put them together, you have a multiple-chained necklace, or if you want, you can wear them separately like I did.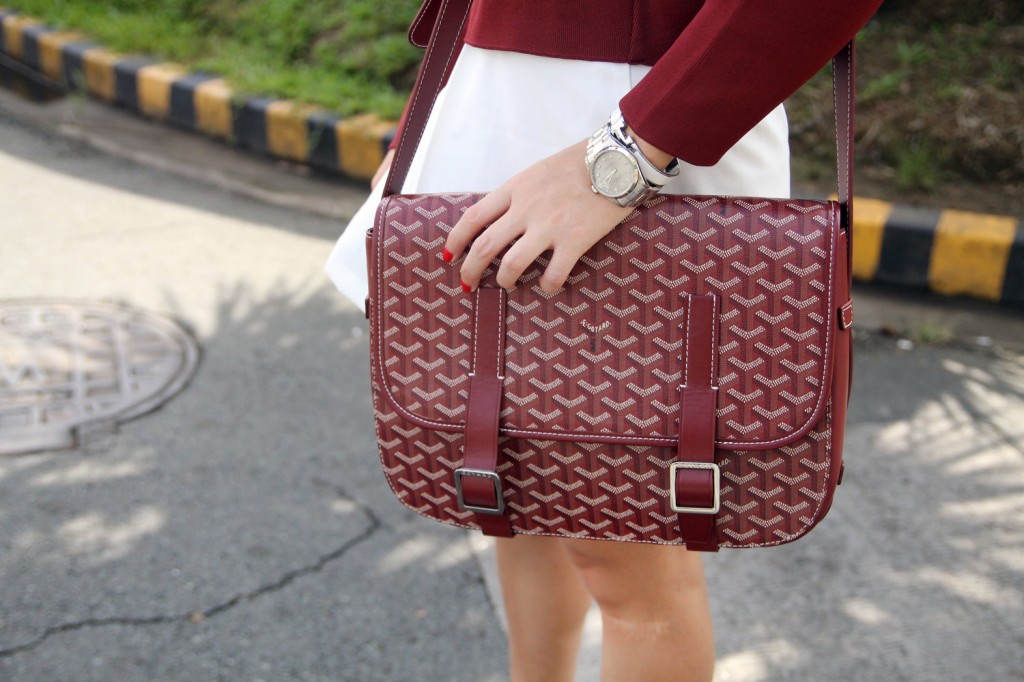 Three simple yet exciting announcements: 
(1) My Fossil: JL and I will be launching an exciting contest this August for our readers, to celebrate our joint blog: Iconoclasts, wherein we will be having a head-to-toe makeover with 4 special readers and an intimate afternoon tea date to get to know each one of them better. Just a tip? Follow Iconoclasts on Tumblr and Facebook!
(2) Next, for online sellers, do you want a free booth for the Big Brand Sale? You will get to sell your goods alongside big, big brands. Stay tuned and spread the news!

(3) DLSU's Management of Financial Instutions will be hosting the El Carnival Supremo event to mark its 35th Anniversary! They will have lots of games, fun, food, music, and more!