Necklace: Forever 21 | Cropped Top: Pull & Bear | Skirt: Vetus Shoppe | Heels: Zara (same as here) | Bag: Celine (same as here) |  Gold, and Black Bangle: Hermes | Watch: Gucci | Dragonfly earrings, Heart bracelet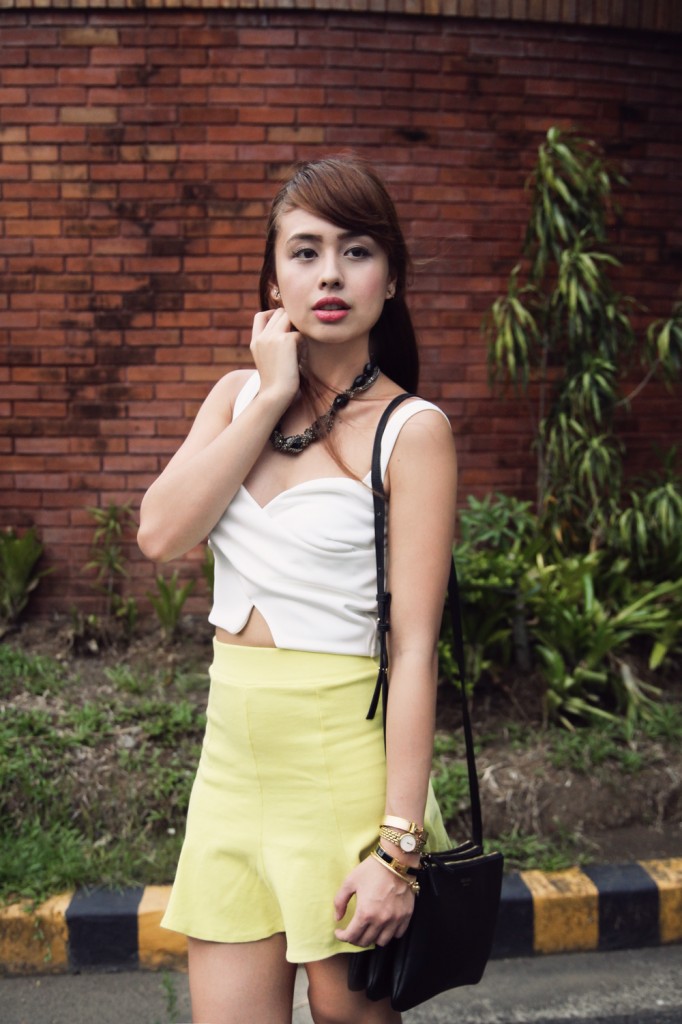 I've been having a stressful past two days, to be quite honest as I've been dealing with a professional online scammer who can potentially run away with my hard-earned P15,000. Although I'm currently negotiating for a refund and being super nice without letting him on that I am aware of his MO, I have the NBI and several provincial contacts lined up just in case he goes MIA. It's not the money, to be honest, but the principle of the thing: no one should be allowed to make a living taking advantage of another person. My advice? Do your due diligence when ordering online–research, ask around, and just certify the person's credibility. I'll do a mega-post someday about it as a public service announcement, but probably when I'm in a better mood (and when the storyline progresses).
Anyway, to promote positive vibes all-around, I want to list down the top 5 things that's currently making me happy. Yes, some things are pretty crappy for me right now but they're only a tenth compared to all my blessings. Besides, I can't afford to be pessimistic–I need to be in a good disposition to churn out great work. So apart from all my on-going projects, here are some other fashion-unrelated sources of happiness in my life…
My Norwegian Kitten, Kenzo–he brings me so much joy in my life that all I want to do is stay at home and cuddle with him. He is the fluffiest and cutest living thing on earth! He is my spoiled brat.
My job–I find so much fulfillment with what I'm doing right now that it doesn't even matter that I can no longer blog for brands that are in competition with my agency. Well, okay, it does matter slightly as I'm losing my so-called "rackets" but well, blogging was never my bread and butter anyway.

Scandal, the TV Series–I'm so hooked on Olivia Pope's adventures. I'm an escapist so I love watching narratives to remove stress.

My box of TeaTox–I'm already long overdue for a detox given my tight schedule so it was only timely I got a box. I'll be trying this out next week so here's to clear skin and boosted metabolism!
My website redesign–I've been getting so much complaints about my site not being mobile ready that I decided to revamp it royally. Here's a sneak-peek!
That said, here's last Saturday's date outfit. I've been obsessed with recreating Jessica Alba's MTV Movie awards outfit so this is essentially my take. I paired this cropped top from Pull & Bear, that my boyfriend got me during our most recent trip to Singapore, with a skirt Vetus Shop gave me from the Supersale Bazaar–topping it off with my trusty black and white patterned Zara heels and Celine Trio! Here are some more photos: