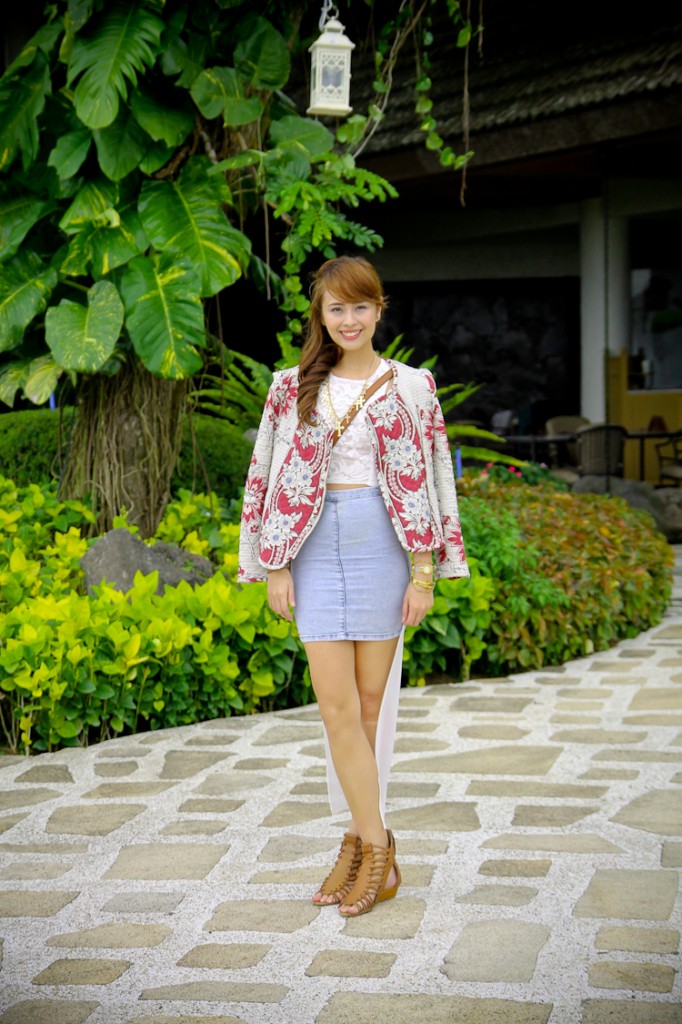 Printed Jacket, Sandals: Zara | White Top: Bershka | Denim Skirt: Topshop | Bag: Chloe (same as here) | Necklace: Forever 21 | Gold Bangles: Cartier, Tory Burch | Watch: Charriol
Like every regular working Jane that's a part of the Philippine employment statistics, I look forward to the weekends or holidays. It brings me such sheer joy knowing that I'm not required to hit the snooze button of my iPhone, sleeping in under my warm fluffy comforter, and getting my required 8-hours of sleep (or 1o). It's always nice to do things just for the hell of it–shop, vegetate, it doesn't matter so as long as your schedule isn't dictated by a corporate entity.
I mean, I love my job, it's just nice to stop and smell the proverbial flowers once in awhile.
So last Sunday, that's exactly what I did when I took a short trip to Tagaytay Highlands with my boyfriend and his mom. They recently bought a vacation house and wanted me to see it. Although I'm not stranger to Tagaytay, it brought fond memories back. Ever since I was fairly young, my family and I would head out to Tagaytay Highlands almost every weekend during the Summer–we would swim in the chilly weather, go horseback riding, check the zoo, ride the cable cars, and eat good steak (since my uncle has a share in the restaurant). As I got older, the novelty wore off and so the only time I would visit out to Tagaytay was when my boyfriend and I would head to Punta Fuego and we'd make a short stopover for lunch or dinner at Hawaiian Barbecue (also, my membership expired the moment I hit 21). 
Last Sunday was different, of course. Although we skipped the pool, the horses, the zoo, and the cable cars this time around, I still immensely enjoyed the short trip. Yes, we still had good steak but more than that, we got to bond and spend time with one another (at the wake of my boyfriend's departure for Barcelona, his mother and I are commiserating) in a shiny new ambiance. Sunday well spent, I must say. 
It's indeed true what they say, that it doesn't matter where you are, it's who you're with that makes the difference. Now, I can add a few more memories up my sleeve. So this is my casual fair weather outfit for the weekend (photos taken by the boyfriend), plus a few more photos: