Bangle Set: Suiteblanco | Bag: Chanel | Snakeskin Print Swimsuit: Glitterati | Beaded Vest: Zara | Sunnies: Sunnies by Charlie | Slippers: Havaianas
Finally, my slightly delayed photo-post for Boracay is available for human consumption! If it weren't for my quick trip to Iloilo yesterday, I would have totally forgotten to post-process this set of photos. Unfortunately, I was not able to take an outfit post here though due to my busy schedule (which is something that also happened during my Singapore trip earlier this summer) but rest assured, I have a lot more folders containing different OOTD photos in my hard drive waiting to be shared on my blog.
As mentioned previously, Boracay is my happy place. I have a lot of fond memories from there. I've been a Labor Day attendee for the past 4 years already and I've been hitting the pristine shores of Boracay during different times of the year since I was a wee toddler. I guess it's the Cebuana in me that has me gravitating towards pristine shores and salt water (on top of being a certified diver and a mermaid in my past life).
Anyway, it was a pretty peaceful Labor Day weekend for me and my crew–we opted out of all parties and concerts during our stay (the first time we've done this), only dropping by to say "hello" to some friends before leaving and going back to our resort's beach front, bunking on beach beds, and having drinks. The island was swarmed with visitors this 2014–I mean, I've always had this theory that the crowd would grow exponentially as each year passes but for this year, it seemed like it went past scientific calculations and tripled! Even kids were celebrating Labor Day already (and by kids, I mean youngsters with no work or college experience).
Good for Boracay's tourism, bad for their eco-system! Anyway, I'm positive this will be my last Labor Day in the island… I'm probably too old for the parties and the noise. When I'm at the beach, I just want to go full-on hermit mode.
Speaking of "Labor", I am happy to announce (to anyone willing to listen) that I will be signing a contract with the top creative agency of the year (for 2 years in a row in fact)–so my days of unemployment are officially over! I will be productive again soon and well, waking up early and coming home late. Yikes! I'm a bit scared and at the same time, excited to do so… the prospect of handling new clients, the process of acquiring new skills, being able to meet new people, and basically going through all these changes!
But you know, I'm a creature of habit so I'm especially bad with changes. There's also the matter of the company wanting me to start ASAP… as in this June 2 already, but I'm trying to buy myself more time and haggling for a mid-June entry as I have so many employment-related documents to fix first. Also, I may possibly have to sacrifice my trip to Spain this August, that is the BIGGEST downside to it all. As a new-hire on probation, it might be difficult to get a 3-week leave during the first semester–plus that's 3 weeks of not getting paid. I also wouldn't want to stall work processes just because I'm not in the country. I do have another option and that's moving my trip to September, just in time for the Beatification of Bishop Alvaro in Madrid… since I'm paying 2,500 USD round trip tickets to Europe, I might as well make the most out of my trip right? But yes, of course, I have to consider my leaves and how it will impact my work evaluation. 
Apologies, I don't really want to over-think the situation, much less be a Debbie Downer. I'm employed, I should be happy! I guess, I just can't discount the fact that I'm feeling pretty anxious with all these prolific life changes! The thing about change is that… it has residual effects. What I planned initially and scheduled for the next half of the year (or rest of my life) is no longer applicable. But I guess the challenge there is to be versatile, and I guess I have no choice but to put my big girl panties on and accept. Right now, all my pending plans are going to be played by ear, and it really all comes down to the final negotiations–so if I miss anyone's wedding, I'm so sorry (yes, you, Jam Magno). It's not like I'm going to be MIA until December, I will have time to blog, time to entertain Manila friends, and the boyfriend will be coming home on December, which is four months from the time he leaves and we do have the internet on our side to keep in touch… but you know, it will be different and I have to prepare myself in all aspects for that. Perhaps I should take this as an opportunity to grow into my career as well, and do things I haven't done… like get an MBA myself (locally though). 
Sorry, I'm doing it again! I digress! I'm just going to stop. These are just… 1/100 thoughts I have to consider and I can't burden anyone but myself with that. As you get older I guess, you have more considerations to make. But, as I have always prayed for, whatever happens, may it happen in my favor. For a picker-upper, here are some more photos of myself in Boracay!
The last 2 previous photos were taken in Lemon Cafe, by D'Mall. When in Boracay, my boyfriend and I always make it a point to have lunch dates in this restaurant as it is one of our favorites! They serve scrumptious and delicious food with topnotch ingredients. Despite its name, not everything is infused in Lemon though, but everything tastes as fresh!
Swimsuit: Ripcurl | Sunnies: Sunski Philippines
Cape: Zara | Bikini: Topshop | Bag: Mumi Bag | Bracelets: Aldo
This is, to date, my boyfriend's favorite photo of us. I like taking shots like this since I'm usually not very affectionate in real life!
Then we had another lunch date at Discovery Shores.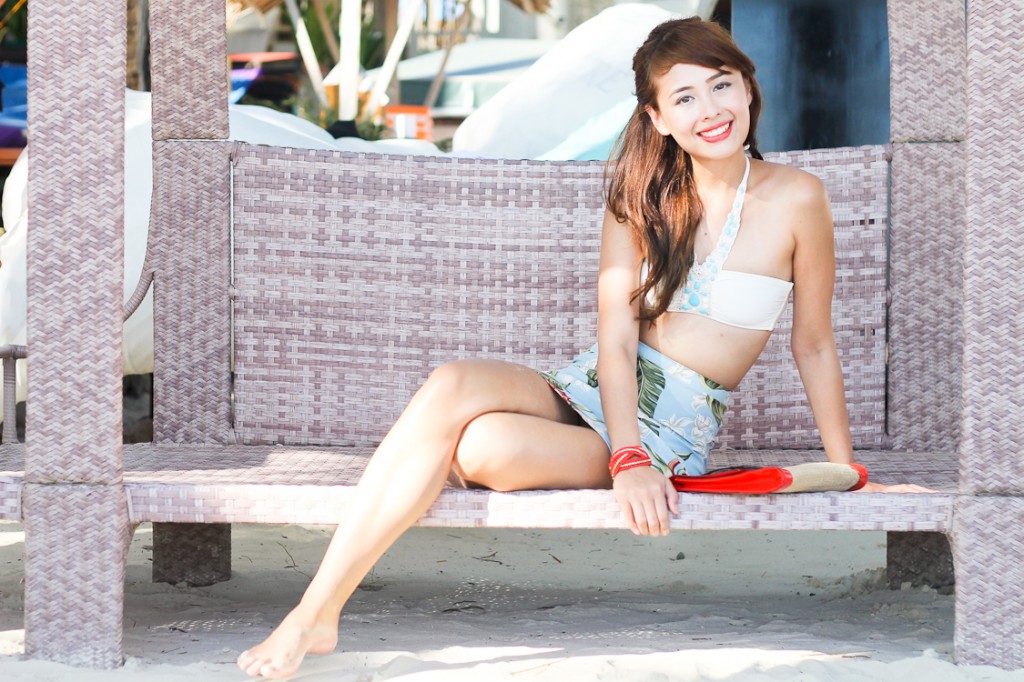 Bikini, Clutch: H&M | Skirt: Glitterati | Bangle: Forever 21
Necklace: Stradivarius | Bikini: I Love Koi
For our last lunch, we headed to Two Seasons and ordered our favorites: 5 Cheese Pizza and Oyster Sisig! The very best in the Island, I swear! If you're headed to Boracay, don't forget to sample this two dishes.