Watch: Rolex | Bangle: Hermes | Sunnies: Police from Classique Apparel | Oversized Printed Bomber Jacket: H&M | Cropped Top: Zara | Skirt: Ihana Store | Sneaker Wedges: Topshop | Bag: Rebecca Minkoff | Necklace: Forever 21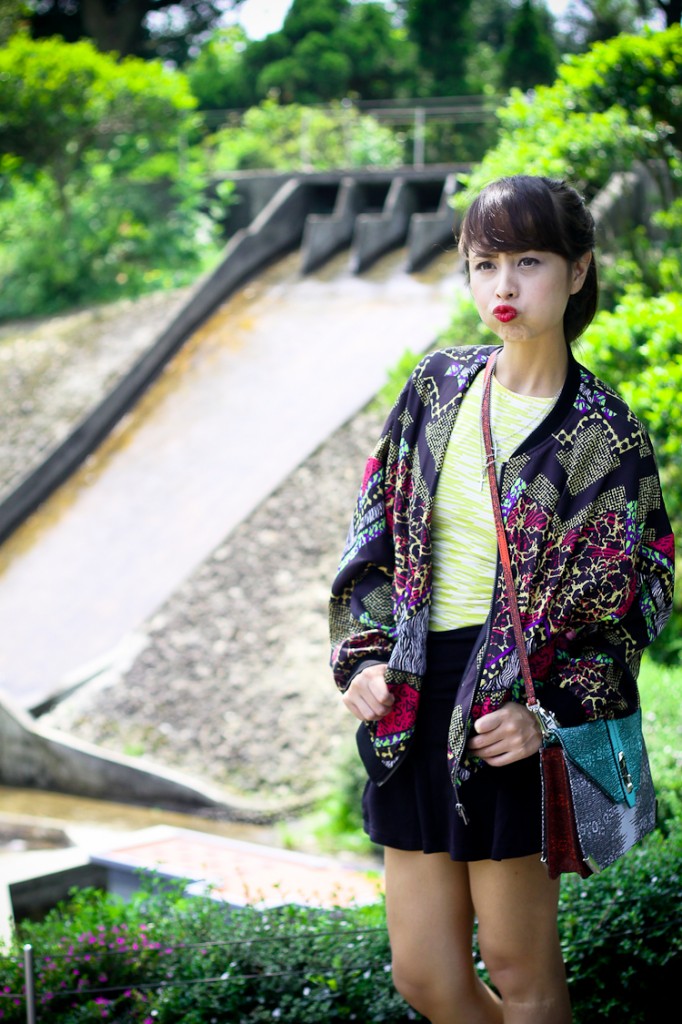 These past few days had been a whirlwind of beaches, gyms, meetings, last minute shopping errands, and airplanes! I feel busier now that I'm off corporate… maybe I was expecting to have more time on my hands but perhaps I should have chalked that up to wishful thinking. I'm not complaining though, I'm all for productivity–plus, I might just be employed sooner than I think so here's to keeping my fingers crossed.
So before I head out to Boracay tomorrow for the Labor Day (mostly to relax and unwind), I would like to share with you the first part of my Taiwan trip. This is going to be a short post though as I haven't edited most of the photos from my 5-day trip and my Singapore trip. Ack, the thought of my backlogs scare me–I'm actually contemplating not posting any at all! After Boracay, I'll be heading off to Hong Kong and then Barcelona in the next few months so I'm only hoping I can schedule everything accordingly (along with sponsored posts and such).
Anyway, this is my second time in Taiwan. The last I've been, it was 10 years ago–and I honestly thought the first-class city would remain the same, suspended by time and evolution… I was wrong. Upon arriving, I felt like an alien! Everything seemed so different–the airport was different, the roads, the fashion… just, wow! Having spent months in Taiwan for Chinese Language classes back when I was 16, I considered Taiwan as a second home… perhaps it's because I'm with my family, my dad's friends, and my boyfriend so it feels different?
So the whole trip allowed ever to tour all over Taiwan–not just Taipei, as I initially thought. Our itinerary was jam-packed–as in we moved hotels a lot and then we were up by 7 and retired by 11. It was a bit exhausting and the weather was getting pretty bipolar. Some days, it was hot and humid, and on most days, it was unusually cold! Anyway, here are some of the photos… I'm going to start off with my outfit to the Windows of China themepark tour on the second day:
We arrived the night prior, though. Since it was pretty late, we literally just stayed overnight in a hotel in Taoyuan City, by the airport (and approximately 30 minutes away from Taipei). We were greeted by a modern maximalist-themed lobby, with a majestic chandelier up front! I took a lot more photos of the architecture but most of them aren't really blog-worthy.
En route to the Windows of China Tour, we passed by a lot of other Taiwanese provinces. Every billboard sign is, of course, in Chinese. The theme park was pretty much different from what we were used to, but nevertheless fun!
A foggy photo of myself standing on some street in Sun Moon Lake. It was ridiculously cold that night, I think the weather there was at 16 degrees! Sun Moon Lake is like the Baguio of Taiwan, there were a lot of aboriginal goods for sale. We (my family, and my dad's friends and family) were brought to a local Chinese restaurant in the area that served super traditional Chinese food! It was a bit different from what we're used to in the Philippines but still good. Anyway, the rest of the photos are taken within Sun Moon Lake. I'll be uploading Taipei photos in the next couple of days!
Camo Jacket: Topshop | Top with Leather Trimmings, Bracelets: H&M | Olive Shorts with Leather Band, Necklace: Forever 21 | Bag: Celine | Flats: Salvatore Ferragamo | Watch: Charriol |
So once again, we've reached the bottom segment of my blog entry and as most recurring readers know, this is the part reserved for special news and announcements I want to share. For today's post, I am so stoked to share a new discovery—I don't know if you've heard of this yet but it's the exclusive shopping website: www.mysale.ph.

Being a certified shopaholic, I get recommended so many shopping websites by readers, concessionaires, and friends alike. I don't know if it's to further feed this compulsion I have towards shopping but believe it or not, I do check each and every single one of them like the sucker that I am. So when someone recommended www.mysale.ph, I was prepared to do a routine check-up on the site but wasn't really expecting anything. Upon arriving at the main page, I connected my account to my Facebook, and then an avalanche of brands from all over the globe, with corresponding discounts, materialized before my eyes! Yes, it was super dramatic. I was practically clicking as fast as my scrawny fingers could take me—specifically the Zara Worldwide and the Roberto Cavalli sale! I was a woman possessed!
Basically, Mysale.ph is a leading members-only online shopping club that serves as a doorway to affordable designer fashion. Their goods range from 600 bucks and up, averaging on 800 bucks—and to think, these are all branded apparel! The purpose of the site is to host sales for top fashion brands around the world on a daily basis and even give discounts up to 80% not only for ladies but also for men, women, children, beauty, and homeware brands!

So right now, they're having their Flash Frenzy campaign, which will take place from the 4th until the 6th of May 2014.  It sees new sales being launched across the websites every HALF AN HOUR with max discounts of up to 80% off.  Increase in brand offerings during this three-day period with over 60 top brands included in the mix. So you really have to check every second, every minute, every hour of every single day from May 4 to 6… and this goes for all above-mentioned categories!
I don't know about you guys but even if I'm all the way in Boracay on May 4th, I'll have my laptop and credit card ready! The faster one of us will get to take home a wonderful article of clothing—so let the games begin!