Floral Top, Studded Flats, Shorts: Zara | Nautical Necklaces: Pretty Little Blings | Bag: Cerruti 1881 | Watch: Charriol | Hand Harness: Forever 21
Before anything else, I've just realized that I haven't been posting any vocabulary words! Super sorry. It totally slipped my mind–me and my faulty memory. Let's reinstate that! I'll go back to my old entries and add a vocabulary word for those who're fond of backtracking (at my own pace though aka within the next few weeks). To be fair however, I've been posting more often than not–right?! So today's word is…
As you can probably tell from the tone of my narrative, I'm well on the road of recovery. I still have the sniffles and a bit of dry cough but it's all good! I hope I'll be virus-free come LaBoracay (yes, I'm going to use this term shamelessly, haters bite my ass) so I can enjoy accordingly. For those who missed my twitter and blog announcement a couple of weeks back: please don't forget to grab a copy of Manila Bulletin every Wednesdays, I have a column aptly (but not creatively) called: Konichiwear in the College & Universities section. My introductory column was published last week–here's a photo of one of my best friends, Jam Magno, holding her own copy:
The outfit above is what I wore to the unveiling of the SM North Edsa's wall mural in the Ground Floor of their Annex building featuring urban artists Dee Jae Pa'Este and the Hidden Fortress crew.
I was personally very surprised that SM's been making efforts to go "green." It's not everyday you hear big conglomerates who're slowly shifting towards "sustainable" efforts. Granted, the efforts are gradual but you can see that SM's malls are now clean most of the time, with proper waste segregation (a big bonus). I am also pretty impressed by their various sky-dome developments where they've built roof-deck greenhouses/parks. Plus, to make their bare walls more lively, they've decided to put up murals from renowned mural artist Dee Jae Pa'Este signifying various abstract eco-friendly messages.
As it was the middle of summer, I wore something really breezy in the form of my Zara top and shorts (the shorts I changed to white before heading to SM as I spilled a drink on my green shorts). I just came back from Taipei then and the heat was a pleasant change from Taipei's bipoloar weather (I will be posting about that this week). Since Summer is the best excuse to use and abuse sandals, I'm parading around in one–a jelly studded contraption I bought for myself and Joanna last year in Hong Kong.
Anyway, so when I arrived, they were still in the process of creating the wall mural…
I was fortunate enough to have an informal interview with Dee Jae and the 5 members of Hidden Fortress! Since I've met Dee Jae previously from an event, I was curious about Hidden Fortress. Quiccs, one of the members, was nice enough to tell me that they do collaborations with Dee Jae once in a while but they've done murals all over the country. In fact, Preview Magazine used one of their wall murals from down South for a fashion feature. Likewise, they've created a bus design for SM Youth–if you see their ads, you'll see a big bus with a variety of graffiti in the background… that's one of their works! Apart from that, Hidden Fortress isn't just focusing on urban art, they're also trying to uphold a "Street" lifestyle! Soon enough, they'll be opening their own line of apparels alongside their current offerings of art and toys–visit their store in the Ronac Center Basement! Anyway, this is the full view of the finished masterpiece…
Before anything else, let me just tell you that Dee Jae and the Hidden Fortress thought of putting together this mural over lunch the same day… an hour shy of their call-time! Like I said, there is beauty in spontaneity! So I asked them how the wall was an homage to "Earth Day" and they told me that each character there represents an "earth spirit" of sorts. The Tarsier is an off-shoot of one of the Hidden Fortresses' members who specializes in monkey-like characters–very fitting considering it is a primate unique to the Philippines only. Beside it is the helmet character that's also well-loved and well-associated with Hidden Fortress, holding up a flower to Dee Jae's Nature Goddess (his style is very distinct, right?). Beside it is Quiccs' robot, again associated with Hidden Fortress, but this time, donning a wooden helmet with branches for an antennae. Then finally, an owl with feathers! Awesome, right?
This wonderful venture with SM North Edsa will be a reminder to everyone that we have to gear up towards sustainable living. Sure, earth day is just one out of 365, but that wall will be there 24/7, just like how we have to ensure that we're taking care of our ecosystem in any way we can. Here are some more photos of the wall and my outfit: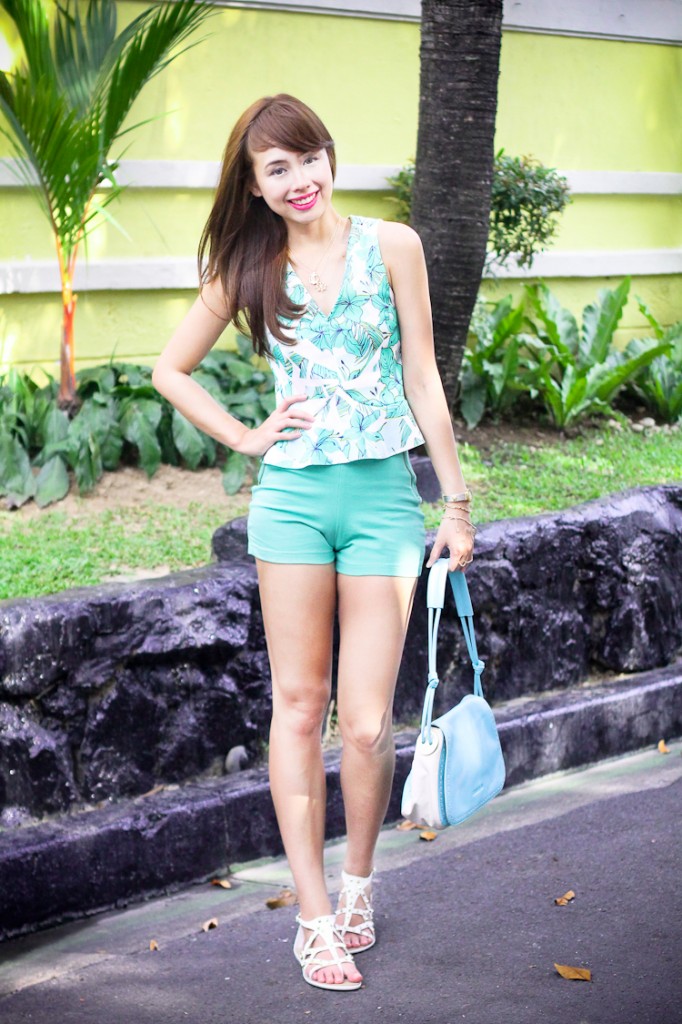 Speaking of sustainable living, I think now is the perfect time to eat organic! Plus, with Labor Day Boracay just around the corner and the last few days of Summer, it's the perfect opportunity to do so to pamper that rockin' body!

1. Soon, I will be launching a promo in collaboration with the Healthy Grocery… disregard the April deadline, that will be moved. For now, follow them @thehealthygrocery on instagram!

For now, you can enjoy an exclusive coupon with free shipping if you buy the ff: Raw Cacao, Raw Spirulina, or Raw Chlorella, minimum P499 order, valid until May 15. Visit www.thehealthygrocery.com, shop, and just enter the code on the check-out counter. Here's a list of all their products:

2. Last (but not the least, of course), I've been eating strictly 1,200 calories these past few days with the help of @fitnesschef_manila on instagram! Before my resignation, I've noticed a lot of my officemates ordering brown paper-bag food diets during lunch and though I wanted to get into it, I just wasn't sure if the food was good, nutritious, and varied. It seemed like they were eating something similar almost every lunch–and it's not exactly cheap! Thankfully, Fitness Chef Manila showed me their 5-day menu for both 1,200 calories and HCG diets (you can custom-make it to your liking, if you want) that boasts of variety:

Here are my favorites from their menu…

They always deliver it every morning at 9 AM, break down your meals to: breakfast, lunch, dinner, and snacks in easy-to-heat microwavable cases.

My favorite meal to date–strips of beef garnished with sesame and ginger dressing. I still think of the dressing to this day! It's like Korean Beef Stew with brown rice!

Had the boyfriend try their classic meatball penne and he was hooked! He took this photo and tagged Fitnesschef Manila! Follow his instagram too for yummy food photos @enzoladrido!