Sunnies: Tom Ford | Swimmies: Eika PH | Slippers: Banana Peel | Earrings: Forever 21
I'm finally back in the Philippine shores after a week-long stint in Taiwan! I managed to post one blog entry for last week but missed out on a few that I promised. Just so you know, it was hard to obtain wifi in certain areas and well… truth be told, I really didn't try that hard to write as I was enjoying myself day in and day out doing what I love best when traveling: shopping. I'll go in-depth on my trip soon but for now, allow me to share with you last week's destination: Bohol.
The decision to go local disappointed me initially. I wanted to get my well-deserved R&R in Phuket, Thailand but my boyfriend, after an grueling review session and assessment program in Singapore (which I accompanied him to for a mere day hence the lack of photos), just wanted to stay within the Philippines for a change. I checked out El Nido and Coron in Palawan initially, until my uncle, who's developing a high-end resort in Bohol suggested we try out Bellevue instead.
Bohol has a special place in my heart–a mere hour's boat ride from Cebu, the province was no stranger to me. I grew up going to Panglao at least once a year and I've always thought of Bohol as one of our country's unexploited paradises. I was excited to bring my boyfriend there since he hasn't been yet–plus, I've heard so many raves about Bellevue's 5-star accommodation that I figured: "Why not?" 
So here's a peak at my travel diary, I hope you enjoy and pay a visit when you can!
Here are my beauty essentials for the beach, from left to right… (1) Shower wash (which works just as well as bath wash for when you want suds on the tub), (2) Biolage Shampoo and Conditioner from Matrix Professional, for salon ready (and scented) hair, (3) Belo Sun Expert Body Sun Screen and Face Sun Screen, and (4) My ever trusty Nivea Sun Moisturizing Spray for post-beach purposes!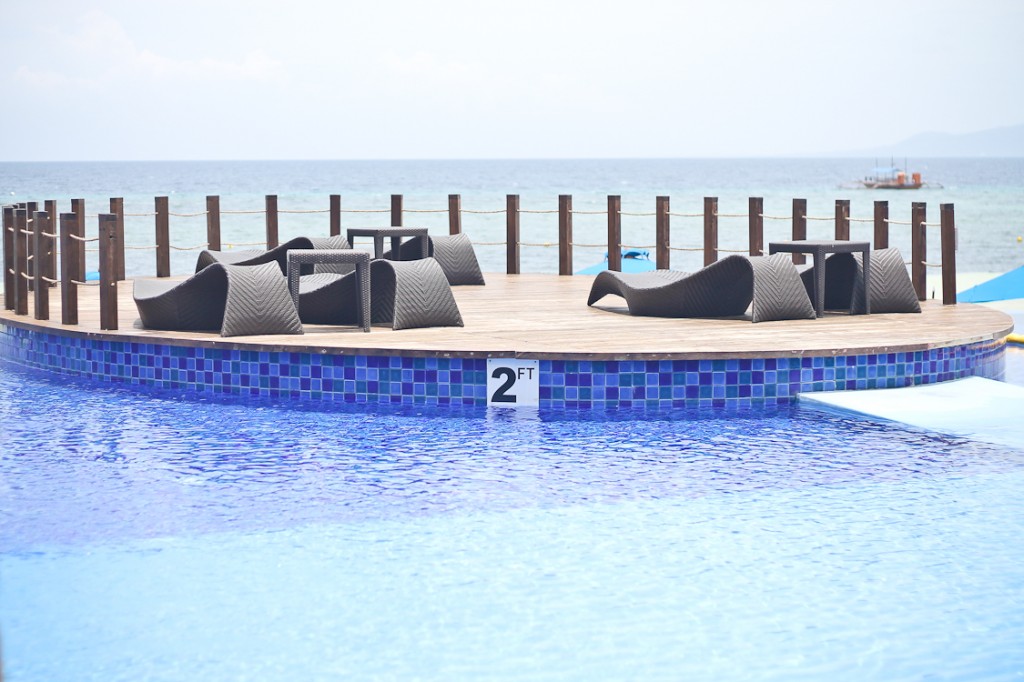 Thank you, Banana Peel for your arsenal of comfy and trendy slippers you sent me! I was able to put this purple pair to good use.
Flowy Cropped Top: StyleStaple | Coral Skirt: Mango | Clutch: H&M | Bangle: Promod | Necklace: Forever 21 | Sandals: Elements
Forgive the vein-y feet, I've a bad habit of washing them as soon as I get home from the gym! That said, I want to introduce everyone to my current favorite brand of Brazilian beach sandals: Elements. It's such a chic change from the usual flipflops we're accustomed to during the summer season, don't you think? It comes in a variety of colors that will complement any outfit. I personally chose pink because it looks good on my skin-tone. The brand draws inspiration from colors found in nature, striking a balance that is both classic and modern. What I love the most about it is it's very comfortable–I don't normally enjoy wearing sandals, specifically thong ones but these were a pleasant surprise! Since Elements is made from only the finest leather from Brazil, each pair of Elements promises all-day comfort.
Elements is available in selected Shoe Salon branches. Prices start at P1895. Add them up on their Facebook and Instagram! You can bet on me bringing these babies to Laboracay as well!
We were lucky to check out the beautiful architecture of the San Agustin church within Panglao, built somewhere around the 1800s. The bell tower beside it was wrecked during the earthquake a few months prior but they're slowly rebuilding.
Fringe Aztec Bikini: Indiego Boutique | Bead Bracelets: Aldo | Necklace: Forever 21 |
On our last day, we went to the Bohol Bee Farm as t was highly recommended by my dad. Initially, the boyfriend was tired and sunburnt so I had to literally pull him away from the beach bench and reason with him. It was a great decision though! The Bohol Bee Farm is home to all things organic–you can literally buy herbs and take them home. If you drop by their convenience store, you'll be able to get a hold of super yummy spreads utilizing their main ingredient: organic honey! From Pesto Jam (my favorite) to mango jam, to plain honey and a variety of ice cream… ugh, we literally went crazy in there and bought pasalubong for everyone.
Then we had dinner by the seaside, and ordered Orange Peel Native Chicken that was so succulent and juicy, served with an edible flower salad, Grilled Squid (my favorite diet seafood) that didn't taste malansa at all, and garden salad with the best honey mustard dressing ever. We capped off our night with Avocado ice cream from their store and I swear, it was the best tasting avocado ice cream I've ever had (is it even made out of cow's milk or blood of virgins)!
As most of you already know, I reserve the bottom part of each and every one of my blog posts for important and relevant news I want to share with all of you. For this entry, I have two! It's truly my pleasure to share to everyone my first discovery: the 2Sides2Me app, which is free for download for both iPhone and Android system.

Initially, I thought: "What's so special about this app?"

I was told that it's a "must-have" for every #selfie addict but I have instagram, so what would I need this for?

Upon tinkering with it, I figured out the "special feature" that set it apart from the usual social media photo apps… it allows you to take 2 photos—like a before and after treatment—where you simply press the screen to switch it to the second image. It's perfect for when you want to ask people their opinion between 2 photos or where you want people to compare something.

For fashionistas, you can upload 2 photos for say… a "day" and "night" outfit to share to the world. Or for beauty lovers, you can upload a "pre-makeup" photo and then a "post-makeup" photo! It's a very simple concept but it's also pretty useful!

Personally, I like uploading photos for full body shots and then a close-up for details. It gives me more flexibility without having to chop my photos up with the Pic Frame app or anything similar. On top of it all, you can also privately chat with your friends just so you get to keep that social networking aspect.

So what are you waiting for? Add me up, my username is: DominiqueTiu  and let's be each other's friends on 2Sides2me! Plus, they're having an on-going contest right now for those who can post their "best #OOTD" from April 21 to May 4! Be creative and find a good way to showcase your pieces and stand to win your very Michael Kors Black Large Fulton Crossbody bag.

Last (but not the least), there will be a new Dee Jae Paeste mural to be made in SM North Edsa. I was there during the last unveiling and took #OOTD posts on the walls. Tomorrow, I'll be checking out his relevant and eco-friendly works of art and you are all welcome to drop by and join me: