Beige and Leather Jacket, Top with Gold Chain: Stradivarius | Fringe Shorts, Wedge Rubber Shoes: Topshop | Cross Necklace: Forever 21 |  Bangles: Hermes, Marc by Marc Jacobs | Bag: Celine
My instagram feed is filled to the brink with numerous #Coachella2014 photos from both friends and celebrities I follow. I swear, it seems so fun and exciting, and everyone is literally there! I am so insanely jealous right now–going to Coachella has been a dream of mine since I was 16 and I'm such a huge music nut that I'd kill to watch both indie and mainstream bands live. Thankfully, I was given the opportunity to experience something similar a couple of months back via the 7107 Music Festival held in Clark, Pampanga. Sure, Clark's no California, but we had topnotch performers on stage and we all had fun! So presenting to you a late post from last February… I have no excuse, I simply forgot to post this and was only reminded by this backlog when I saw the sheer volume of Coachella photos this morning.
Yes, yes, I'll head to Coachella in the next few years–most likely before I get hitched or before I hit 30. It's already on my bucket list (for the past 10 years) and I will make it happen… by hook or by crook. I'll go on this music-sabbatical with my best friend from Canada and we'll chill and listen to music, and celebrate by wearing fashionable Bohemian-themed clothes…
But before I head straight to Lala Land, here are my top 10 Music Festival "Must-Haves." If there's one thing that Filipinos and Californians have in common, it's their love for the sun! Plus, the weather's been so obscenely hot lately, we should take this opportunity to experiment with certain looks!
MY MUSIC FESTIVAL/SUMMER MUST-HAVES
Denim – 

Denim is forever versatile. You can build your outfit around it to come up with certain looks! Do you want to be dainty or do you want to be edgy? It's all about the complementary pieces you use along with it. It comes in a variety of cuts, washes, and colors; plus, it's lightweight enough for anyone to move in especially during the summer!
Bold Prints – I'm so crazy over prints in general, constantly stalking Mary Katrantzou and Peter Pilotto for some visual orgasm that I think it's high time we experiment on bold colors and anything graphic! It can be something typographical or images, why not? 
Creative Headgear – Now is the time to whip out your flower crowns and your floppy hats, anything that can accentuate your hair or just to protect it from the sun. I'm a fan of functional fashion so now that the sun's up so bright during the day, wearing something to cover it isn't only fashionable but ideal.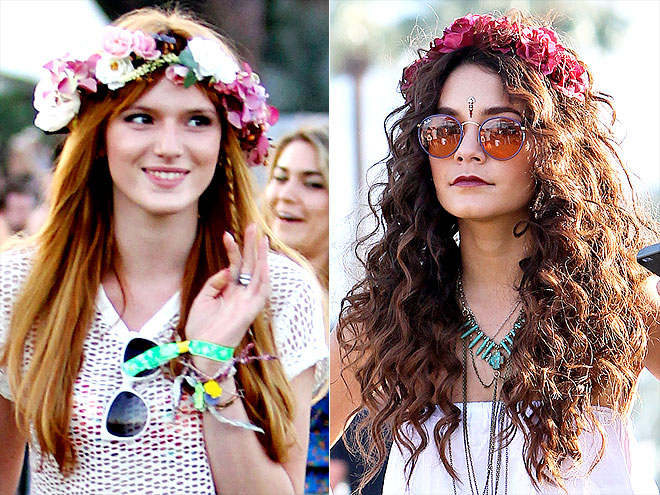 Flat Sandals/Comfy Shoes – I love heels like the next female, but it tends to get really annoying during the summer when your feet get extra sweaty and in effect, your shoes either expand to some weird shape from all the heat or you end up with dirtier insoles or you lose footing and put most of the pressure on your toes instead of evenly distributing it. Flat shoes are forever comfortable and they're so cute and so appropriate for the summer. I don't know about you but I am definitely abusing this season just so I can wear out all my pretty flat sandals and I think Rachel Zoe approves (see her photo below)!
Cropped Tops – It's not the eighties but if you work hard for your body, then this is the perfect fashion item to own just so you can flaunt your so-called "handiwork." Personally, I think that cropped tops are perfect for the summer-heat… the lack of fabric pretty much allows you to cool down.
Sling Bags – 

It's practical, it's handy, and it screams Boho-chic-hipster. The smaller, the better–just enough to keep your keys, your cash, and your phone to keep up with the carefree feel of the season.
Swimwear as Outerwear – Because, why not? It is Summer! Apart from the fresh and cool fabric, at least you get your money's worth when you wear out a swimsuit and use it as a top rather than have it sit in your closet before the next beach trip!
So there it is! Use and abuse these ideas for the summer. Do you guys have anything to add? Let me know if there are other Summer Essentials I didn't include! I miss sharing my thoughts on a very technical fashion–pun intended. So I'm glad to announce that after Holy Week, I will be joining the Manila Bulletin team as one of their Youth Fashion columnists! Expect to see a variety of how-tos and anything and everything under the sun in regards to collegiate fashion! Here are the rest of my photos from the last day: