Lace Cropped Top: Bershka | Part-Leather, Part-Cotton Flute Skirt: Forever 21 | Striped Wedges: Zara | Ear Bling: Pretty Little Blings | Bangles: Marc Jacobs, Hermes | Watch: Michael Kors | Bag: Alexander Wang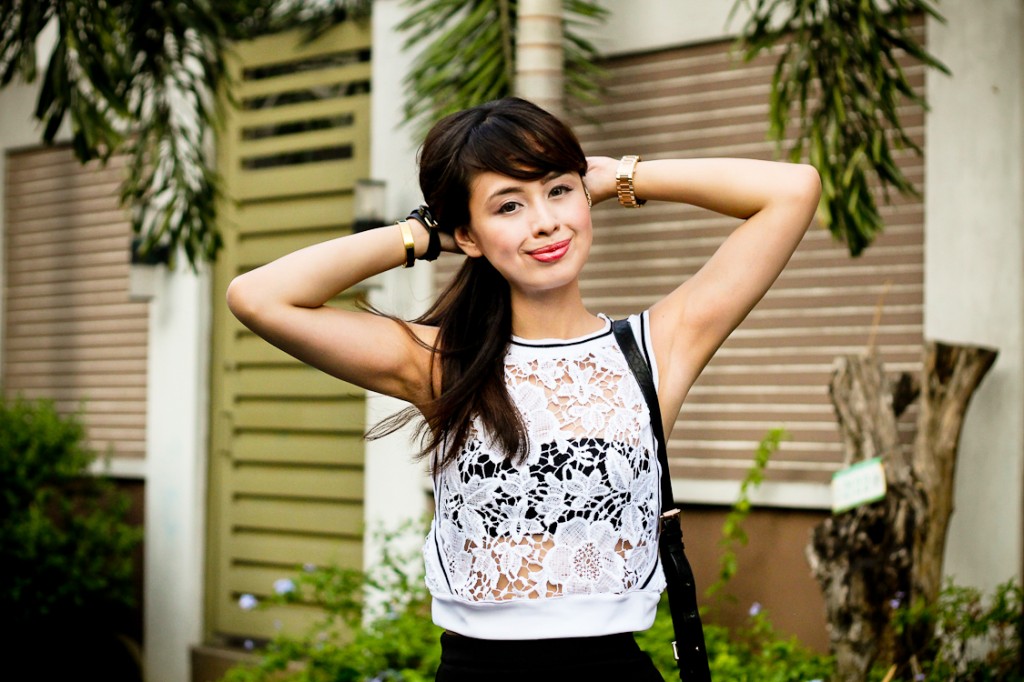 For an upcoming project with an international denim brand, part of the negotiation process included pertinent inquiries for them to gauge if I was a perfect fit to their brand principles. Surprisingly, the questions weren't the usual "what are your rates" or "how can you integrate our brand in your blog post" sort, I mean there was that but the core of their inquiries were surprisingly profound (and yes, it impressed the hell out of me)!
One of the questions they posed, and the one that caught me off-guard was: "what do you live for?" 
Off-hand, it's difficult to come up with an answer. It's not something you get asked on a daily-basis and I don't think answering "Nutella" would make people respect me. I do live for a lot of things and for a lot of people… but I guess it would be apt to say that I live for moments. Pure, genuine, and raw moments–be it good or bad. I've always believed that it's what you do with these moments, how your mind and heart perceives them, and how you let it define you, makes you the person that you are at present. 
Life is how you live it.
I know you're probably thinking I'm talking in a cryptic manner. I'm not–yes, I'm speaking in a general sense but chalk it up as a function of being a writer/story-teller… I cannot be precise simply because I cannot be biased; I cannot choose and I cannot pinpoint particularities because I think everything makes life worth living for! It's the totality of all that you experience, all that you are about to experience, and all that you did not experience that makes life amazing… shared experiences, the people you encounter, all the things that you want, all the things that you possess, and all those that you don't.
Think about it! Isn't it magnificent?
The idea that you can potentially want things and the idea that you can't have all that you desire. It's the irony of life that makes it beautiful. It's that particular irony that you get to experience situations and feelings. I live to experience! Experiences allow you to gain wisdom… and I think that in life, there is limitless opportunity to learn and to become a better person. Life is indeed, what you make out of it, and happiness is a state-of-mind.
I still choose to be happy, you know. Right now, I'm experiencing all sorts of "highs" derived from opportunities I've seized as of late and opportunities I've let go and this is after an emotional first quarter given my resignation. People might say: "You're really lucky" and perhaps I am, but hey, I work with what I have and maybe that's how I continue to make life worth living.  
Speaking of blessings, I'm actually cooking up something with a Singapore-based fashion social network: Clozette! Some of you may have heard of them, and if you didn't know, I was the first fashion blogger they featured, and first Filipina one a good 3 years ago! Now, with over 300,000 users, they're expanding to various Southeast Asian countries and setting up home-base in the Philippines! It's just so exciting! I'm a huge fan of Chictopia and Lookbook, where I get to post my OOTD and get feedback but I think this is how many times better simply because it focuses on Asians–people with almost similar aesthetics, brands, sources, and weather as Filipinos.
So if you want a new, less-mainstream, and more relevant avenue to create a profile, share your fashion choices, share your fashion desires, and even sell your own items–then head over to Clozette and create an account now!
Here's an outfit I wore recently, that's a nice break from all the colors of the summer. I was wondering when I'd ever muster the courage to wear black in such hot and sweltering weather but I managed to do so. Here are some more photos…
I've been getting inquiries on how I go about my schedule now that I no longer have work. Actually, I no longer have a set schedule so I wake up whenever my body feels like it. I do attend meetings and events however, on a daily basis at that! Here are some essentials that help me get through the day:

My iPhone 5s

– This used to be my business line until I resigned and had to surrender my work number. Now, I use this strictly for family only. It's encased in a thin and resilient metallic pink casing that's perfect for a klutz like me, who drops her phone at least twice a day (no joke). I got it from Elecom Philippines and it's plain perfect for when I need to run a quick errand and don't want to bring a bag–I can simply slip it in my pocket and voila, no undesirable bulges! 

My iPhone 5c

– Globe-powered, of course! This is my personal line that I use whenever I respond to blog-related queries or corporate interview prospects. It doesn't have a case just yet but I'm getting one over the weekend. It's slowly becoming my favorite phone as I find it to be so adorable and practical.


My iPad 2

– I've had this for the longest I can remember and only use this for quick surfing or for reading purposes. Since I usually don't have the time to boot up my computer to surf, I rely on my iPad. Right now, it's pimped up with a customized case from Case to Go! I was pretty impressed by the quality of the case, the printing was really good and clean. If you have designs in mind then I suggest you try them out.


My Macbook Pro

– I've had this for almost 2 years already, but I've been a loyal Apple computer user since 2004! I've gone through a series and nothing gives me detailed visuals like an Apple. Seriously! In a year or two, I think I will be upgrading to a lightweight Macbook Air. This rubberized green casing that protects my laptop is courtesy of Candy Shield! If you're looking for laptop accessories–like keypad covers in the cutest pastel colors, check them out!


Pencil Case

– Yes, I need this in my life. I just got into the habit of storing my pens inside pencil cases as I haven't been doing so in the past 5 years! I own tons of pens and highlighters as I prefer variety so this is just handy and the perfect complement to…

Hello Kitty Planner

– I got this planner from the people behind Gift Gate Philippines! It is simply amazing with so many partitions and spaces to fill in. Seriously, I chucked my Starbucks planner out of the window the moment I got this! Plus, who can resist the cute images? I know I can't!


For questions or feedback, please leave a comment below or simply contact me via my contact form! Until next time!