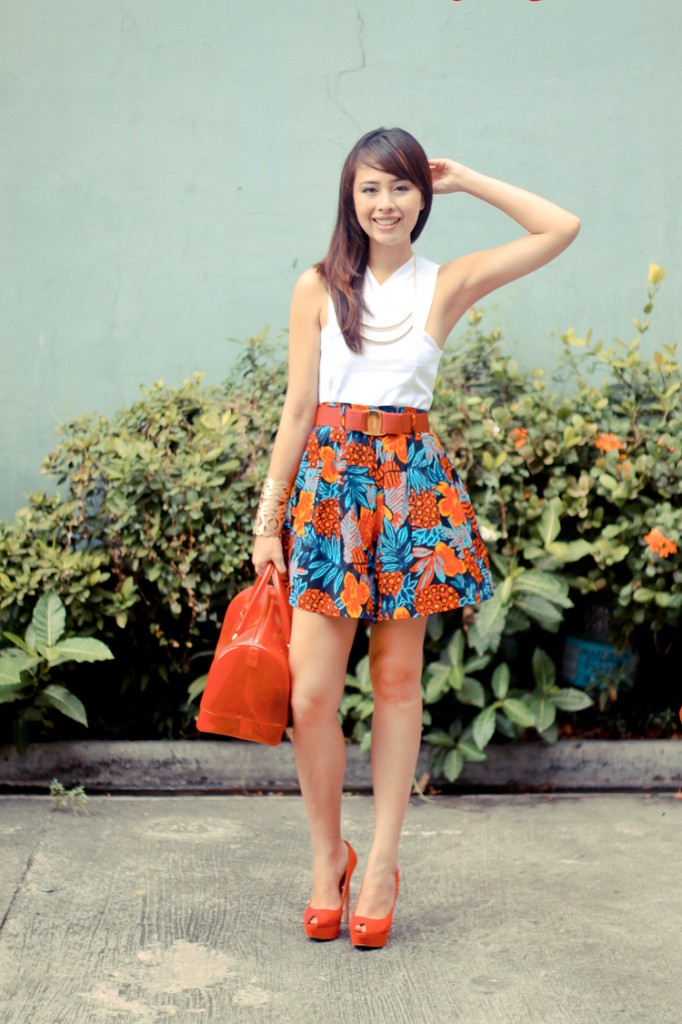 Necklace: Pretty Little Blings | Heels: Zara | Bag: Furla | Cuff: Forever 21 | White Cropped Top: Urban Hour |  Cullotes: Style Stunner Manila | Belt: Ferragamo
Disclaimer: This is not the second part of my Manila Sundance Bazaar post but rather, an intermission blog post. I am, however, wearing a few pieces from my Manila Sundance Bazaar and Supersale Bazaar loot. This was the summer-themed outfit I wore to my Trinoma Vibe Magazine feature shoot recently. I'm in a pastel state-of-mind as of late but I was trying to break out of my comfort zone by donning bold colors! Anyway, it's been so long since I've last accepted magazine features so I'm quite pleased with the outcome. I got to work with an A+ team, including the makeup artist of Benefit Makeup: Wilma. The issue won't be out until May though so hold on to your horses!
Anyhow, yesterday, I went to the Media Agency I service on a weekly basis for the past 3 years, to bid them all farewell. It was my last servicing day ever and I just wanted to thank the people who've helped me grow and who've helped me achieve my quota by supporting my platform, especially those whom I've grown close with. It was a bittersweet kind of thing, with well-wishes and warm hugs. I'll definitely miss working with such wonderful people, I swear. I did it all in record time though… an estimated two hours. I told you, I'm pretty evasive and emotionally incompetent so I try not to drag out emotional situations–I didn't want to tear up or bawl.  While doing so, my close friends form the office called me up to ask me if I was free for my own "freedom" party… 
Now I fully understand why saying goodbye is hard. I try not to think too much about it but I'm only human and I can't help but think of it in fleeting moments. Parting with the people I work with is hard enough as it is, but I think saying goodbye to the people I've come to love is much, much harder.
I go to work and I see my boss, she's wonderful and all sorts of funny, and though I was never the best subordinate, we were good friends (we roughly liked the same music and had the same style). She was like the older sister I never had. Then my seat mate to the left is my shopping and travel buddy, whom I have constant lunches with and whose munchies I hijack when she isn't around. My seat mate on the right has the same name as my stepmom's and is as old as she is, and she acts like my mom as well (she has a daughter my age). Another one of my best friends is seated three seats down the aisle and she gives me the frankest, cut-throat solutions to problems and served as my rock when things were going awry in my life (and vice versa, it was funny that we were both experiencing trials at the same time). Finally, another one of my best friends, one whom I call fondly as "Big Sister" sits three seats down as well, whom I shop with during lunch breaks, and who calls me without fail at 11 AM just to ask what our lunch plan is.
I know that it's not a final good bye, but I know it's going to be different and I'm going to miss these people. I'm hoping that despite the distance and the change of environment, I'll still be able to remain close to some of them, if not all.
Right now, things are seemingly bitter but I'm only hoping that it will be sweet these next few days. I do have summer to look forward to and sleeping in–now the thought of that is cheering me up.
Until next time!
Addendum

:

So a childhood friend of mine is getting married this June and I'm part of her entourage. Don't you feel like a fossil when your peers are slowly getting hitched to the wedding bandwagon? To think we're only 25! Talk about pressure… I am, nonetheless, happy for them. Who can say no to a Happily Ever After, right? It just takes a while to get used to… I've never really moved past 21 years old yet mentally (just kidding…ish). So anyway, this is the feel of the gown she wants me to wear…

It's a bit over the top but I'm kind of liking it I'm thinking if I should still have it made via designer friends given that there's already a preferred design or have Glitterati make one for me or if I should order from stores like 2014 Wedding Dresses UK–have you actually seen their store? They have so many gown options. These are my top picks: 

 

Penny for your thoughts?