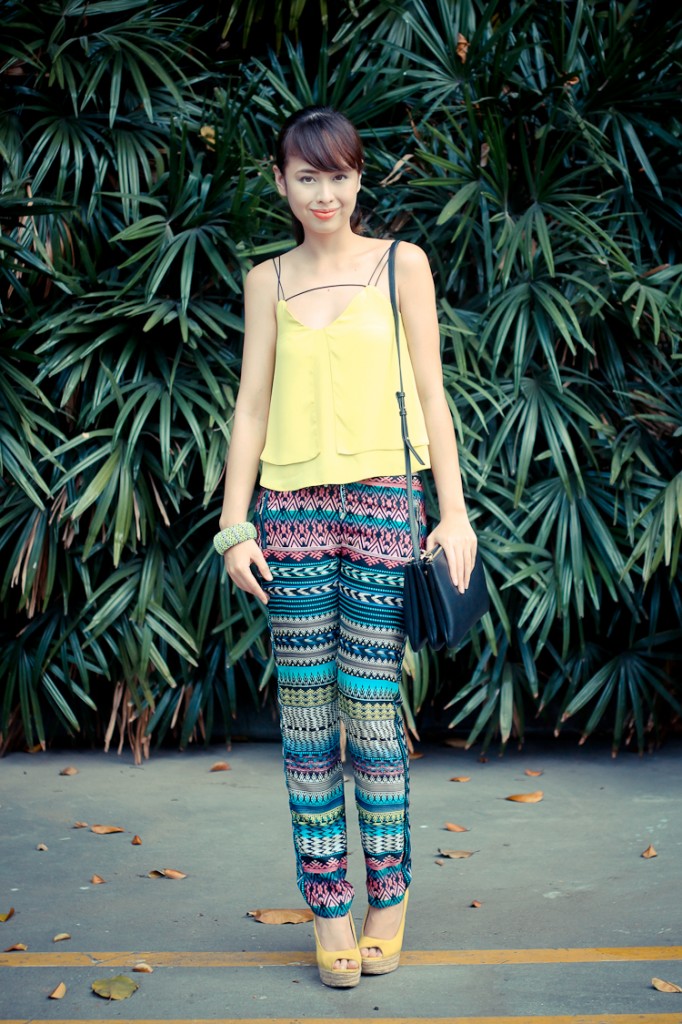 Neon Top: Miss Selfridge | Aztec Pants: Bershka | Neon Heels, Bangle: H&M | Bag: Celine

It's finally Summer!
The scorching Philippine weather is making its presence known as of late, has anyone else noticed? It's been so hot and humid lately, I can't help but sweat buckets even inside an airconditioned room. Que Horror!
Not to mention, it's been such a hectic week for me as well. Last Friday was my boyfriend's 26th birthday and so we spent most of our spare time celebrating (his birthday salubong, his birthday dinner, gift-buying, so on and forth) with him given that it's going to be his last Birthday within the country (he's leaving for further studies abroad come July/August). To the wonderful readers who greeted him over at my instagram, thank you so much. Your combined thoughtfulness made his 26th memorable considering he wasn't in a celebratory mood. In fact, the dinner we had was kept within immediate family and select friends because it coincided with the unexpected passing of his Lolo Mike, his grandmother's older brother. 
So apart form the birthday preparations, we also had to be present at the wake from Wednesday up until the funeral today. If I said before that attending weddings were draining, I can't even begin to explain the heaviness one feels when attending wakes. There is just so much sadness from final goodbyes. Lolo Mike was a wonderful person and he was truly loved not only by his immediate family and relatives, but also by his friends and acquaintances–as seen by the hundreds of people who visited to pay their respects and condolences. He has touched the lives of many, I'm certain, and I as quite fortunate to have met him in the last 2 years I've been with my boyfriend–he's always made it a point to converse with me just to keep me comfortable in family parties. Wherever he is, I'm sure he is in a better place… and I can only aspire to live such a wholesome life like he did. 
Finally, I had an interview also last Friday from a Brand Management position–something that was unexpected considering I didn't apply for the company. I was pretty excited as well since I haven't been interviewed in so long and I was wondering how the process is and what the phrase "exploring career options" really meant.
With that, I am hoping for a better week!
This was an outfit I wore a couple of days ago to the office. It's extremely casual, I know, but fortunately, I had a jacket parked on my chair that served as a good cover-up so I wasn't completely inappropriate. It was just getting too hot that I didn't want to melt the moment I stepped out of the building! Here are a few more photos…
Announcement:

We (Joanna and I) will be at the Manila Sundance Bazaar this weekend. Come join us for a fun-filled day with food, fashion, music, arts, and drinks!

Speaking of Joanna and I… we are brewing up something for our readers! Everything is currently still being worked on but for starters, we now have a joint ask.fm account and a like page! We can't wait to reveal our big, big surprise!