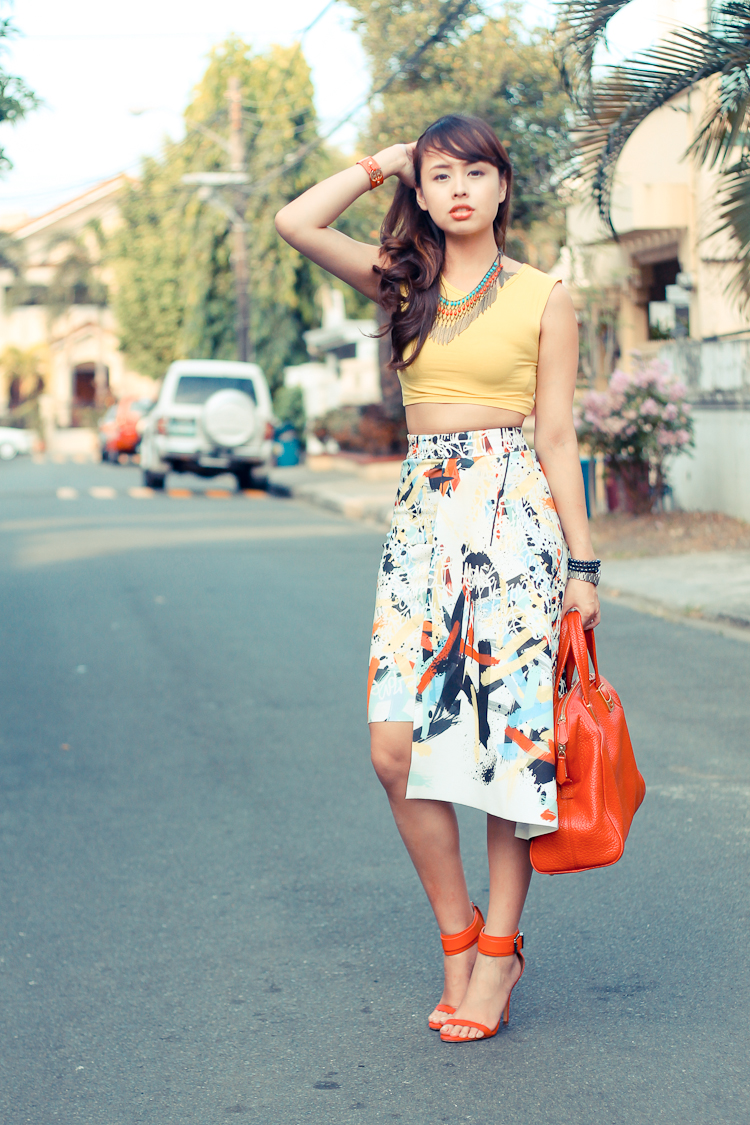 Watch: Rolex | Bangles: Sapphire Stones as a gift, Tory Burch | Necklace: Stradivarius | Yellow Cropped Top: Topshop | Printed Assymetrical Skirt, Red Heels: Zara | Bag: Fendi Chameleon
So I took a (legitimate) leave of absence from work yesterday to attend De La Salle University's LEAP 2014. For those who aren't familiar with the term "LEAP", it basically translates to: "Lasallian Enrichment Alternative Program" wherein students are given an option to take an alternative class (which they can select from a list) that covers an interesting, real-life topic not offered in their day-to-day curriculum.
So I was invited as one of the original 4 speakers (2 of whom backed out, the other is fashionable PR Guy Paul Chuapoco) to give a talk on Fashion Blogging by the Business Management Society (coincidentally an organization my boyfriend was once a part of back when he was still studying). It was my first time to accept an invitation from a prestigious University, actually–there were offers back then but I've always been so hesitant to oblige because of time restraints… and the fact that I was under the impression that I wasn't qualified to talk about Fashion or blogging back then. I mean, I always thought my blogging stint was more of a hobby and cemented in the recesses of the internet out of sheer dumb luck but this time, I figured: why not? I've been in the industry for 5 years already (longer than most), and my blog ranking is apparently more decent than I thought it would be, surpassing a few bloggers I've labeled as "popular" in this long forgotten post. Besides, I was a college graduate with a career, sans disciplinary sanctions from High School or College… so I must be qualified one way or another. 
So along with my boyfriend, I arrived at the Waldo Perfecto room a little over 5 minutes late (apologies, parking proved to be difficult in Taft) and despite that, we were received with a warm welcome. With over 120 attendees, it would be an understatement to say I was overwhelmed.
So I wanted to utilize this opportunity to thank DLSU, particularly the BMS org for inviting me to give a talk–it was an honor and I enjoyed myself. I was a little bit nervous initially because I wasn't used to giving presentations to a much younger crowd given my corporate background and all, and I may have talked too fast on some parts but I was glad that everyone hung on and gave me their full attention. I hope my nuggets of wisdom would prove to be helpful, not just when it comes to blogging, but in life as well. 
Meeting everyone was such a delight, on top of it all. Everyone was fashionable and inquisitive so it was definitely a privilege for me to give my very first college talk in DLSU with the nicest, most attentive students! I really wouldn't trade this experience for anything else, guys so thank you!
For those requesting a copy of my presentation, I promise I'll discuss it in depth in the next post. Whatever I said on my presentation, I will include–and even add some more! For now though, here is my outfit for the talk (and Thank God, the guards let me through):
And these were photos from the event itself: