Cut-Out Sweater: Forever 21 | Floral Skirt: Zara (Hong Kong) | Belt: Moschino | Bag: Alexander Wang | Sneaker Wedges: Topshop | Necklace: Love Diva
I'm a huge fan of Nylon magazine's high-key lighting style… that of which, involves overly-exposed focal points and exaggerated vignettes. I've attempted to shoot in this manner quite a few times already (case in point: Tiny Dancer, Holy Grail , In the Milky Way, I Thought the World of You) to no avail. "Attempted", of course, being the operative word. It's still definitely a work in progress but my handy-dandy Lightroom program makes up for it, tons!
Anyway, speaking of style–I've always been a firm believer that one's style is constantly evolving and I'm not just referring to one's fashion sense. As you can see, even the way I take my photographs (this is, by the way, a backlog from December hence the sweater) is a constant point for experimentation. Another thing that's so blatantly evolved with my life involves my beauty regimen. I've already tackled previously on how I maintain my "healthy" and (seemingly) clear skin via my old post: Epic Moments so now, I'm going to go in depth with my makeup must-haves. I'm not really one to divulge trade secrets but since you guys have been asking me for it and you are all near and dear to me, here is my somewhat comprehensive beauty product post. To start off…
 MY FOUNDATION ESSENTIALS
1. The Face Shop BB Cream – This is my day-to-day foundation. My parents got it for me from their most recent trip to Korea–their Korean tour guide said it was the best and most preferred brand by Korean women. As for me, I like it because it offers light coverage–it doesn't cake or sink in lines and pores. Since my skin is mostly dry, this variant keeps my skin dewy and moisturized. I squeeze a pea-sized amount on my wrist and use a stippling brush to apply it all over my face and neck.
2. Ben Nye Luxury Powder – I actually have two of this–one in Banana shade, and the other in Cameo–the latter being the closest to my skin tone (so I gave the former to JL). I get mine from either of the two shops I trust (they directly import from the US, as well so all their products are guaranteed authentic): Lannel Boutique and E&S Online. The thing I like about this powder is that it stays on the whole day! I specifically use a fanning brush to swipe on oil-depositing areas to prevent it from caking.
3. Shu Uemura Face Architect – Since my skin is highly sensitive, I make it a point to only use hypo-allergenic formulas. I've always been a fan of Shu Uemura products so it was only natural that I patronize their liquid foundation line. Don't get me wrong though, I've experimented with other brands but nothing gives me lasting finish that looks and feels natural like Shu Uemura. A bottle will last you around 9 months and it's slightly pricey at approximately 2,500 php.
4. Shu Uemura Tsuya Skin UV Protect Foam Base – My absolute favorite so I use it for special occasions. It brightens up my skin after a thin coat of application. When used in tandem with Shu Uemura's other makeup foundation, it intensifies its lasting power. Since this product gets sold out frequently, I ended up getting mine from Singapore's Takashimaya. It costs around the same as their Face Architect foundation (but lasts you less than 6 months).
5. Naturactor Concealer – I used to be so reliant on my MAC concealer. I've tried a variety of concealers  but nothing gives me coverage like my MAC. Unfortunately, MAC gives me blemishes from time to time. Thankfully, my friend Sharlene Dy of Lannel Boutique, insisted I try the product and even swore that a variety of celebrities patronize it. She sent me a lighter shade initially and it didn't impress me at all but having read more positive reviews online, I decided to order another shade simply because I think my under eye circles are to dark. It was definitely a match made in heaven and I swear by it, on my life!
6. Age Rewind Maybelline Concealer  – I actually don't use this for under eye circles but rather, for spot blemishes. I just like that the formula is lightweight and it comes in a cute fluffy applicator. I also use it as a base to highlight certain areas on special occasions. For those with minor under-eye circle problems, this will do! This product isn't available in the Philippines so I got mine from E&S Online.
7. Benefit Porefessional – It is a makeup base with microscopic glitters that smoothens out your pores and gives you a dewy sheen! Instead of putting it on before foundation, I actually mix it in with foundation. Personally, I use it on special occasions only. You can find this in every Benefit store in the country.
 FOR THE EYES: PART 1
1. Smashbox Eyeshadow Palette – I got this comprehensive eye palette from Duty Free 2 years ago and have only started using it last year. It has an array of pearly, glittery, and matte selections–all of which I use to experiment with when there are formal events I need to attend. Some are high-pigmented and some are just blah, so it's really a Russian Roulette. Personally, I just adore it for the additional highlighter, blush, and contouring powders on the side.
2. Naked Palette 2 – If I want to play it safe and don't want to over think which palettes look good on me, I turn to Naked Palette 2–which is more earthy, flattering, and rich, in my honest opinion. I'm not a fan of 1 or 3 so I've stuck it on with 2 (I even have a portable version of this). Since Urban Decay isn't available in this country, get this from E&S Online.
3. MAC Holiday Baked Eyeshadow – This was sent to me by Cindy Go of MAC. I've always been a fan of MAC eyeshadows, I have a few palettes at home that I no longer use, if only because I've used up most of the pigments (I need to replace those)! So when they sent this in for the holidays, I ended up using this more than my portable Naked Palette 2 (that's why it's not in my essentials). In fact, this has become my everyday eyeshadow!
4. Shu Uemura eyeshadow in Pink – I actually have a few more colors from Shu Uemura but it's the pink that I use quite frequently since it's flattering on my skin. I swear by Shu Uemura eyeshadows as well–they're so high pigmented!
6. Urban Decay Eyelid Primer – It keeps my eyeshadows on for a long time. I usually just use it when I have a long day ahead or for formal events.
FOR THE EYES: PART 2
1. Anastasia brow wiz, MAC brow pencil – I've long discovered that well-groomed and shapely eyebrows make your entire face. I am a huge fan of Anastasia's brow wiz but it's so difficult to get one in this country (not to mention, it's really pricey too)–I get mine again from Lannel Boutique or E&S Online. So to maximize it, I only save it for special occasions and alternate with my MAC brow pencils which I get from Lannel Boutique–since it's the only shop that sells authentic MAC products at such a low, low price.
2. Chanel Face Powder – I realized I should have placed this on my foundation essentials but truth be told, I only whip this out in parties. In reality, I use it around my eyes to set my concealer because it has a creamy powdery texture that's heavier than Ben Nye's luxury powder. In all honesty, this is my absolute favorite face powder but unfortunately, on top of it being so pricey (I think a compact is around 6K), it's so difficult to find my shade! So I try to prolong its shelf life.
3. Guerlain Terracota Bronzer – If I'm not using the one on my Smashbox palette, I'm using this. It comes in a very pretty compact case and deposits color quickly on skin. My only problem is that I dropped it at a party and the compact broke so it's now just relegated at home. It's a bit pricey as well at around 5K but it works wonders.
4. Benefit Moon Beam – I use this as my highlighter–it comes in a nail polish-like applicator to match its liquid form. It's a bit high sheen so I only use it at night. You can buy this in all Benefit stores nationwide.
5. Makeup Forever Mascara – I don't really use mascaras if only because I have lash extensions done. Recently though, I haven't been having my retouch because I'm giving my lids a rest from the constant "extending" for the last 20 months. I like this mascara which I got from E&S Online because the applicator starts out wide and then ends narrow, so I can use it to coat a layer on my lower lashes!
6. Revlon Gel Eyeliner – The color is extremely intense and it lasts the whole day. Normally, I use brown eyeliners but for when I'm out at night, I make sure to use this one. You can find this in leading department stores and drug stores.
7. Prestige White Eyeliner – People always ask me what I use to line my lower waterline–well, here it is! At 300 bucks, this piece is a gem! I usually get this from the beauty bar and it makes my eyes pop. I'm sure there are other brands offering white eyeliner pencils but this one usually does the trick and it's not heavy on the pocket.
8. Maybelline Brown Eyeliner – Usually, before I put on my liquid eyeliner, I line my eyes with a pencil eyeliner to intensify the colors. Sometimes, I also use it to line my lower waterline if I want to go for a smokey look. This is pretty cheap and can be found in every department/drugstore nationwide. If you want a more kohl-like look, try burning the tip!
9. Canmake Eyebrow Mascara – I discovered this via my shoot for Tokyo Posh. The people at Canmake told me this could just be pit against MAC's eyebrow mascara so I did give it a try and was pretty happy with the results! It takes a bit more to coat dark strands but hey, it's cheaper and has a lot more content. You can buy this from Canmake Philippines!
10. MAC Eyebrow Mascara – Another absolute favorite of mine. It puts every strand in place and coats it with ample color. You can get yours again from Lannel Boutique at a cheaper cost or in MAC stores nationwide!
11. Shiseido Highlighter Stick – Unfortunately, this variant is obsolete already so I really try to save this one for special occasions. This is perfect for daywear since the sheen is very light. If you head up Shiseido though, they only have this in powder form. Trust me, the cream stick was much, much better.
BONUS: YSL Touche Eclat Eye Brightener – I forgot to number this! I actually use this on top of my concealer. No, it is not a concealer–this is, in fact, a common misconception. It's a highlighter/brightener, actually, and it works best on the eyes. You can use it like a regular highlighter but it's just a bit more opaque. It's best used on the corner of one's eyes, the bridge on one's nose, and the brow bone. Because YSL cosmetics are no longer available in the Philippines, I hoard this in various international duty frees.
12. Cathy Doll Highlighter – As I mentioned a while ago, the Shiseido cream stick is defunct already. A great new alternative is this cream highlighter from Cathy Doll cosmetics–a brand from Japan solely distributed by Glitter_House. It has the same glowy/dewy finish and it is light weight–plus it smells so good! Thankfully, the pot is deep so I think this will last me a long, long time.
13. Prestige Liquid Eyeliner – Another cheap thrill that's less than 500 bucks! I like it because it gives me a precise line. It's available in a variety of colors too! You can get yours at any Beauty Bar store.
CHEEKY ESSENTIALS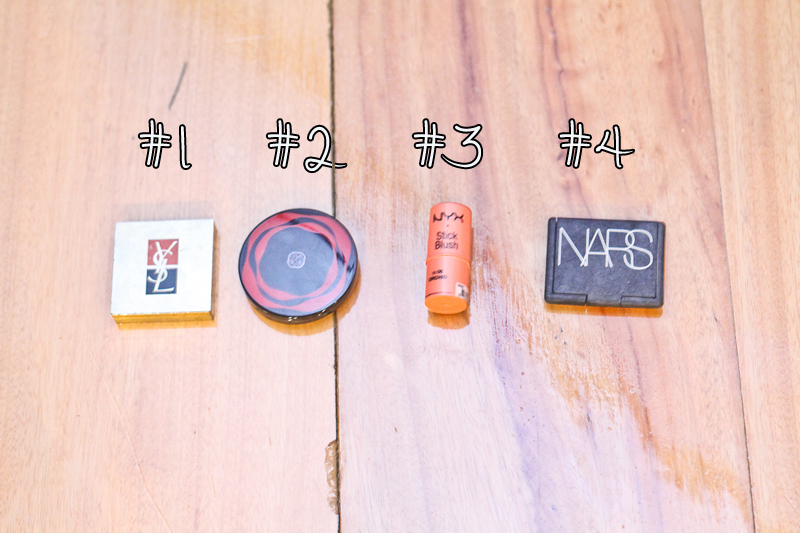 1. YSL Blush in Pink – I have never found a pinker shade than this pink and I really like it sometimes when my blush is doll pink! I know it's like a sacrilege to pair the same colored blush-ons with lipsticks but sue me, I'm a rule breaker. When I have pink lipstick on, I use this blush. Again, since YSL is no longer available in this country, the only way you can score this is from online shops on a pre-order basis or when you drop by Duty Free abroad.
2. Shiseido Camellia compact – It's a tri-color blush that mixes pearly white (for the glow), light pink, and deep red. It is so high-pigmented that a little can go a long way (most of the time, I end up dabbing my cheeks with tissue to eliminate the color). Usually, I just mix together the pink and the white to avoid a clown face but for formal events, I do use a bit of the red.
3. NYX stick blush – I love this brand and how cheap it is. It is my everyday blush because the color is so high-pigmented! On the down side though, it doesn't last me the entire day unlike the two powder blushes previously but it mimics Nars Orgasm's color and is pretty cheap at 250 bucks per piece.
4. NARS Orgasm – If you want a flattering blush-on no matter what your skin tone is, this blush is your friend! Although a little bit pricey at 1,500 each at all Rustan's stores, I got mine a slight bit cheaper from Lannel Boutique. I swear on my life that this blush-on will change the way you view blush-ons. Personally, I like my cheeks with color–people like having their lips with color, I prefer the cheeks and this is a no-brainer, no-fail solution!
LIPPIE ESSENTIALS
1. SASA Lipliner – I got these 2 lip liners from Sasa! One is a coral color and the other is a bright neon pink color! Usually, I like lining my lips for precision but I don't do it unless I'm going somewhere formal. You can get yours at any Sasa stores in Hong Kong.
2. Shiseido Lipliner in Red – Enough said.
3. Laura Mercier in Coral – This is my everyday lipstick. It is so close to my lipcolor, really. I love that it doesn't sink in on my lips' lines and it smells good.
4. YSL lip gloss in pear glace – I use this to top off matte lipsticks! I usually just put three dots on the center of my lips and it will give it a radiant sheen and the illusion of full lips.
5. Mac VIVA Glam Nicki Minaj – Ugh, my ultimate favorite pink lipstick as it's flattering on me. I got mine from Lannel Boutique and quite honestly, I think I'll die if I won't have any of it anymore.
6. Espoir Lipstick in Deep Plum – When I'm gunning for a vampy, formal look, this lipstick is my go-to. Since this is a high-end Korean brand, I don't think you can find it elsewhere but I think Revlon has a similar shade. I just think one needs a deep purple/raspberry shade in their arsenal.
7. Chanel Lipstick in #69 – When I want to put on something nude and saturated, this is my go-to lipstick. Although nude isn't very flattering for my skin tone, the hint of pink in this lipstick makes it bearable. Also, I'm a huge fan of Chanel lipsticks since they last me the whole day.
8. Chanel Lipstick in #9 – I mentioned that  #2 Laura Mercier lipstick is my everyday lipstick. This used to be my everyday lipstick–it matches my skin color but it's a slight bit orangey. I like this more actually, but I've come to realize that I favor it so much that I've been consuming tubes upon tubes and the problem is, this color is pretty hard to find!
9. YSL Lipstick #14 – This is my orange lipstick–which I don't get to use so much since it's pretty translucent. On that note, I do however, love YSL Lipsticks above all as they last the whole day and never dry out your lips. Again, I get mine from either abroad or Lannel Boutique.
10. YSL Lipstick #8 – This is my ultimate favorite color. It's basically just pink rose and almost sold out in whatever country you're in. So again, I hoard this like crazy and cannot imagine life without it.
11. YSL Lipstick #10 – This is another vampy pink shade for me that I reserve for evening parties or formal engagements. It is so high-pigmented that a little will go a long way.
12. Lannel Boutique's Specially Mixed OCC Liptar – Sharlene Dy of Lannel Boutique personally mixes different colors of OCC Liptars to come up with super high-pigmented and beautiful shades not available anywhere else. When I wore the anime/hoochie mix she gave me, every female I met that day asked me where I got my lipstick from. The thing I love about OCC Liptar is that, it comes in gloss form but appears matte on your lips. It's high pigmented and it smells minty, and even tastes minty! I'm a huge believer of OCC Liptar and it's not very heavy on the pocket!
13. Lime Crime in Red Velvet – Another favorite of mine. My go-to red shade was either Ruby Woo from Mac and Guerlain's Bullet Lipstick but when I got this Lime Crime lipstick form Lannel Boutique, those two got relegated in my drawer. The thing I love about it is that it comes in gloss form again but dries up as matte. It renders your lips dry and sometimes bleeds but the color is just high-pigmented and it is so flattering for my skin tone. Ruby Woo tends to make me look a bit darker while Guerlain's red is just meh, this red gives me the ooomph I've been looking for when I'm sporting edgy looks!
BASIC TOOLS
1. VARIOUS BRUSHES – I used to have a huge ass set from MAC but it's hardly ever portable. I got my travel set of Charm brushes at Zalora for around 1,500 thereabouts and I like how soft and supple their brushes are. It was also pretty complete for a travel kit. Another favorite of mine is the Sigma stippling brush from Colorete by Say. I swear on my grave that a Sigma brush will change your life. It's a bit pricey but it's worth your money!
2. Shu Uemura Eyelash Curler – This is a cult favorite, actually. I only use it when I don't have extensions on but I've had this baby for over 2 years and it has never failed me since.
So far, that concludes the topic! I hope I was a little bit helpful. I really did try to sift through the essentials but I realized, to hell with that… these are really my must-haves. Trust me, I was already generous with eliminating a few products. Anyway, back to the outfit post! This was something I wore on a regular movie date night with the boyfriend: