Dress, Gloves: Glitterati | Earrings, Necklace, Ring: Mikimoto | Dress Watch: Charriol | Clutch, Shoes: YSL
The title on this post is a song from Death Cab for Cutie, which played on Gossip Girl Season 1, episode 18 when Chuck and Blair danced and agreed to take things slow. Yes, I am your typical fashionista with a penchant for glossy shallow television series (I still watch Carrie Diaries and Pretty Little Liars… at 25) but the show didn't make me much of a Blair fan. Surprisingly, I took on to Serena more in the series (well, for the first few episodes, I didn't like her druggie arc) as the girl who didn't want attention but had attention (mostly bad) handed to her anyway. Blair's character was made too lovable in the series (no thanks to you, Leighton Meester) that she became way too much of a perfect Manic Pixie Girl. I liked her more in the books–she was so flawed, she was beautiful… a selfish over-achiever Audrey Hepburn fanatic with not much luck in love or life (with a sleazy Bisexual Chuck Bass in the background, sans the romantic storyline). Yes, I was an avid reader of the books way before CW bastardized the storyline into a sensationalized TV show and I'm proud of it. 
But the TV Show did bring forth a lot of plot twists, not to mention, our generation's anti-couple Chuck Bass and Blair Waldorf. So far from the Young Adult novel series it was derived from. I was surprised myself that I took on to rooting for the two but they were just so tragic and toxic together that it would be a travesty not to get them together. They were a perfect couple even when 95% of the time, the TV Gods failed to bring them together.
So last weekend, my boyfriend's family company conducted their annual Christmas party and the theme was: "Lifestyles of the Rich and Famous." The top two on my list were Brad and Angelina or Beyonce and Jay-z but they were assigned already to some of the employees. So I texted my best friend Jules, an even bigger fan of Gossip Girl with her look (and even career) coincidentally patterned after Blair Waldorf's, for couple ideas aligned to them theme and she suggested Chuck and Blair (I think she may have suggested Victoria and David Beckham as well). Thankfully, no one took the characters yet!
With the characters in mind, I fashioned a dress based on Blair's prom dress…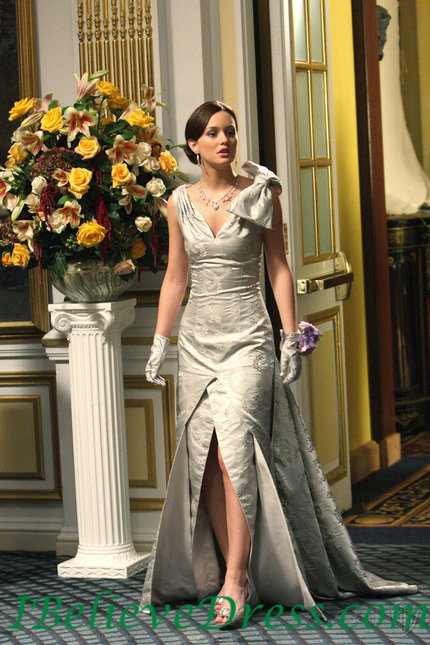 It's pretty much easier to work with Brocade but I figured it would make my dress look too dated and I'm not a fan of silver fabric so I opted for a cream white one. I like white in general, it's one of my favorite colors so there. I did some tweaking on the neckline, back, and train length to make it more flattering for my body type.
For Glitterati, Joanna and I design a lot of dresses for a variety of clients (we're focusing more on that now than on the retail side). We're thankful to have tailors who are good in their craft, with great understanding of various fabric kinds. This dress cost me around 10,000 PHP–not that steep considering there were difficult details like the bow and the train, not to mention, the fabric is high-quality dull satin. If you have an upcoming fancy celebration you have to attend but need to stay within a budget, email us at: shopglitterati@gmail.com!
Here are some more photos of my dress:
The winner for my Sony Xperia contest is… drumrolls, please…

Kindly please email me your details so I can have the phone sent to you. 🙂 All else, thank you! I will be announcing the winners of my Mendrez shoes challenge in the next post!