Bangle: Hermes, Sapphire Beads | Blue Top: Cinta | Brocade Pants: Zara |  Bag: Balenciaga |Gunmetal Pearl Earrings: Mikimoto | Acrylic-heeled Shoes: Charles & Keith | Watch: Rolex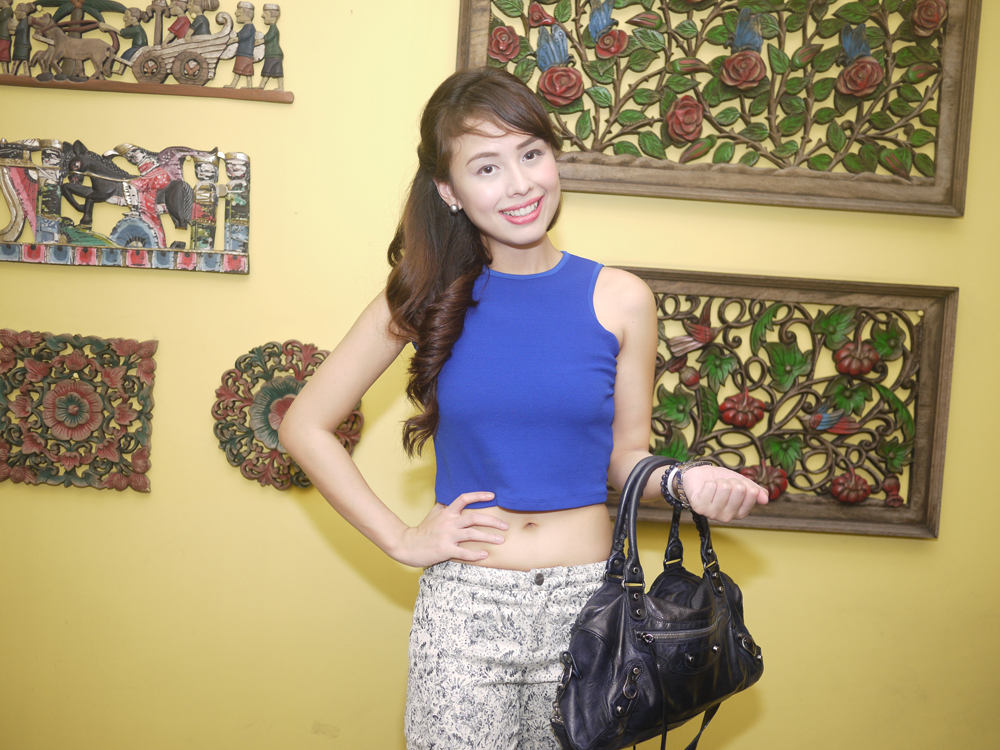 It's December 23, a day shy from Christmas Eve. It's amazing how time flies, really. I could remember blogging about my New Year's resolutions last year around this time as well! Plus, the traffic in Metro Manila is a constant reminder of the Holiday season… with the brightly lit taillights of each vehicle lined up neatly albeit statically on the road, reminding each one of us how Christmas lights on a Tree look.
So I'm finally feeling the Holiday festivities (alluding traffic to Christmas season instead of swearing at it like a person with Tourette's–sorry for not being politically correct, if ever) though it's a bit of a slow burn this year with all the casualties, political issues, and attempts at self-exploration. In the end, we all have to be thankful for a lot of things… of our life, as it is, and its limitless potential. I know for a fact that I'm truly blessed in a lot of ways and it's no longer enough to just acknowledge it… the best way is to give back.
I am not the type of person to go in depth about advocacies moreover, advertise my own efforts. I think it's very tacky to do so plus, it's not really in sync with my (non-existent) public role as the stereotypical online villain (self-deprecating pun intended, shout-out to the sad ones out there who'll mistake this as an arrogant statement) but I think everyone has a little extra this season to share. It doesn't have to be anything big like relief efforts and such, perhaps a token for your household help.
In line with giving back, I would just like to share Corporate Social Responsibility efforts by another service-oriented company near and dear to me.
Bangon Pinoy is Globe Telecom's enterprise-wide disaster response initiative that unifies all relief efforts and corporate social responsibility programs across its products and services, geared towards the benefit of communities and families devastated by calamities. It is a sustainable relief program that will continue beyond reconnection and restoration of Yolanda and will extend to all calamities that will happen in the future. 
Like I said, you don't have to help by volunteering for the long haul. A little goes a long way! Here's how you can help this Christmas:
To donate via GCash SMS:
Text DONATE<space>AMOUNT<space>MPIN<space>GLOBEBANGONPINOY and 

send to 2882
Rewards Points as Donation:
Globe and TM subscribers can use their earned rewards points to donate to Typhoon 

Yolanda relief operations. 1 reward point = Php1. 

Register by texting REG <space> <first name/last name/address/bday <

mmddyyyy> to 4438. Ex. REG Juan/Cruz/2A Pearl St, Apple Vill, Paranaque/

01011978
See? Now, to keep up with the Christmas cheer, I've decided to dress up a bit sparkly with this pair of Brocade trousers from Zara to a family dinner at a hotel… here are some more photos:
Just a few hours shy before I close my Sony Xperia contest so don't forget to join for a chance to win your own Android phone. Winner will be announced in my next blog post so stay tuned!!!