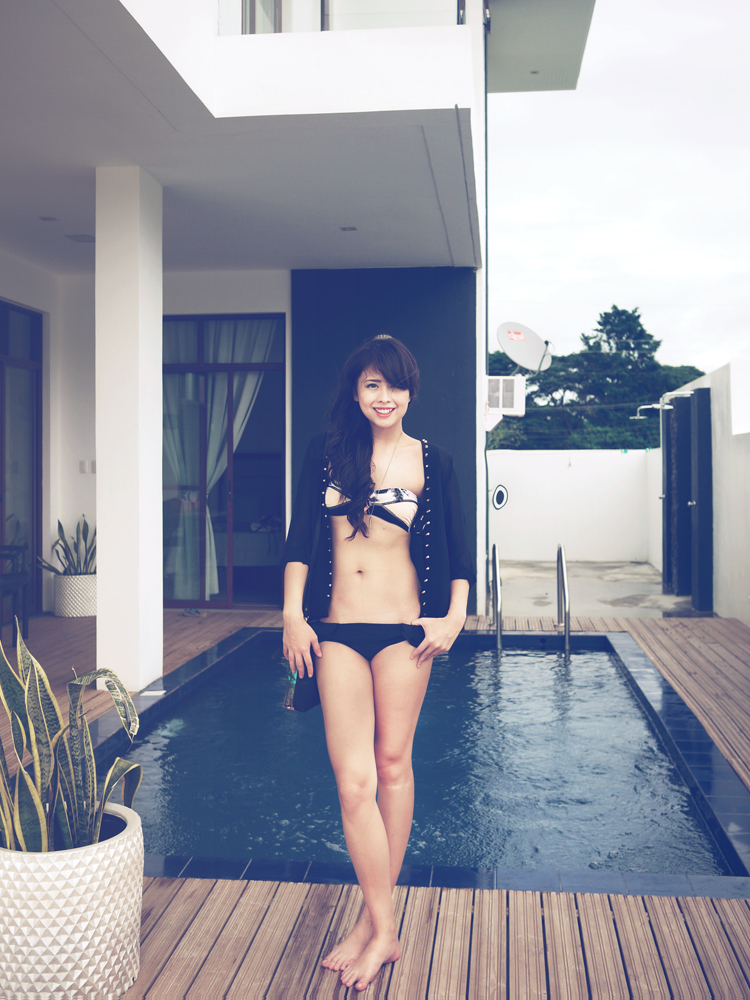 Cover-up: Three Wishes | Bikini Top: H&M | Bikini Bottom: Anemone | Bag: Neon Island | Necklace: F21 | Sunglasses: Celine
The last quarter of 2013's been really hectic for me so I've been yearning for a break for the longest time. Something along the lines of a quick weekend beach vacation (I am from Cebu, after all)! So when my boyfriend's cousin from Australia visited and then expressed her desire to go to the beach over family dinner, I volunteered to organize a trip.
Together with my boyfriend, we were able to rent a beautiful modern house in Playa Laiya, Batangas. The house had four beautiful bedrooms, a living room, a dining area, a kitchen, and a pool. So we gathered relatives and friends alike for a fun-filled two days (My boyfriend and I, my sister Paige, our friends Ice and Cassie, My boyfriend's cousin Nikki, Monica, and Beatrice)! We ended up going to the club house for a bit to hang out in the casitas, and then we took a super quick dip in the beach. Afterwards, we went back to the house to have dinner and maximize our rental–jumping in the pool, playing loud music, conducting "drinking" games, and generally enjoying each and everyone's company.
The next day, our good friend Ice and his girlfriend Cassie (a chef), cooked us a mouthwatering feast. We capped it off with a quick visit to Nuvali's Nike Factory Outlet.
A weekend well-spent, if I must say. I'm sure a good handful of you are already enjoying your vacations or staycations–how lucky! I still have one work day left before I can finally enjoy the Holidays. Until then, I wish you all a relaxing break from work or school, and a very Merry Christmas. Don't worry, I promise I won't stop posting but I might have to lean out my posts to make it safe for reading.
Also, don't forget to join my contests to win a pair of shoes from Mendrez and also a Sony Xperia Android phone!!!
Here are some more photos!