Watch: Rolex | Necklace: Bangkok | Shoes: Fendi | Bag: Givenchy | Bangle: Hermes | Lace Knit Top, Floral Shorts: Zara | Bracelets: H&M
So last week, I attended the Pastel Love event at SM North Edsa. With Pastel colors being the rage of some Fall/Winter runways this year, SM took this opportunity to re-introduce and gather their various powerhouse hair brands Like L'Oreal, Tresemme, Lucido-L, Vidal Sassoon, Wish, Revlon, Toni & Guy, Palty, David's Salon, and Claire's by offering a free hair makeover session to whoever was adventurous enough to sport colorful hair.
But I guess what's even more surprising than me sporting a patch of pink or yellow is me attending events–I've heard so many people and other bloggers telling me that when they saw me. Normally, I veer away from events in general mostly because I find rubbing shoulders with people not beneficial to my being quite a waste of time. You know what I mean?
But SM North was my turf, I love the mall, and I've attended a few events of theirs already. Plus, I was really intrigued by this whole Pastel Mob–I mean, I like nudes and pinks but I was never a huge fan of pastels as I never thought I could pull the style off if it weren't summer.
Fast forward to the event proper, I said my hellos to a few lovely bloggers and then had my hair prepped. Let's just say "curiosity killed the cat" and I wanted to see how I can weave Pastels into my look. Since I can't commit to a certain style, I opted for a yellow streak clip-on.
Though it was experimental, it was pretty subtle so I don't think I was really as Pastel as every one else but hey, hurrah for effort! So anyway, here are some of my photos–the outfit remains to be plain and simple. I have a few snaps with other bloggers like Paul and Alyssa, as well as those of the models wearing Mango Fashion and the somewhat mortifying experience I had on stage with host Kim Cam Jones (I forgot to snap my Hermes bangle shut and it fell on stage in front of the audience).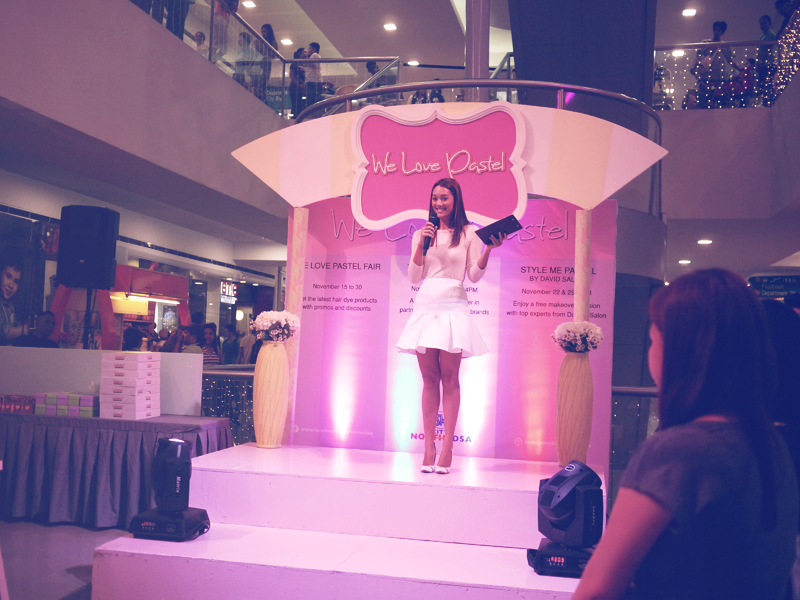 By the way, Pastel Love is happening all through-out November! Check out their activities: