Sunnies: Sunski | Jersey Cropped Top: Topshop | White Skirt, Heels: Zara | 2D Bag: Redconfession | Watch: Charriol | Bangle: Tory Burch
During my birthday month, when people ask me what my so-called "Birthday Wish" is, I give them 2 answers.
Unfortunately… neither one of them was World Peace. Sorry!
The first one–the one I've been asking for without fail since time immemorial, was money (or if you're Chinese, then it would be angpao). I was a superficial and frivolous only-child for quite a while (7 years to be exact) and I always made sure I had a say in whatever my gift was supposed to be. I hated surprises back then, because I didn't want to risk having a toy I didn't appreciate, and so when my relatives and parents would ask me what I wanted, I would state the aforementioned. It made things easier–they didn't have to over-analyze what to get me, and I could choose what I wanted and buy it for myself. So yes, I'm no stranger to shopping sprees, I've been shopping and handling money since I was 3 (sorry haters, as much as I would love to say that money was scarce for my family to give me more depth and make me more relatable, it really wasn't, we didn't swim in gold coins but we enjoyed certain luxuries… except for maybe that Economic crisis in 2000). Eventually, my desires evolved to be less shallow (I think) and now that I'm working, I'm really just aiming for my own financial stability and transcendental success. 
The second one is something I keep mostly to myself, if only because I know for a fact that dreaming of it isn't only to an extent, taboo, but it's pretty impossible. The other thing I want is eternal youth. During my tween years, I devoured chapters and volumes of Anne Rice's Vampire Chronicles (Geeks, unite!)–you know, the author of the following Horror movies (which are adaptations, by the way): Interview with the Vampire and Queen of the Damned. It is my utmost desire to be young forever–not immortal per se, but probably ageless. With that much time on my hands, I would go out to learn every single discipline known to mankind, make pertinent discoveries, travel the world, create Pulitzer-winning dissertations, and maybe even find a cure for Cancer. When you're in control of time, the possibilities are endless! There are so many things I want to do and so many things I want to be, and maybe living close to forever is the solution to my intellectual yearning. 
So yes, on top of being materialistic, I am also quite narcissistic–I know, I sound like such a horrible human being but hey, at least I'm transparent about who I am. What you see, what you read here, is who I am sans filter… hardly ever sugar-coated, and 100% candid.
Anyway, when my logic kicks in, I come to realize that there is no such thing as the fountain of youth and that time is of the essence. With that realization, I try to always get a full grasp of every situation so I can learn from the experience and at the same time, make decisions I've little room for regret. Once you realize that the clock won't stop ticking for you, you basically stop wasting time and spend it in the most fruitful manner.  
Besides, eternal youth can also be a state-of-mind, right? If you feel young, then it doesn't matter how old you are biologically! Like I said in my previous post, I've learned to be less uptight and had embraced uncertainty. I'm still young! I have no time to act like a total grouch! Instead, I should just focus on loving life, that way, when I'm legit old, I would be able to look back and say I lived one hell of a happy life.
Speaking of youthfulness, spot my outfit for my very private yet casual Birthday dinner at Tajimaya. Grade A Wagyu Steaks galore!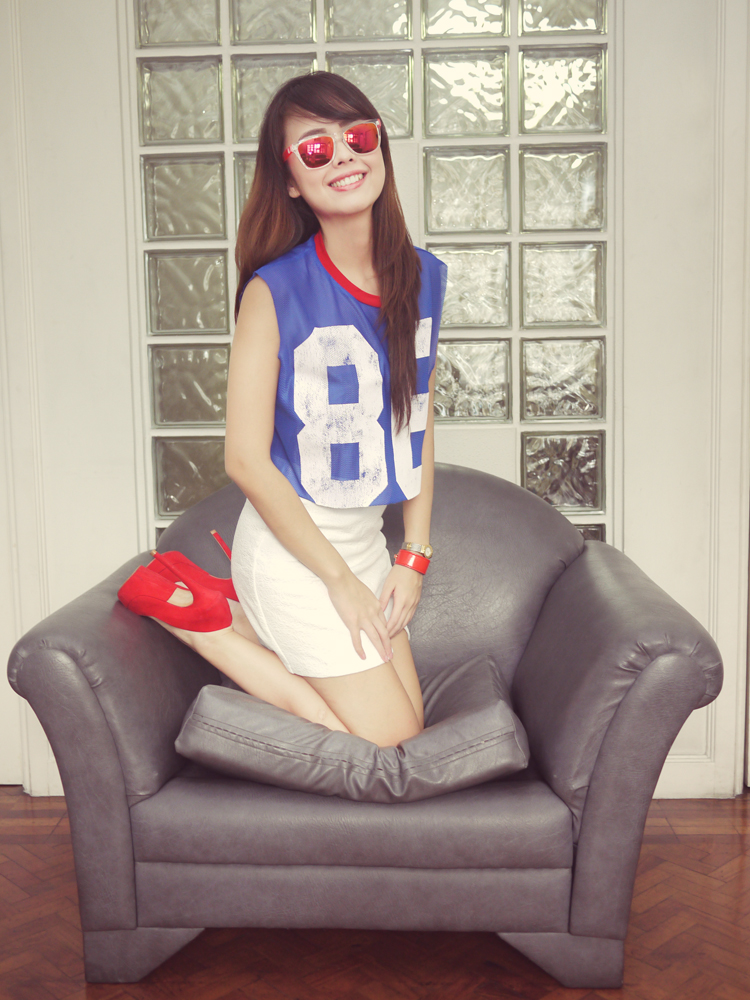 I'm totally in love with the color Red. I think it's going to be my "it" color for Fall/Winter. So imagine how ecstatic I was when I got this pair of Sunski sunnies in red–it was beyond handy and I immediately fell in love with it. Nevermind that the polarized lenses made me look like a Bumblebee–in my head, I was a hip little butterfly and I had this pair of sunnies to thank!
Sunski sunglasses are Australian eyewear designed to suit skaters, surfers, snow lovers, and let's not forget… budding fashionistas who want to look cool in Sunny Philippines. I can basically just wear them on the street or bring them to the beach, they're pretty casual and modern. The thing I love about it is that the frames are universally flattering! So if you have an upcoming beach trip of sorts or would want to purchase someone a practical but snazzy gift, check out Sunski.
Also, before I forget… check out my awesome 2D Bag from Red Confessions! When I started seeing them around the internet, I knew I needed one for novelty's sake. I think having one gives me that collegiate feel (I was a Fine Arts student). Adorable!