White Textured Blazer: Zara | Nude Dress: Patricia Santos | Clutch: Saint Laurent | Bangle: Hermes, Charriol | White Heels: Alexander Wang | Watch: Rolex | South Sea Pearls Earrings & Ring: Mikimoto | Belt: Dorothy Perkins
When I'm in a pensive mood, I turn up my iPod and play something from Coldplay. There's just something about Chris Martin's voice that's extremely relaxing. It lulls me to sleep on days when I've too much going on inside my head. At the moment I was thinking up of blog titles, Coldplay's "Sparks" started playing. I love how pretty the "And I saw Sparks" line is… it's a right pity that the entire song's actually pretty sad and depressing (also let's also not forget to do a shout-out to my boyfriend's eldest sister, the awesome Katie Ladrido for using the same line for her Blog's title).
Don't worry, I'm taking a break from preaching today and I'm just going to fulfill my duties as a "Blogger" by literally writing down a "Biological Log" and so here it goes: 
Yesterday was a big day for my boyfriend and his family; his dad's newest flour mill, which has only been operational quite recently, was going to be blessed. Consequently, he was going to meet and mingle with all the pertinent business partners that day… the very same people he would have to deal with in the future as soon as he takes over and manages the business. He's pretty charismatic as a person though, and charming, so I was pretty sure he'd be well-received. 
Nevertheless, since I was invited to join the celebration by my boyfriend and his parents to witness and celebrate with them their success, I was only glad to show my support. The whole thing was indeed a milestone–something worth celebrating.
So I came in what most people would call their "Sunday's best" (although, I'd like to believe that my every outfit is worthy of being called a Sunday's Best)–pretty, modest, but flattering all the same. All the pieces were items I've reserved specifically for this particular occasion–from my month's old Zara blazer to my Wangs.
Which turned out to be a sensible choice considering everyone in attendance was dressed sharply, and a business partner's four-year-old child declaring her adoration for my heels (or so her mom says).
Anyway, here are some more photos of my outfit: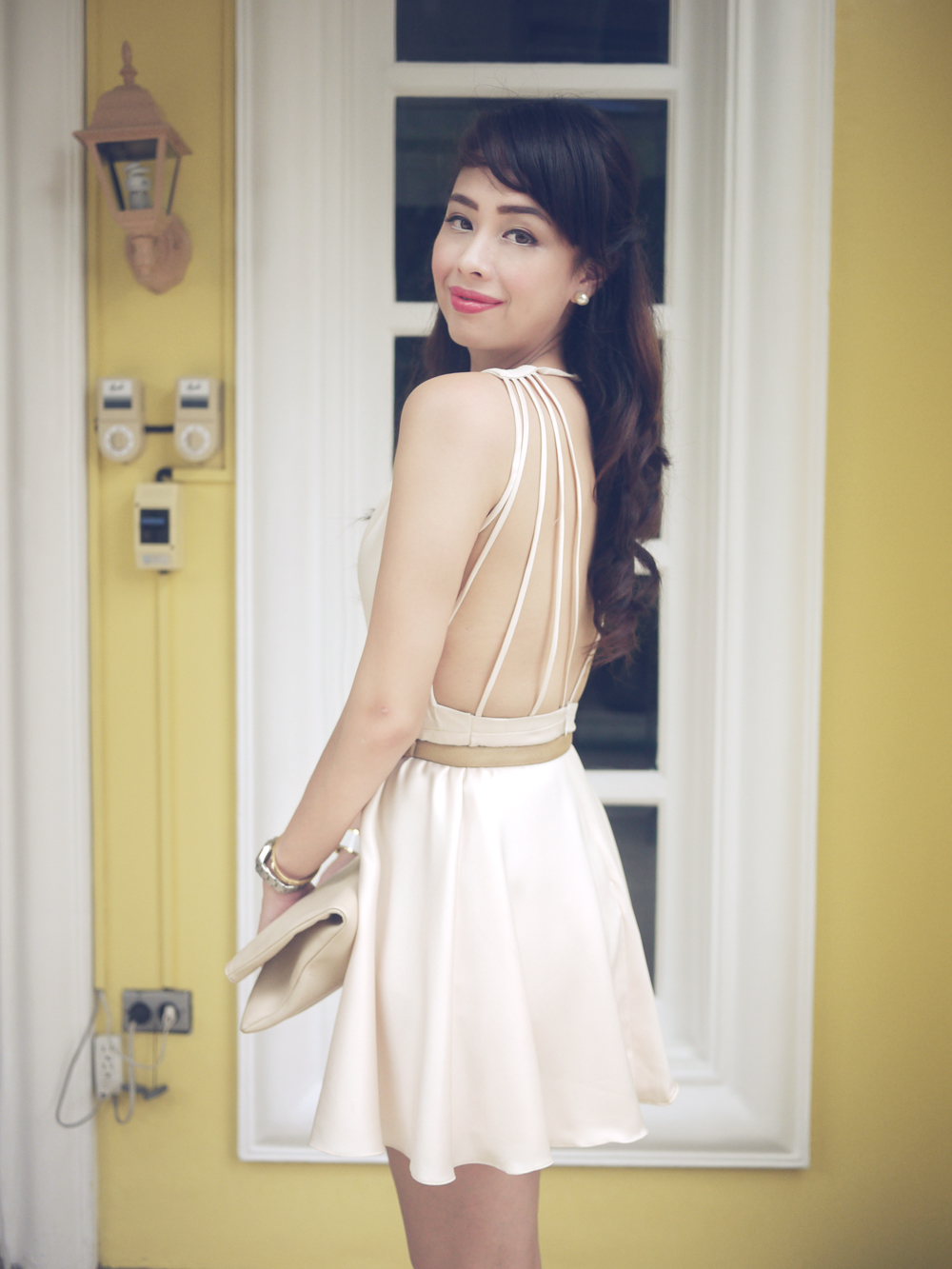 The centerpiece of my outfit though was this tailor-made frock by up and coming designer Patricia Santos. The moment I saw it, I fell in love with it and knew without a doubt that I had to wear it for the Blessing. The color was absolutely perfect and aligned with my "nude/muted colors" obsession and the fit was perfect not only to my vital statistics but to my personality as well.
For those looking to have a custom-made piece for whatever the occasion, I suggest you try to get in touch with Patricia. She offers the most beautifully designed couture pieces for a reasonable price (prince ranges from 10,000 php to 20,000 php depending on the intricacy). She's recently launched her collection a couple of weeks ago in Prive Luxury Club and has acquired quite the roster of celebrity and non-celebrity clientele.
For more information, email her at patriciasantos.ph@gmail.com!
And a few more from the day itself: