Comme des Fuck Down Snapback: Snapshop | Striped Cropped Top: Zara | Leather Biker Vest: CO by Cotton On | Leather Skirt: Stradivarius | Bangle: Hermes, Cartier | Bag: Phillip Lim 3.1 | Necklace: Forever 21|  Monochrome Heels: Mango | Watch: Gucci
My mom used to tell me that life is like a wheel, one day you're up and the next day, you're down. She says this metaphor a lot in either Cebuano or Hokkien every time my siblings and I would complain about the injustice of anything–be it our grades, our friendships, our relationships, or even current events.
It's true though… life is unpredictable. Look at it positively and you'll think that it is the instability that makes Life beautiful; look at it negatively, and you can liken such characteristic to a curse.
Maybe it's why it takes a lot to surprise me. I like small surprises and there are a lot of situations in my life where I look back at it in awe, but in a general sense, I feel that the element of surprise has lost its luster simply because Life is already one big surprise.
Didn't Forrest Gump say that, "Life is like a box of chocolates, you never know which one you're going to get?" (or something, forgive me, I'm too lazy to google).
Life is never stagnant. It's not going to flatline at a certain age and continue to be that way for the rest of our lives. It's going to spike up and it's going to plummet down, but it's all a part of the journey.
I know I've likened the aforementioned passages in a few of my previous blog posts; I've talked about Life relentlessly in a positive manner. Perhaps, it's high time for me to look at it from a realistic perspective. I'm almost a quarter of a century and I have to learn that not everything can go according to will no matter how much we want it to. Not yet, at least.
I'm not trying to be a buzzkill of course. I'm being clinical. The reality is: Life is never fair. Much like the Lao Tzu's Art of War, there really are days when you have to lose some battles in order to win the war (or Life in general)–and no one is immune to it. We're all human beings after all. 
The sooner we realize it, the more selfless we become.
Everyone has problems. You have to get out of your element to realize that everyone has problems just like you. The gravity and the intensity of it may vary from person to person. We all go through certain expectations, we meet them, we fail, we disappoint… we all go through similar states, really.
I used to think that Life is all about the Law of Averages. It is, to some extent. Some people are physically unattractive yet they are mentally excellent, some people are popular but they're lacking in the finance department, and the list of discrepancies can go on and on. You will always have an excess of one quality to make up certain deficiencies. That's just how it is. It evens out the playing field in some way, right?
But that's the thing, these facts shouldn't deter anyone from valuing life in general. We all have certain privileges and we all have our own cards. Some are laid out for us, but it doesn't mean we can't make a detour or lay out new ones. I gave my views on life realistically (as opposed to most people's pessimistic perception of this article) to pose a challenge that despite all these actualities… 
What does one do about it?
If you ask me, I like to start things off by hoping for the best. When everything is not as it should be, I hope. Hoping gets me through. I also pray (but don't worry, I try to refrain from discussing anything pious). Then I assess the situation from all angles–see what the next best options are and assess which will illicit more benefits in my favor. Then I wait.
More than the waiting though and paving the way to making these so-called right choices, it's really the support system you have that surrounds you, that makes everything tenfolds better.
So for those who are experiencing crises and trials, chin up, you'll pull through. If you're happy, try to shower a few of your blessings to those who are suffering. Likewise, never kick a fallen horse… even if you have the upper hand, let Life take its course and don't ever manipulate it for anyone simply out of spite.
Let me end on this note: Human Beings have a unique trait… in so far as when they're at the bottom, they realize that the only way to go is up… and then they mobilize.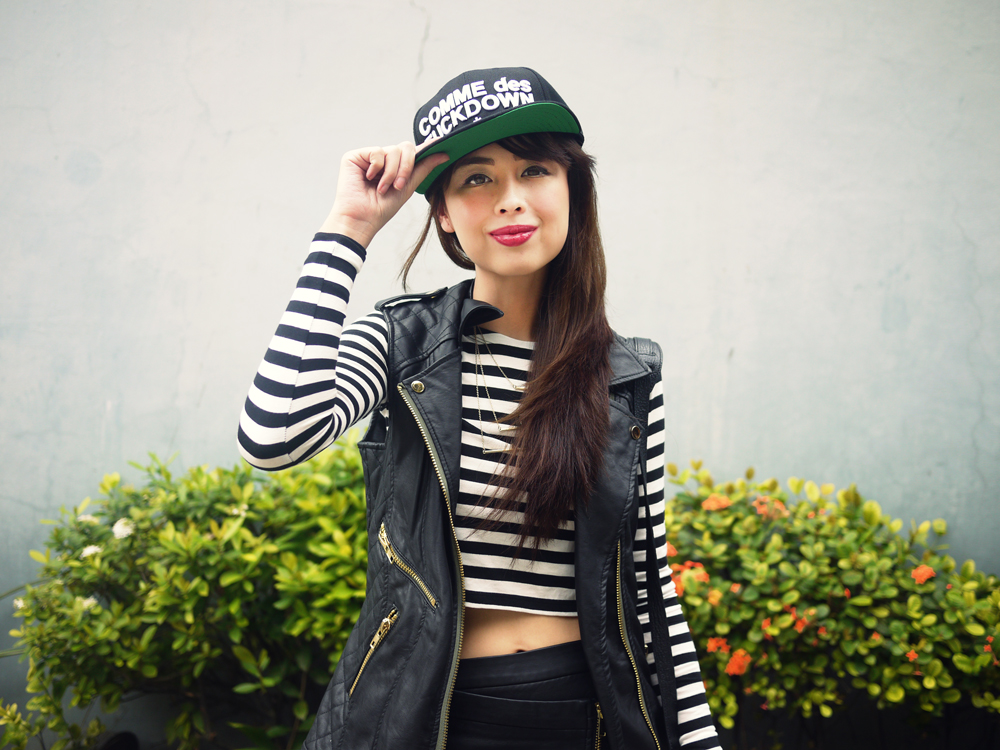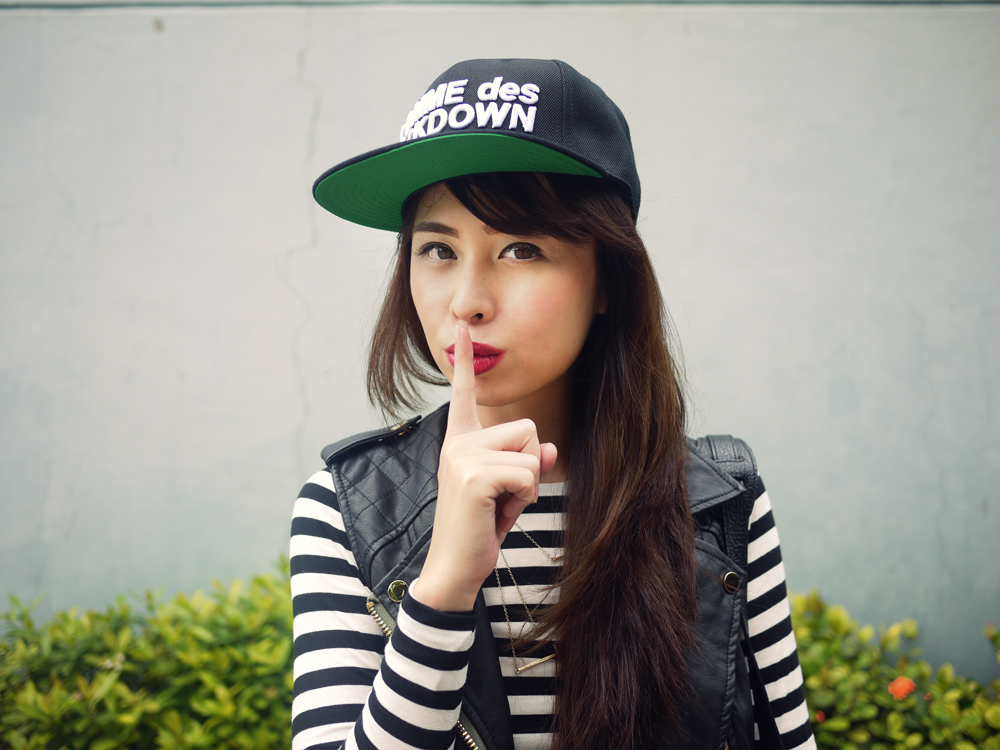 This is the boyfriend's favorite photo of me from this set. He likes it when I'm doing something extremely ridiculous. It's like saying: "Shhh. Hey boy, what's your name?"
This outfit, by the way, is something I wore to an event my boyfriend and I attended last week. The theme was simply "Black and White." So I decided to toughen the look up!
Before I forget, please drop by SM North Edsa this Sunday for the unveiling of Dee Jae Paeste's street art wall in the Sky Garden. I will be there on September 27 to take outfit shots with his masterpiece–he's one talented visual artist and if you're like me and all for visual orgasms, then this is the place to be!