Scarf Print Bomber Jacket: Suiteblanco | Top: Mango | Shorts: Topshop | Bag: Prada | Shoes: Zara | Bracelets: Thailand | Necklace: Forever 21 | Watch: Gucci 
Red is scorching "hot" this season! I've noticed the prevalence of it in a variety of high street stores as of late. In fact, if you sift past the good deals on the sales rack, you're bound to end up at any store's "new arrivals" section, and trust me, there will be a variety of must-haves in the said color (mostly in Firetruck Red).
I've noticed that people in general, like red. It's not the top-of-mind "favorite" color but a lot of people are drawn to it. As an advertiser, you tend to notice that a lot of companies utilize red for branding purposes. I guess the sheer intensity of the hue gives people this association to pleasure, attraction, passion, and happiness.
That or maybe I'm biased! I am Chinese after all.
Speaking of my Chinese heritage, I was literally accosted by a sea of red during my most recent visit to Cebu over the weekend. We were barely there for a day (by this, I mean, me, my boyfriend, and my sister) but we had to make do with the limited amount of time as we were there to celebrate my grandfather's 90th birthday in Tin Gow restaurant at the Waterfront Hotel.
It was meant to be a modest affair (if you consider an attendance of 40 plus as modest); initially, the plan was to invite over a 100 people–relatives from all sides, family friends, and business partners alike. However, upon the discovery of my grandfather's cancer a few weeks ago (it went into remission 20 years ago and reappeared somehow), the family decided to downsize the guest list just to retain those who held a special place in my "angkong's" heart.
Plus, he is currently undergoing radiation treatment so he was constantly queasy and tired. We didn't want him to stress himself out by entertaining a whole slew of guests.
So as a mandatory, everyone who attended the party was required to wear red. Thankfully, people were enjoying themselves despite the nature of the party being sombre (some people fear it may be his last). My grandfather's surprisingly, taking everything well–he looks frail and lucid mostly, and very tired… a far cry from the former head of the Radiology department of a renowned hospital in Cebu (and the first Filipino to have graduated in Stanford's Radiology program abroad); a former board member of the very same hospital, someone known for his very strict demeanor. But he is a trouper and he's taking each day as it is, saying that though he will never be ready for the imminent future, he is prepared.
To lighten the mood, let me just share with you my outfit.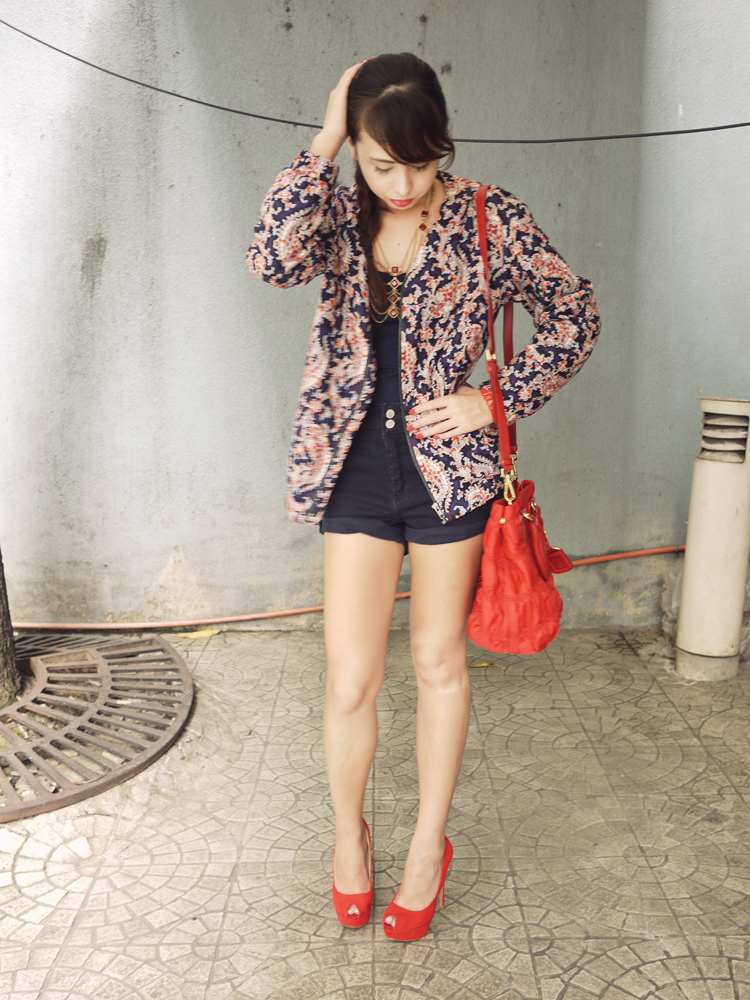 I got this gorgeous Spanish scarf print bomber jacket from
Suiteblanco
, at SM Aura, for less than 3,ooo PHP. As mentioned before, Suiteblanco is a Spanish brand that's finally in the Philippines. This brand to me is like a treasure trove–it's a refreshing take from all the high street brands out there. I love that all their items are flirty and feminine–not too edgy–mostly giving off that colorful, fun vibe. On top of that, this brand provides quality goods at a cheaper price and it offers a wide array of swimsuit selection, accessories, and shoes! Also, let's not forget, they have a men's section!
So if you haven't dropped by Suiteblanco yet, now's the time to do so as they're currently on sale. Here's a peek of their store: