Sweater: Proenza & Schouler | Lace Shorts: Zara | Sneaker Wedge: Topshop | Bag: Phillip Lim 3.1 | Necklace: H&M | Watch: Charriol | Bangle: Hermes | Lipstick: Embrace Me, MAC from Lannel Boutique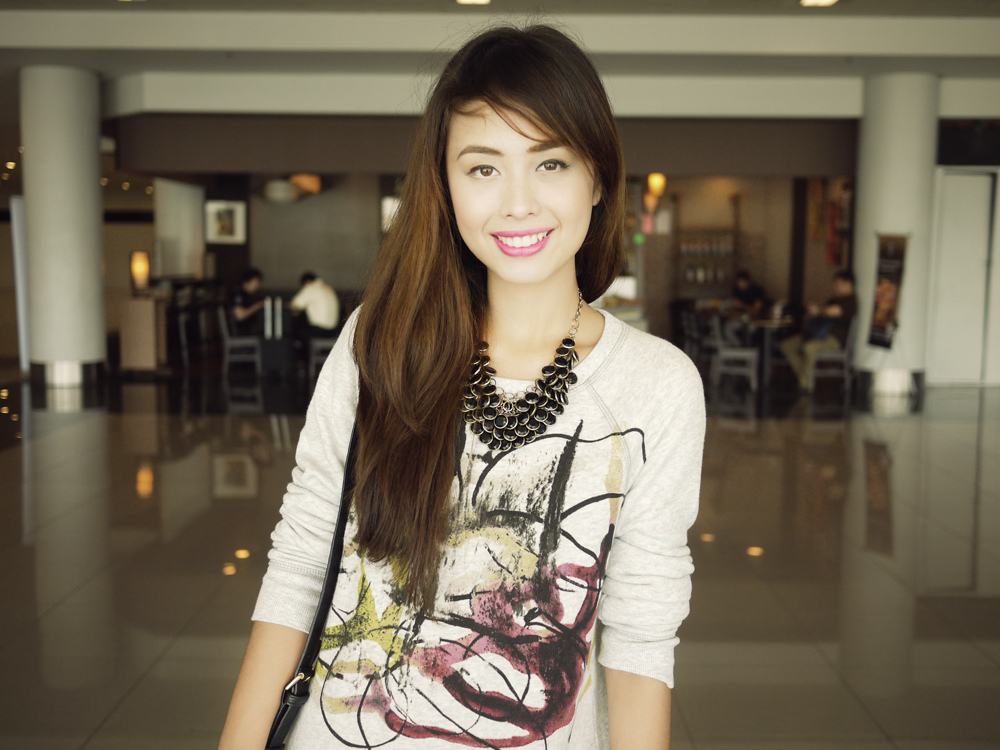 After a good solid month, I'm finally posting my Singapore travel diary–or at least, the photos taken on the very first day. I apologize for the delay, I just had a lot of other commitments I had to prioritize.
So anyway, I consider all my travels as "special"–if only because I see it as an opportunity to learn and re-learn a country's culture and practices. However, I've been to Singapore numerous times already and if I had a certain hierarchy, this particular trip was the most memorable thus far.
Why? Mainly for two reasons: firstly, it was my anniversary with my boyfriend. He may have revealed to me in Boracay that he was, and I quote: "falling for me" but it was only in Singapore during my May 2012 shopping trip that I realized that I was also falling for him as well. I'm a bit slow on the uptake so forgive me. It had to take several instances in Singapore for me to realize it–like dropping by every store and seeing him in every article of clothing, and then consequently buying it for him.
I would also hurry back to the hotel so I could Facetime with him.
At some point, because I was playing it coy and didn't want to outright state that I liked him, I said: "I would love to come back here one day, who knows? Maybe later this year for Formula 1? You should come with me!" 
That was, already being bold on my book.
So Singapore happened precisely because I promised him once upon a time.
The second reason, on the other hand, was that it was my sister's birthday and I wanted to show her a good time pre-college. I also wanted her to shop for a new wardrobe so she can start anew. I also wanted to be that sister who gave cool gifts and who was all around, loving and magnanimous so I decided to bring her with us.
It's sheer coincidence though for both dates to coincide, not to mention, very timely considering that we needed a third person to take our photos–just kidding!
Here are the rest of our photos:
This is, by the way, our very own take of comfortable airport garb! I get chilly in the airplane usually so I put on a thick sweater. My boyfriend lives in white pants so go figure (and the Tom Ford sunnies I gave him)!
While having our money exchanged somewhere along Beach Road/Marina Bay, we found this cute concept stores. I think the small complexes are usually littered with such visually appealing stores.
So we had lunch at Bao Today, an outdoor Chinese restaurant just by 818 Somerset mall. We've been craving for Chinese so we ordered a lot!
Coming from our heavy "merienda", we really didn't want to have dinner but just so we could fill our stomachs after a long day shopping at Orchard, we ate at this Italian fast food chain called: "Pastamania."
And then something we found on the shelf in some convenience store! A bit of home in a foreign land! Haha!