Robe: Zara | Onesie: Topshop | Origami skirt: Apartment 8 | Necklace: Forever 21 | Bag: Celine Mini Luggage | Sandals: Marni for H&M
I'm probably a "city girl" to the core. I get butterflies in my tummy the moment I visit a foreign country and see bright and blinding fluorescents–the unfolding sight of magnificent skyscrapers and high-rises get me extremely excited and jittery. I guess there's a little bit of Carrie Bradshaw in me, except instead of New York, it's every possible foreign city.
This pretty much explains why I chose to stay in Manila instead of going home to Bucolic Cebu. I might say I love the beach and the perpetual sunshine, and in turn, hate the traffic and the bustle, but I actually enjoy having something to do as opposed to doing practically nothing (which is the case when I'm in Cebu, if only because I'm there for vacation). 
On that note, I recently came from a beautiful city–Hong Kong, at that. It's one of the cities I love and frequent. It's clean, it's posh, and it's very modern. It's my shopping mecca too! What makes it all the more special this time around is that, I went there as my (dapper) boyfriend's plus one for their annual family vacation. Whenever I go to Hong Kong, I usually get a different experience–and this time, it was no different. 
It didn't feel quite foreign anymore. Don't get me wrong, it's not that the luster has faded away or anything, but more of it felt like home–maybe a third home? Or maybe in the end, it's really the company you're with. Everywhere feels like home when you're with the right people.
While waiting for our plane to board in the wee hours of the morning, we had breakfast (myself, my boyfriend, his mom, and cousin) at the Cathay Pacific first class lounge. I was particularly hungry (on top of being sleepy) so I had a few sandwich triangles with pimiento spread.
We arrived at a little past lunch time and stayed in Marco Polo gateway in Tsim Sha Tsui (my favorite part of Hong Kong). We had a quick roast duck rice bowl takeout for lunch and eventually ventured out in the evening to have dinner at Main Street Deli in Langham. The next succeeding days however, were spent shopping. Here's my visual diary and outfits–please note that these are mostly relaxed and comfortable in nature given that we had to do so much walking!
Vest: Greenhills | Striped Tube, Necklace: Forever 21 | Denim Skater Skirt: Next Jeans | Bag: Celine | Espadrilles: Chanel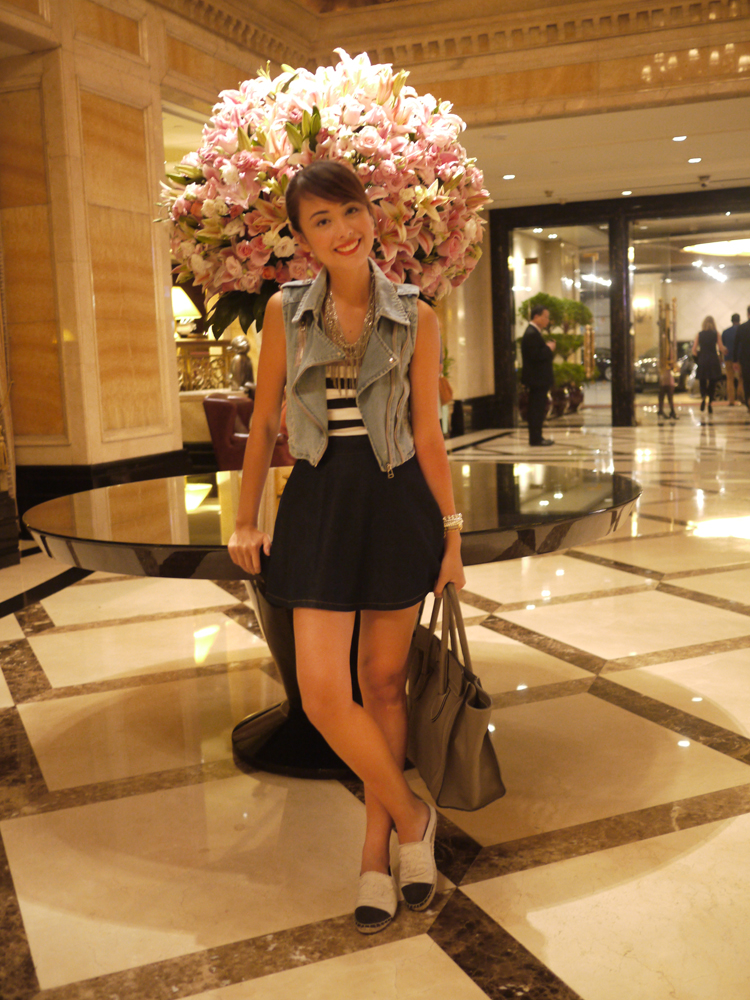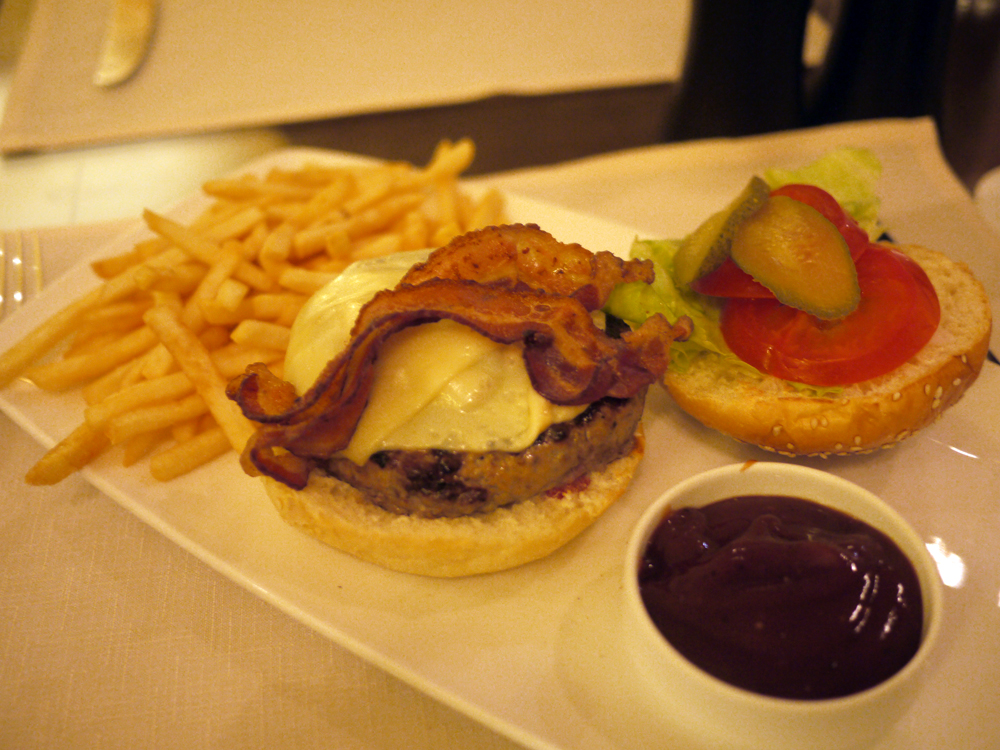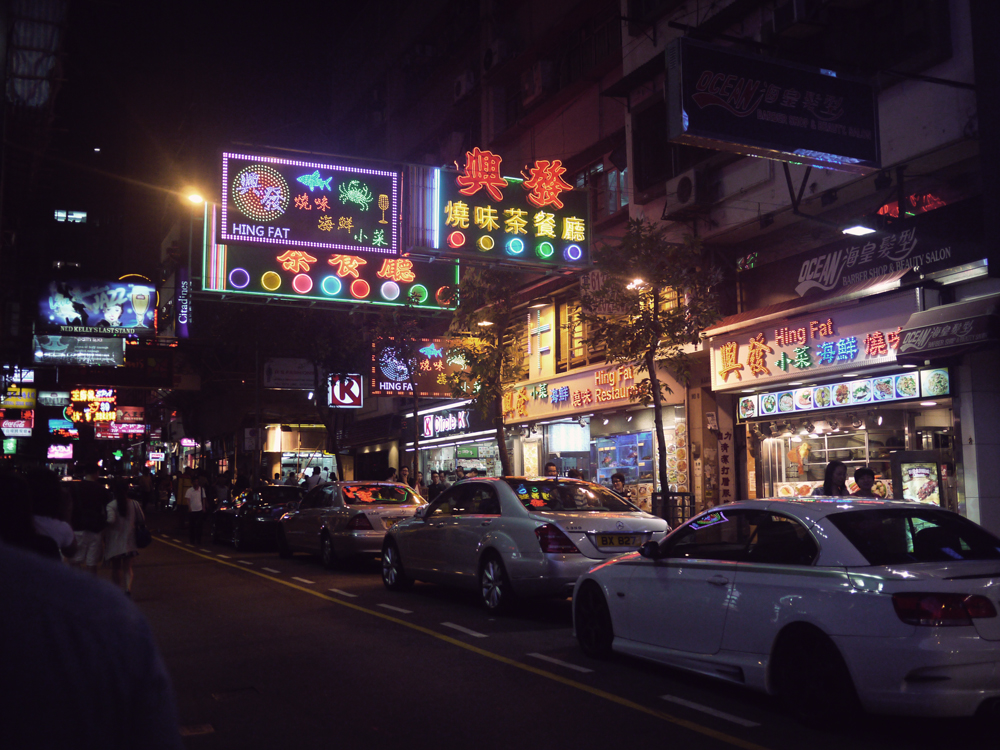 Beret: Sinequanone | Top: Massimo Dutti | Shorts: Stylenanda | Necklace: Forever 21 | Bag: Chanel | Flats: Tory Burch | Bangle: Hermes
As you may all know, my FOSSIL Joanna was unable to join us for the trip because of her condition. To compensate, we shopped tons for her! To get her seal of approval and to make sure everything we got for her was just right, we had to keep our communication lines open and clear at all times! By this, I mean…
Globe's data roaming plans! It's cheap and it's very efficient. Apart from contacting JL, I relied heavily on my roaming plan to entertain calls, texts, and emails from clients! It made life so much easier for me, seriously! I've been a loyal Globe subscriber for a decade and I've been subscribing to their unlimited roaming and data roaming plans since 3 years ago so I can definitely attest to it. I wouldn't keep subscribing if I weren't happy with the service right?
Plus, Globe has partnered up with Bridge Data Roaming and in Hong Kong, CSL Telecomm. Because I was there for 4 days, I applied the 3 day Unlimited promo.
But there are promos available, like:
So when you're traveling, I highly suggest Globe for your roaming needs. It's never let me down! For more information, call the Globe Roaming Hotline at +6327301212 toll-free.
ALSO! Before I forget! Winners for the Mendrez contest and Moments Contest will be announced in the next post on Thursday (yes, I will post on Thursday).