Yellow Mid-Rib Top: Topshop | Aztec Print Skirt: H&M | Pink Necklace, Silver Necklace: Zara & Forever 21 | Bag: Celine | Silver Sandals: Marni for H&M | Bracelet: Random Set from Shanghai | Watch: Charriol
A continuation from this post: Bangkok Trip Part I
Looking back (and it took a week for me to come to this realization, go sue me), I think Thailand is a lovely place and I would go back there anytime. It was rather unfortunate that I took my trip to Bangkok for granted; I was so hell-bent on sleeping the sweltering heat off (inside my comfortable hotel room with the air-con on full-blast) and going home that I barely got to appreciate and explore the country myself.
Which I shouldn't have done (taking the trip for granted) because I've always been a fan of the country. If not for their cheap and stylish clothes then for their roster of horror movies! So humidity aside, Thailand in itself is very charming–it's brimming with historical artefacts and cultural nuances in every corner, plus, it's a developing country with a variety of modern infrastructures erected left and right so what's not to love? 
What I did get to experience though were two things: food and the amusement park. My family is big on food and amusement parks–I'm serious. Those are the two mandatories for us when traveling.
So first off: food. We all love to eat and half the time, we don't even bother taking photos of the food we consume anymore because we're all so hungry and ready to devour whatever's presented to us in a platter.  I think the best way to explore a country and it's culture is through experiencing their palette!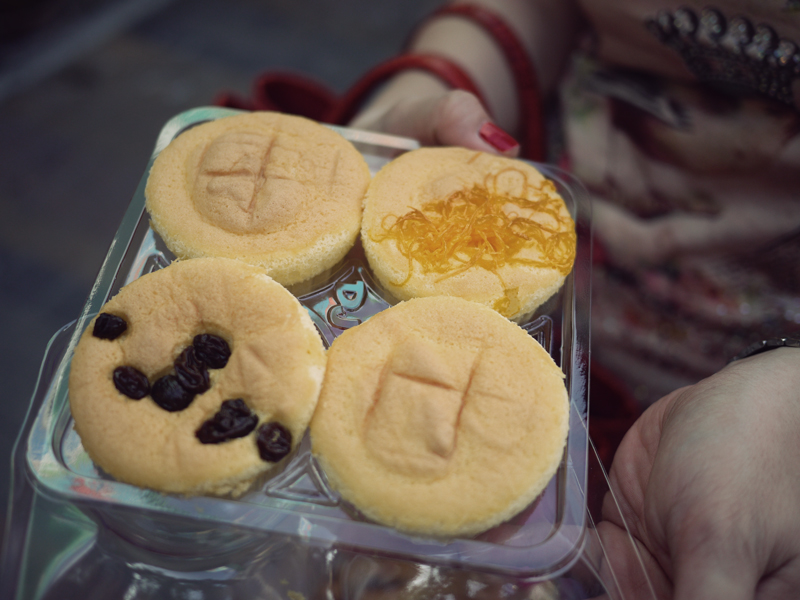 Can I just say that my mom found these "Mamons" (or at least the Thai version of it) in a newsstand near our hotel and her cravings got the better of her so she bought around 4 packs and when we tasted them, they were so good–a combination of sweet, salty, and buttery all in one pastry!
Speaking of desserts, here are a few things we tried.
Next: Thailand's amusement park, Dream World. As a child, I've always loved the thrill and excitement of adrenaline-inducing rides! As soon as I could finally reach the height requirement, I would file in line even if took hours and would insist riding on the first cart of a roller coaster.
Yes, I was a miniature daredevil and it's no surprise my brother is one too! It runs in the family, I guess (save for my sister, who's a natural-born wuss).
Sunnies: Celine | Striped Top: Comme Des Garcon | High-Waist Shorts: Pull & Bear | Espadrilles: Chanel | Watch: Charriol | Bracelet: Bangkok | Bag: Givenchy
My siblings and I–we all kind of look alike really, if you squint really hard.