Blazer: From Guangzhou | Striped Top: Mango | Origami Skirt, Striped Wedges: Zara | Bangle: Hermes | Watch: Charriol | Bag: Chanel Jumbo | South Sea Pearl Earrings: Gift from Mom
People who know me personally, know for certain that I am not as serious as I appear (or dress, for that matter). I'd like to think I'm pretty funny actually, in a self-deprecating kind of way (with a sense of humor that's clearly understood by only a few). I'm pretty much your average smart aleck–insert witty banter here, add a dash of acerbic wit, and then finally, pour in a bucket full of irony and voila: me.
But as much as I want to view a few certain aspects of my life as comedy of epic proportions, some parts are a bit too serious for anyone to poke fun of. See, the reality is: it's only funny when I make fun of "me." Well okay, maybe not, I give special consideration to friends and family because I know they're purely jesting, and maybe a few haters who say borderline ridiculous fiction (via JL's ask.fm) because of its sheer entertainment value.
I'm definitely not a "pikon" or "asar talo" person (in english, that means: "huffy" or "touchy" or "overly sensitive"). I can take a joke. I can also take being lambasted online and being insulted behind my back (or upfront). It's a totally different thing however, when some storytellers decide to drag my name just to make a public appeal with their faux real journalism. What's worse, I think, is associating my name to some fallacious and negative insinuations–without asking for my permission at that. I think that, in itself, is a grave offense to humanity, to the law, to the general public's intelligence… take your pick.
I guess some of you may be wondering why I'm rehashing all this. Well, let's just say that a third party has brought something up to our attention–a blessing in disguise, I must say. So just a piece of advice to those who want to play with the "proverbial" fire–there are three sides to every story: yours, mine, and the truth. Know all three by heart, especially the third, just in case you decide that you want to act impulsively because in the end, you don't ever want to get burnt.
This is an outfit I wore to a very important meeting with my FOSSIL (favorite and only soul sister-in-law) Joanna. Because it was a very crucial assembly of sorts, I wanted to dress respectably and elegantly without having to sacrifice my style. Thankfully, the summer 2013 has presented the vertical black and white stripes trend–a look I'm going gaga over. I actually have it in a variety of tops, bottoms, blazers, and shoes! I think there's just something so classy with the said style and it is solely for that reason alone that I decided to capitalize on building an outfit around the two monochromatic colors.
On that note, this is an outfit JL refers to as "prison chic." I refer to her as a "clairvoyant."
So as soon as we wrapped up our discussion, JL and I decided to unwind and head to one of our most favorite places: Paolo's Bootcamp at the Metropolitan Club by Rockwell.
This is where we all go to gym–JL, Enzo, and I. And yes, you silly little people, I pay for my own membership fee at 2,000 a month, and my personal trainer at 700 per session, three times a week. So I'm sorry to burst anyone's bubble but I'm kind of paying for everything in relation to my fitness–except for maybe the occasional pre-workout shakes my boyfriend hands over to me out of the blue.
I used to hate going to the gym. I'm a member of three gyms since I was sixteen and I've hardly ever touched my rights as a member. I also had a lot of misconceptions about fitness. Little did I know that the secret to enjoying your workout is to have a support group that encourages you to do better (and maybe having a fitness guru for a boyfriend).
So I'd liken my fitness history to that basketball ad that goes: "from zero to hero." Back when I was 16 and a member of the Ateneo Track and Field varsity team (for a year, including the time I recuperated for a minor knee injury), I could only lift 20 KG for squats. Not that I couldn't but because I wasn't allowed to bulk up as I was a sprinter. Now at 24, without the burden of training, and finally, with the correct mindset for health, I am so proud to announce that I can do 50 KG squats and 45 KG dead-lifts.
Now, I'm simply addicted to out-doing myself! From 115 LBS last year, I am now a healthy 105 LBS (though depending on my food intake for the day, I waver between 100 – 105).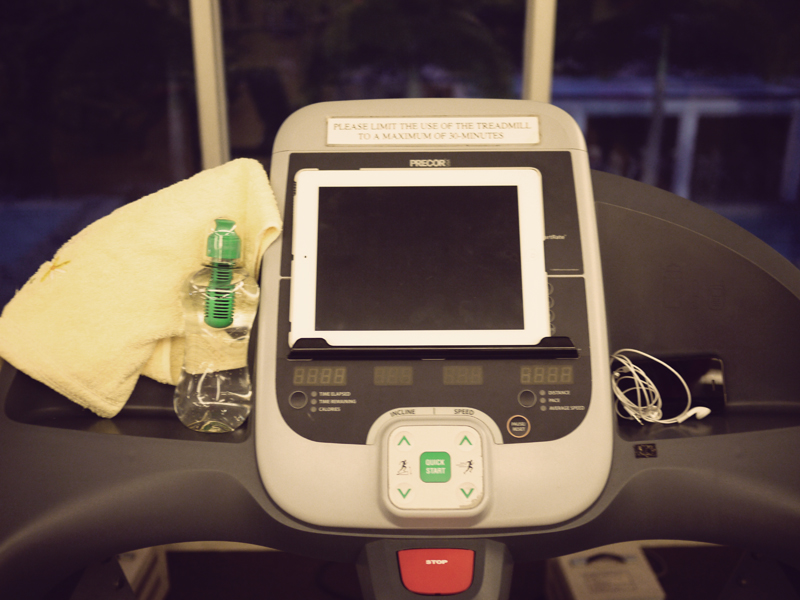 Before I lift weights, I run half an hour on the treadmill for my weekly cardio. I usually have with me an iPad (that day, I was watching the Devil Wears Prada), my iPhone, a towel, and a water bottle. This water bottle, by the way, is extremely special: it's called the Water Bobble. It is an innovative reusable bottle that further filters water as you drink! On top of its very ergonomic design, it's environmentally friendly! You can grab one within Metro Manila from: Aura Athletica in Bonifacio High Street and Powerplant Mall, Plana Forma at the Fort and Centris, Planet Sports at Powerplant Mall, Shangrila Mall, and Trinoma, Reuse at ATC, Urban Ashram at BGC and Kapitolyo.