The best thing about living in the Philippines is that beautiful beaches are readily available and accessible. Growing up in Cebu, I was no stranger to the sand and sea–almost every weekend, my folks would take me out of town and we'd spend the entire time wrestling the waves and building sand forts. It didn't matter if we all came out of the water three shades darker, the tan was proof enough that we had loads of fun. Actually, off the bat, you can enumerate a beach resort in Cebu and its surrounding islands and I assure you, chances are: I've been there.
So last weekend, I was able to revisit my childhood by taking a well-deserved trip to Punta Fuego with the people nearest and dearest to me. I liked the fact that I didn't feel like I was under any sort of pressure or scrutiny from the outside world; I could just be myself, and no one would give a flying stitch. I mean, sure we were still engaging in semi-shallow conversations that involved maintaining our beach bodies and having less than 15% body fat but when push came to shove, we all ended up feasting on cheesy Jamaican patties, coconut and lychee shakes, vodka cranberries, barbecued meat, fried meat, and bags upon bags of chips.
Perhaps this is the long overdue break that I, along with my friends, needed. The rare opportunity allowed us all to sit back, reflect, and realize that we were pretty much blessed–comparatively, rather. Personally, I have a million things to be thankful for and maybe, I just needed to be nestled in the midst of beauty to further appreciate and relate it to how wonderful my life is turning out to be.
A friend asked me if I had the chance to do-over certain parts of my life, would I actually make a beeline for it? Upon careful consideration, I told her that no, I like my life just the way it is. Sure, there were a few curveballs thrown my way (for this year specifically) but for all it's worth, I was able to stand back up and walk upright. That's what matters.
Floral Beach Shorts from Cesa Designs
Pink Swimsuit: H&M | Mesh Coverup, Necklace: Forever 21 | Shorts: Cesa Designs | Pastel Beads: Aldo's | Brown beads: New Look
Colorful Bead Anklet: H&M
Neon Yellow Necklace: Extreme Finds
Sunnies: Calvin Klein | Bikini Top: Glitterati | Bikini Bottoms: Anemone | Colorful Bead Bracelet: Stradivarius
My boyfriend and I spent the latter parts of the day swimming and conversing together, while our friends were bonding over in the private casitas. We goofed around and tried to sum up the whole year, talking about how we actually came together as a couple, and basically just reminiscing.
The time we decided to go back to the shore, the sun was about to set so we decided to stay by the banks to see the sun descend. We figured, we were there already, so why not? Something to cross of the bucket list, perhaps. Truth is, I've never seen the sun rise and set, never with anyone at that. I think these are the simple things we tend to take for granted. Watching the sunset with someone who meant the whole world to me was all sorts of cathartic and romantic.
I'm certain that someday, we will watch the sun rise together.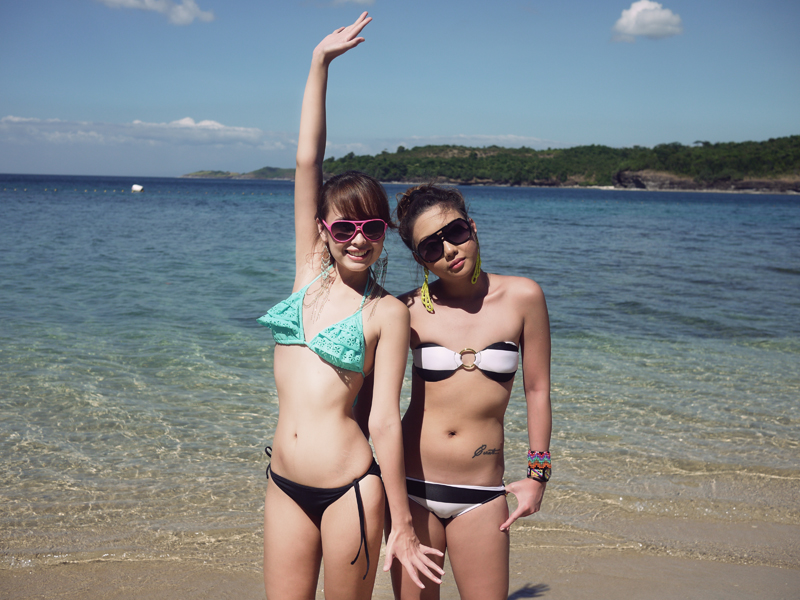 With my soul sister and partner-in-crime: JL! Before we headed back to Manila, we decided to milk the last remaining hours of our weekend by sunbathing in the afternoon at Long Beach.
Anyway, I would just like to announce that it is indeed official, I am the other half of Glitterati already. Under normal circumstances, I'd be a bit uncomfortable dipping my hands in someone else's successful accomplishment or venture but given my relationship with JL and my love for her brand, I just couldn't help but see the potential.
Besides, JL was already offering me to take an active part in the brand a few months back (after I've been pestering her incessantly for new pieces and shoot ideas). I toyed with the idea for a bit and thought it through, though I've always told her that I was willing to help anytime. It wasn't until last week that she reminded me of the outstanding offer so I figured, why not, and then got half the shares.
I think it's a long-awaited partnership. I'm pretty excited and we've big things in store so do watch out!
With my very pregnant best friend in the middle–despite being pregnant, she still looks gorgeous. I assure you, she'll be Philippines' answer to Vera Wang–just wait until she finishes her degree at Parson's.
Aquamarine Bikini Top: Anemone | Black string bottoms: Glitterati | Sunglasses, Earrings: Forever 21
Also, FYI, just because you change computers doesn't mean you change IP addresses–or maybe you might tell your aunt to tell us that someone accessed your computer to post using your account? Hinay hinay lang, baka pumatong-patong yung kaso mo.