Black and White Striped Jumper: Zara | White Shorts with Lace Hems: Topshop | Rosary Necklace and Coin Necklace: Love Diva | Bangle: Hermes | Black Suede Pumps: So Fab! | Black Ruched Bag: Burberry
Once again, I'm back safe and sound in my hometown, Cebu City!
In our family, we take the All Soul's Day break quite seriously. My dad requires me to come home on the 31st of October in time for All Soul's Day. This year, I opted to come home a day late if only to celebrate Halloween in Manila. Don't get me wrong, I love spending time with my family and I used to look forward to the All Soul's day occasion, given that it was the only time of the year our whole clan was complete (plus it's not very often that I got to hang out with my first and second degree cousins, especially those who lived abroad). However, as the years pass and as everyone got older, other priorities took precedence: my foreign cousins stopped coming home and my other relatives would avoid the All Soul's Day rush by leaving town on the holiday break itself.
My dad, on the other hand, is very adamant about keeping traditions. It's one of the things I respect most about him–he's never one to shy away from his duties and in effect, expects his children to follow through the principles he's instilled in them. My dad is a very dutiful and proud man, if he commits to something, he will deliver 100%. I guess keeping traditions is something that falls under the umbrella of being an obedient son and grandson.
So anyway, this was the supposedly the low-key outfit I had on for a quick shopping trip to the mall. Unfortunately, at the very last minute, my UTI symptoms worsened so I had to step out of the car and stay home. It's not a cause for panic though, I've been acquainted with the illness since I was a kid and given that I've a really low immune system, the combination of intense stress and the lack of liquid intake took its toll. I just have to go to the doctor as soon as I get back to Manila because my parents are worried that my kidneys might end up malfunctioning given that I'm susceptible to all sorts of infections and allergies.
When I wore this outfit yesterday, it was a pretty hot and humid day–the house was like a giant sauna and the sun was out way too bright. I've always thought Cebu was slightly hotter than Manila, I don't know why. I only chose to wear this jumper because I had all intentions to watch a movie with my mom and sister but that didn't go as planned (they ended up rushing to buy my meds). On the bright side, I was able to take photos for this outfit!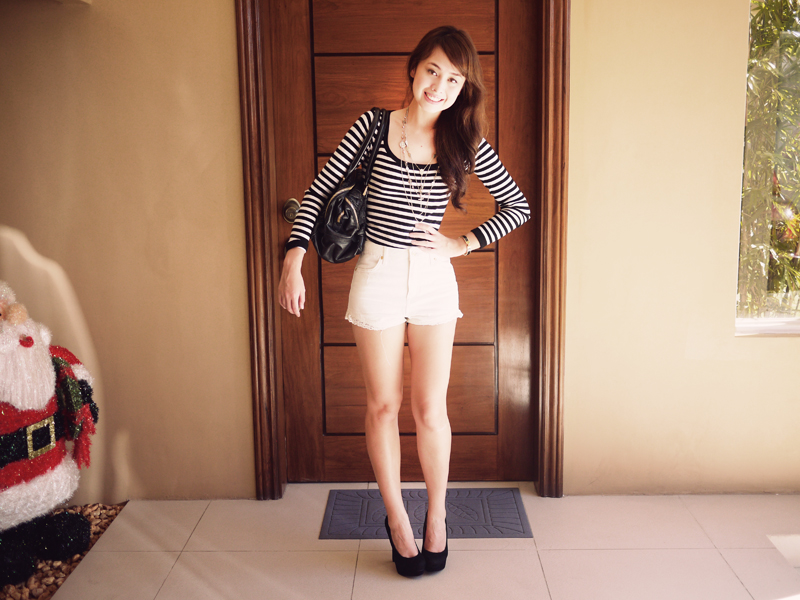 Yes, there is a Santa Clause by our front door to greet the guests. My mom loves Christmas very much and she kept the house in theme for the upcoming holiday–I swear, the tree is out and all.
Apart from celebrating Halloween in Manila, this year's holidays are made even more special by the fact that my boyfriend is coming over to my hometown! He's officially the first boy I brought home to meet my parents!
So this concludes the first day of my very concise trip! Here are a few of my Halloween photos where I came as Pocahontas!