Tweed Grey Peplum & Black Bandage Skirt: Topshop | Cuff & Earrings: Forever 21 | Taupe Heels: S&H | Ostrich Leather Purse: Vintage Christian Dior
As human beings, I believe, we all crave for a semblance of control. In a world where most situations are governed by spontaneity and time, we need to feel that some things are purely ours. But we can only do so much, of course. Truth be told, I've little control over everything that happens in my life and I hate it. If I had it my way, I would be winning lottery tickets left and right but that wouldn't be fair now would it? So I cherish and hold on to the very few things (no matter how trivial at that) that I've control over like say: my varied choices in clothes, my liberty to eat wherever I want, and to say things I want to say.
Two of the things I like having control over would be my food intake and weight loss.
I like food in general and I especially like eating good food. For the longest time ever, I was bordering on the heavy side. Granted, my body was always built to be slightly larger as evidenced by my wide and heavy bone structure, but the fact that I eat so much (unbelievably much, really) doesn't really help my case.
I eat when I'm happy, okay, I eat a lot when I'm happier. Plus, I'm a binge-eater. One adage I would live by is: "Always have room for dessert." I am the type of girl who will choose a prime cut of some medium rare aged steak over a tiny portion of poached sea bass. I am, consequently, that girl who would forego some salad (unless it's the Sicilian salad from Italianni's) for a hefty serving of mushroom risotto.
Yay for carbs and proteins! Boo, fibre.
On hindsight, if you ask my boyfriend if I'm high maintenance, he would most definitely say: "yes, I have to feed her all the time because she is perpetually hungry."
Now, on the opposite side of the fence, I like fitting into clothes. It's not to say that it is my fervent desire to be extremely skinny because I do have the iconic Jennifer Lopez butt and I'm extremely proud of it, but I like having a slim figure. It's a personal choice and a personal preference, mostly.
Given that the two topmost things I want to have control over are disparate, I need to strike a semblance of balance or a way to marry the two ideologies. Thankfully, there is A!Life control to address that! Basically, A!Life is there to answer both my needs–it allows me to indulge on the food I want while allowing me to keep my svelte figure. Of course, as I've mentioned a lot of times, A!Life is great for maintenance but to tone your body, you still need to exercise.
To read more about the product, see my previous post: Finally in Control. 
This is my spin on corporate dressing–who says that just because you work corporate you can't have fun with your ensemble? The tweed and the pencil skirt keeps it classy, plus the muted colors keep everything work appropriate. On the other hand, since I'm on a peplum high, it's precisely that detail wherein I inject a little bit of quirk.
Anyway, here are some more photos:
Using Espoir Lipstick in Wine shade.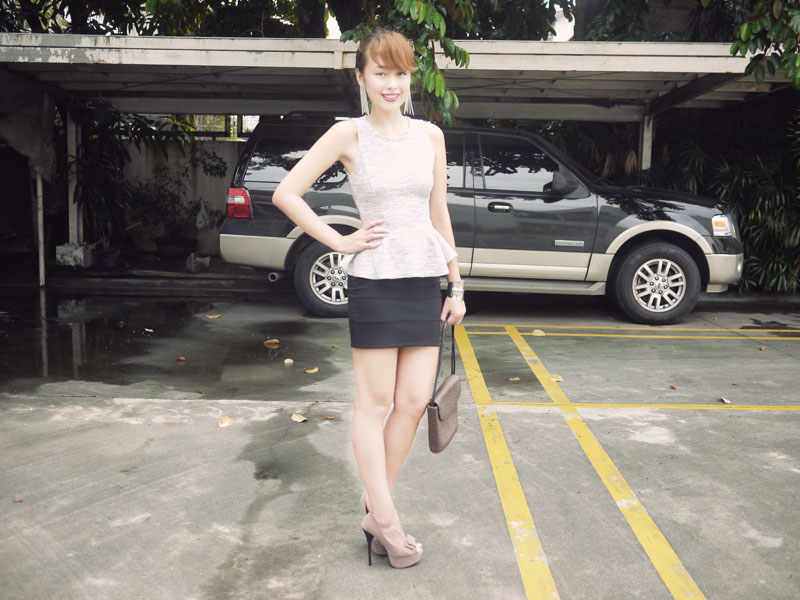 This bag is a hand-me-down from my grandmother (something she probably purchased in the 70s or 80s) and although I don't use it much, I love the rich and exotic texture of the leather. It's pretty nifty wherein it can store a lot of things plus, I love that the taupe color and the design in itself screams vintage.
This pair of shoes are so comfortable. They are the perfect height that gives the impression that my legs are hyper elongated. Likewise, the shoe's cut is extremely sexy and the bow detail makes it all the more classy. I wore this pair for 8 hours straight and it didn't even let me strain. However, because the heel is extremely thin, I tripped on my way to the garage.
By the way, fellow bloggers Marj, Crissey, and myself will be at CC Double O this coming Saturday 4pm for a meet and greet. Do come and drop by, and stand a chance to win a 5,000 shopping spree!