Pearl Earrings: Cultus ChiChi | Floral Corset: Topshop | Mullet Skirt and Pearl Bangles: Forever 21 |Red Clutch: Maris | Red Heels: Zara | Gold Belt: Mango
As a teen, I listened to a lot of Incubus songs. My junior high school seat-mate was the biggest Brandon Boyd fan ever and her eternal love for him and consequently, Incubus, rubbed off on me. Although I wasn't that much of a huge fan (I didn't even include the band on my music-centric blogpost: Soundtrack of My Life), I managed to purchase their Morning View album (but then again, I did purchase some stupid Craig David album when I was in 6th grade) and maybe, when pushed to admit, I included at least 1 Incubus song on my varied High School mix tapes and actually belted out to the jazzy tunes of "Are You In?" within the confines of my room when I was 15.
I was most especially in love with the line: "It's so much easier when sea foam green is in fashion…", which didn't really mean anything prolific or earth-shattering, but sounded trippy and cool enough to my pretentious 15-year-old self.
Years later, post-college, I came across an article somewhere stating that the song was actually inviting people to be a part of a "swingers club." Woe to my childhood, a 15-year-old, no matter how "high functioning" should not be listening to those types of songs in the first place–not that I was oblivious about those things but you know, how hugely inappropriate.
Knowing my love for cropped anything and floral prints, my boyfriend gifted me with two corsets (the one I'm wearing and another in white and blue) from Topshop last June. He is the sweetest man ever, I swear! I was beyond ecstatic. It was hard not to fall in love with this corset in particular, the red accents were so refreshing in the midst of seafoam green–who would've thought that this particular color combination could work?
Plus, can I just say that it's so rare to find a man who not only condones shopping but also encourages my love for fashion? I find it so adorable and sweet when he texts me to "wear something nice on Sunday" because he has a camera in tow or when he leans in to state "I love that you look so classy all the time", which is practically something he tells me every time I regale him with a new outfit.
Like the corset, it's so hard not to fall in love with him more.
This pair of dangling earrings are from my boyfriend's sister Katie. She gave me this pair (and a lot more) from when she visited a month ago and I absolutely love it. Katie designs and sells accessories in the US, plus she blogs too!  
I absolutely love this clutch! In fact, I love Maris Online! I've been on an envelope clutch binge and this was the first shop I turned to when I was looking for a red one because they had a showcase that came in a variety of colors and textures. The great thing about it is that it fits a lot of things! I can actually fit my ipad in it if I wanted to! It's nifty and practical plus it's affordable! I implore you to check it out!
Anyway, enough of my rambling, here are some more photos of the outfit! Also, get a chance to win a shopping session worth 5,000 pesos with me on the 29th of September, scroll for the bottom for more details!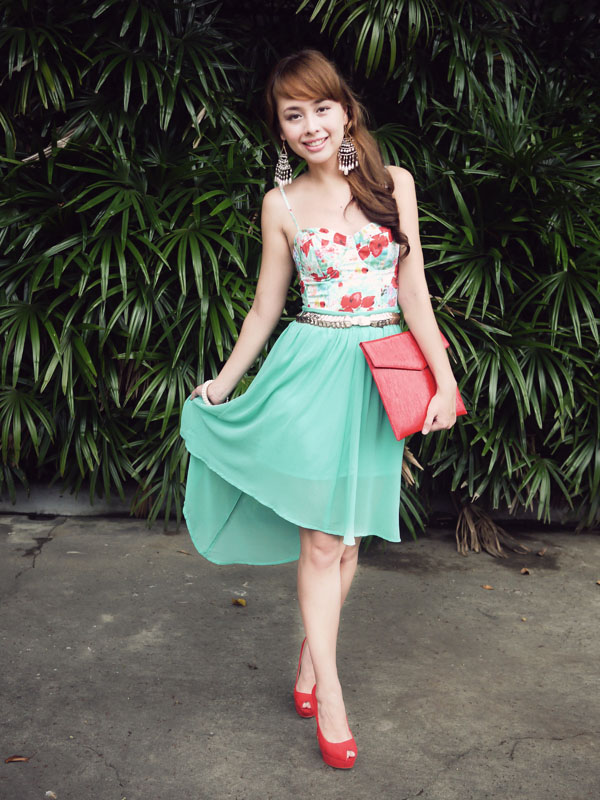 I will be at a "meet and greet" session at CC Double O in SM Megamall with fellow bloggers Crissey (aka the bulilit best friend) and Marj. All you have to do is attend for a chance to win a 5,000 peso shopping spree! For more updates, follow me on twitter (tweet me if you've plans of going so I know who you are), and instagram!