Peplum Top: Zara | Shorts: Forever 21 | Orange Necklace: Jean & Rosz | Cuff: Coloratti | Clutch: H&M | Heels: Renegade Folk
This is the outfit that I wore last Friday for a dinner and movie date with my boyfriend. We didn't really have concrete wine and dine plans that day, so we decided to be the casual and cookie mall-going couple watching a comedy shtick on the big screen. When it comes down to it, we find joy in each other's company regardless of the activity; we're very simple that way.
Because our schedules are pretty hectic (on top of work, he juggles graduate school), we really find ways to maximize our time. First of all, we do what we have to do–the varied responsibilities and duties required of us in the many roles we play–and then allocate the most of our remaining time on being a couple, whilst having fun of course.
So the moment I got to work that day, I sat on my desk and started doing all the pending tasks at hand just to ensure that I could get off at my estimated 5pm shift–emails, crafting packages, tele-marketing, so on and forth. Thankfully, workload was pretty light for a Friday (as Fridays are our busiest days) so I managed to finish ahead of schedule.
Because I didn't want to go to the mall in corporate garb, this gave me ample time to change at home and prep myself up a bit.
Because orange was the color of the day, I matched even my lipstick from Etude House, shade OR207.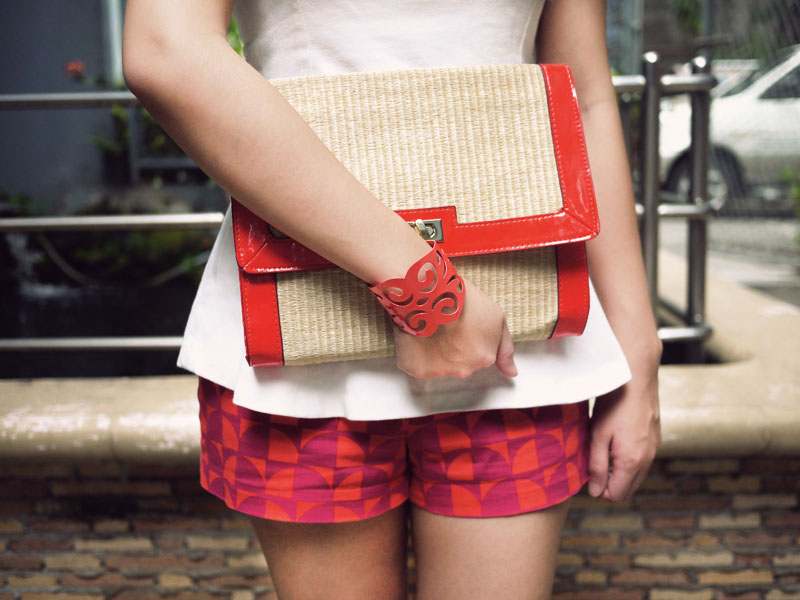 I found these shorts from Forever 21 a solid 5 or 6 months ago. The quirky print reminded me so much of the Kate Spade logo so I got them without a moment's hesitation! Then again, I'm obsessed with shorts. To date, I own around 30 or so pairs (and to think, I've already disposed half in various bazaars) in a variety of brands, shades, textures, and prints. I love shorts so much, I think they're the best weekend alternative to skirts and trousers. For a working girl relegated to corporate wear half the time, wearing shorts brings me back to my college years and deludes me into thinking that I am forever young.
This pair from Renegade Folk is an instant favorite! I love the combination of bold orange and subtle brown scheme, it gives a chic spin to the pervading eccentric color. Moreover, I think it is a shoe that transcends casual wear and can be incorporated to dressier events given the satin-y fabric.