Denim Jacket: Topshop | Necklace: Forever 21 | Aztec-Print Bodycon Dress: Haze | Bead Bracelets: Aldo & New Look | Clutch: Accessorize | Sandals: Zara
This was an outfit I wore two Sun-dates ago with my boyfriend. Obviously, I'm still on a hipster high with my aztecs and pastels. I blame no one but my handsome boyfriend, the ultimate hipster (who will never admit to being one, not in a million years at least), for this silly (but welcome) penchant.
We've always found it amusing (and when pushed to admit, flattering) that people actually vocalize that they think we're a "well-dressed couple" (a bulk of which are comprised of our relatives, okay)–some have actually suggested we open a joint-couple blog (readers this time). So for laughs, we decided to indulge the people (and by people, we mean ourselves) with weekly "themed" Sun-dates.
That particular Sunday, we decided to go for: Denim.
Here's a photo of us together:
My boyfriend hates this photo. He says he looks weird. He took it against me when I posted this on instagram and I'm pretty sure he'll whine about me posting this photo here. I'll let you in on a secret: no matter what hair or outfit my boyfriend is sporting, no matter what face he's making, I will always find him handsome.
I love his eyes the most, they're so huge. I always make it a point to tease him about his eyes and for this particular pose, he widened it some more as a reaction to my teasing. Upon seeing it, I was reduced to a laughing mess going: "babyyy, what is up with the silly face!"
But this is how we normally look, when we're in a respectable pose. The photo's a bit blurry but…
Today is our (6)3rd month together by the way, officially rather, and it's been smooth sailing. I've never actually felt this kind of satisfaction with anyone prior, and quite frankly, I never really thought I'd find it ever. I was never really one for romance: I've never really publicly declared over twitter just how much I love someone, moreover gush about it like a 16-year-old school girl, but here I am counting the months, being so annoyingly saccharine via social media, and being all starry-eyed.
I'm extremely happy, go sue me.
I think that it's rare for people to find their complement–someone you can talk to about everything, someone whose antics never fail to make you smile, someone who shares your sense of humor, someone who'll keep you inspired to achieve more and be more, and finally, someone you can see yourself with for the rest of your life.
I'm lucky to have that in this lifetime. Whenever I look at him, like really look at him, I can't help but think just how lucky I am to be with this person. True facts.
So yes, I am cantankerous, comedic, and sarcastic a person, but I believe in love, above all things.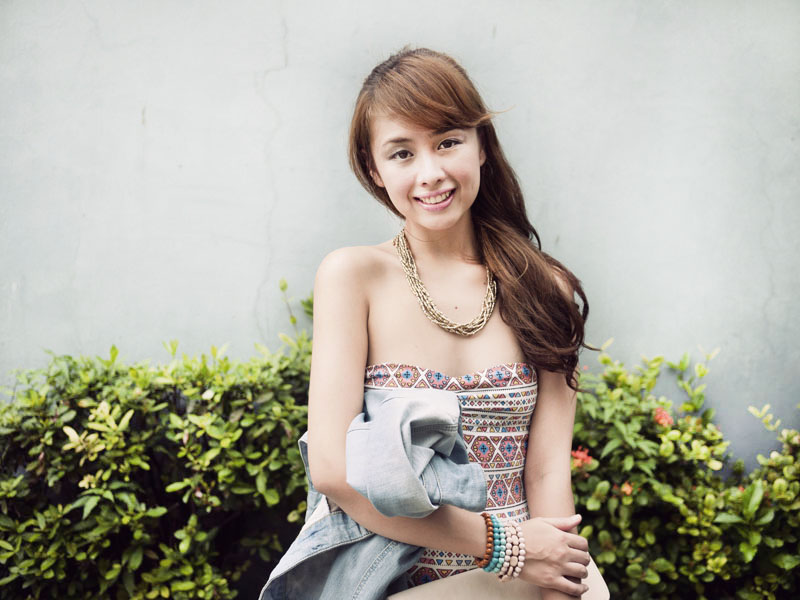 For a change, I had on a light pink lipstick from Mac. Normally, I don't do pale shades anymore but because I was decked in pastels (and fixed my lipstick collection), I decided to go through with it anyway.